Where Geysers Do Rise and Hot Pools Surprise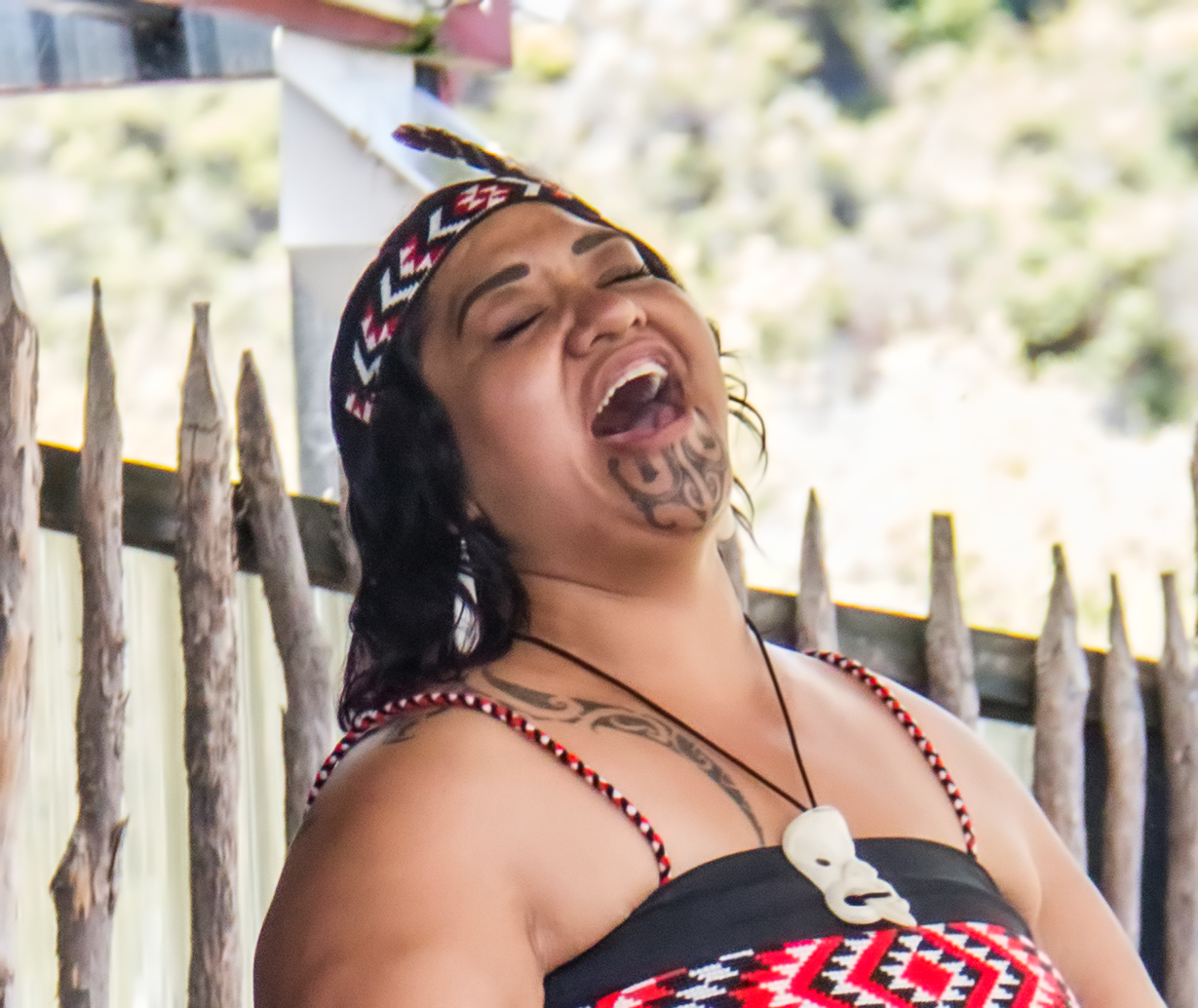 Kia ora, nau mai ki Aotearoa (Hello and welcome to the Land of the Long White Cloud). 
It had been over 34 years since we left the first home we had in married life in New Zealand.  We had lived there for five years; long enough to start our family.  But opportunity had knocked, as it has throughout my working career, and we moved to the Kiwis' West Island, Australia.  
It had also been 13 years since our last visit to the Land of the Long White Cloud.  On that occasion, the purpose of our trip was primarily to travel throughout the South Island, luckily well before the devastating earthquake that was later to do such devastating damage to Christchurch.
This time we returned to the North Island and were looking forward to visiting places we had known and frequented back all those years ago. 
Unlike many countries across our shrinking and ever-changing world, the culture of NZ's indigenous First Nation people has remained strong, and where else to be reintroduced to Maori tradition than the famous village of Te Whakarewarewa, located in the City of Rotorua.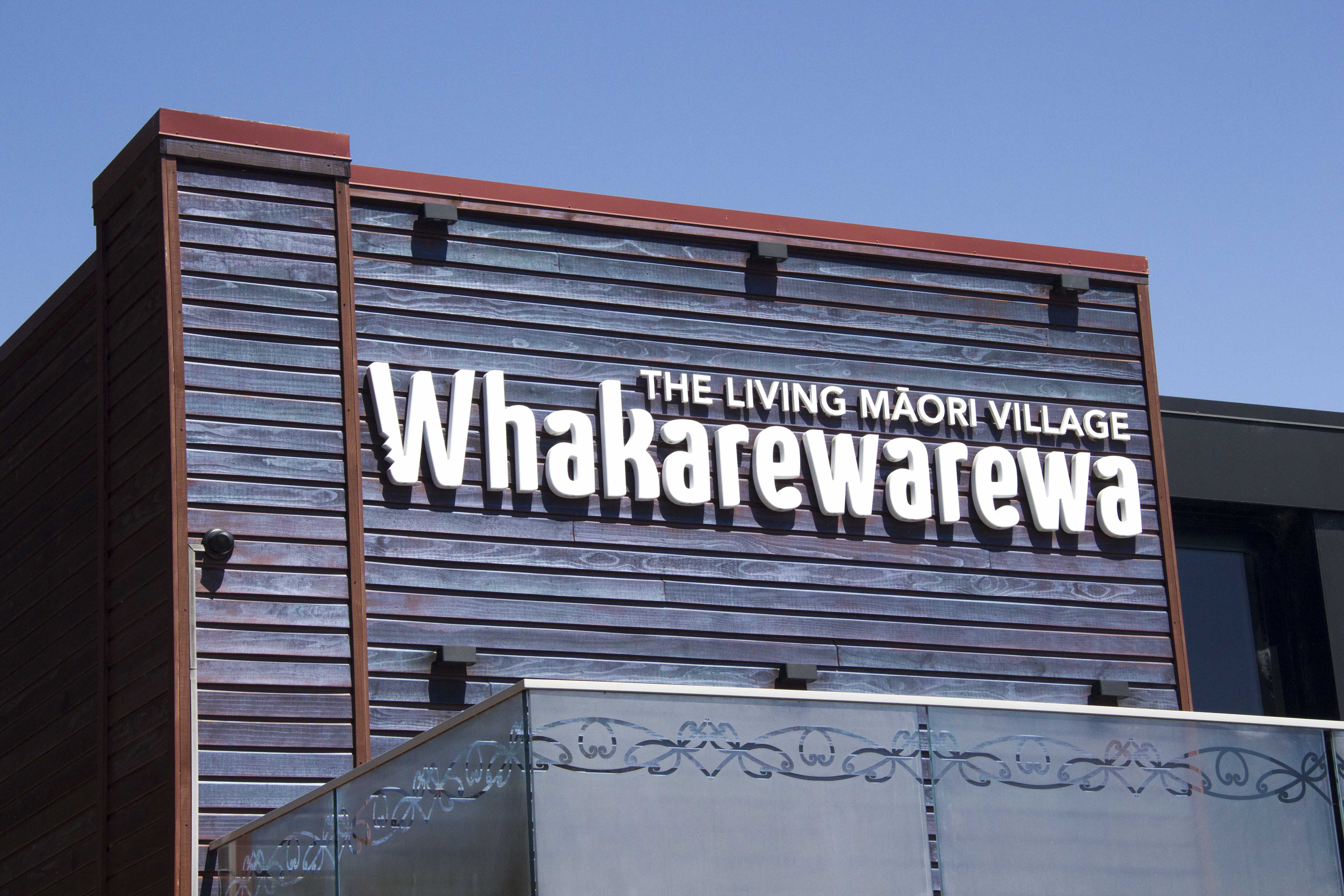 Whaka's location, in one of the central part of North Island's many geothermal valleys, would also afford us the opportunity to re-visit 70 hectares of natural bush, geysers and mud pools (here my US and Canadian friends might be happy to know that this lakeside region, naturally central heated, never experiences the severe and debilitating storm-origin snow and ice, currently bringing parts of the North American continent to a standstill).
But first we were to experience a cultural performance presented by the Tuhourangi Ngati Wahiao village people, the Maori tribe who live in Whakarewarewa and "who have been sharing their unique way of life with visitors from all around the world for over two hundred years." After a traditional welcome, we were to be treated to a fine display of dancing and singing that was both stirring and spectacular, with performances from both men and women.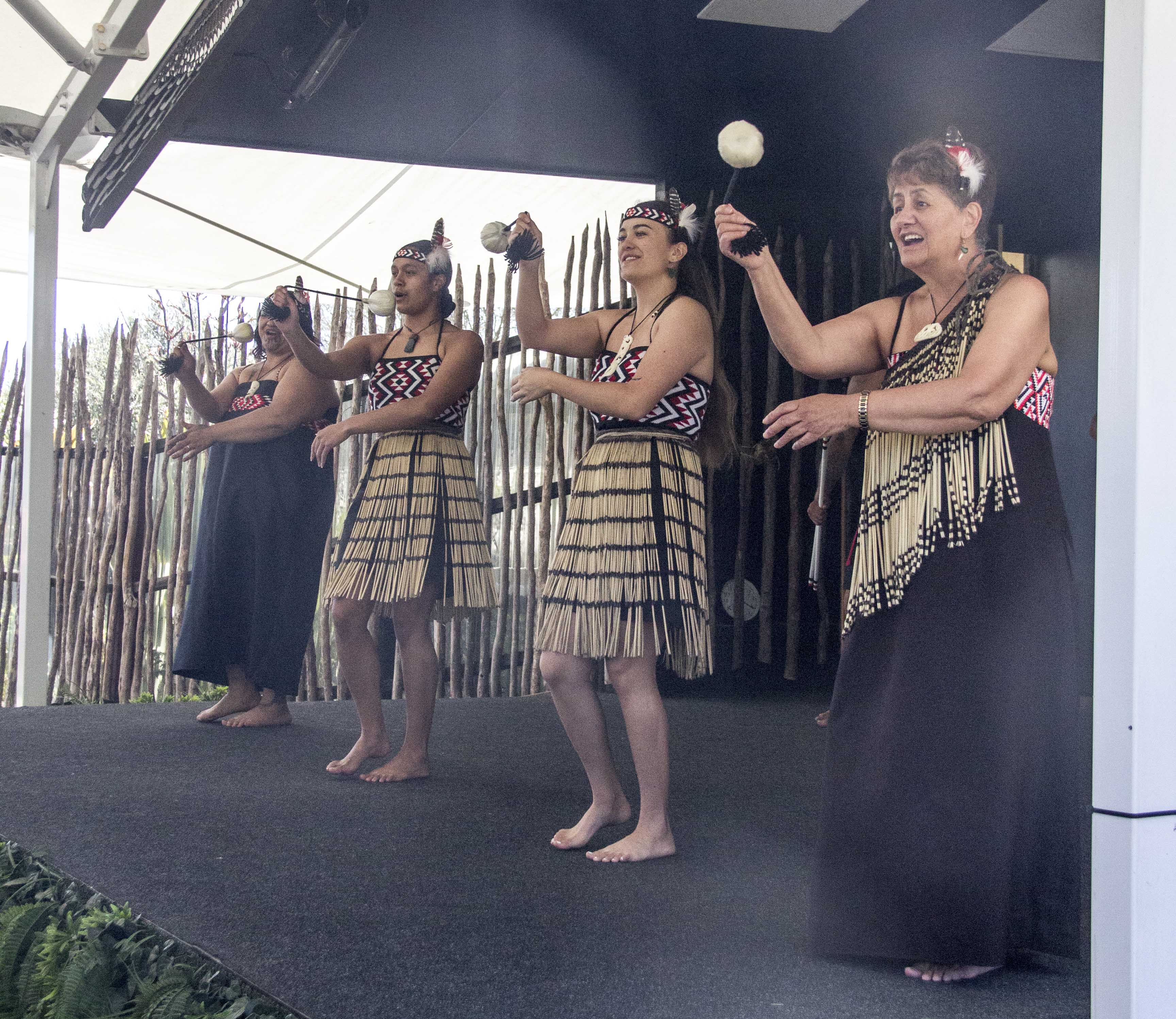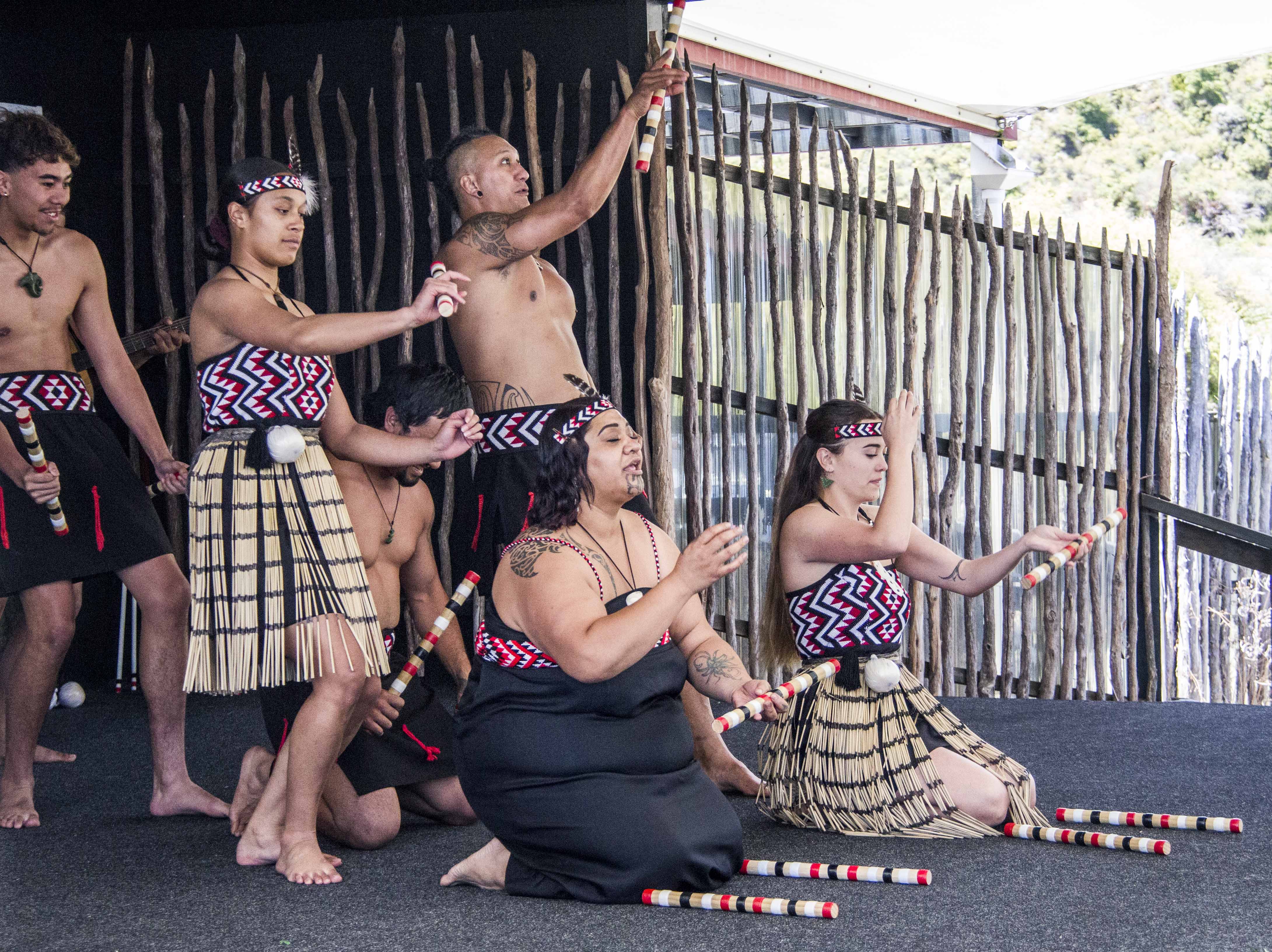 And then came the long-awaited Haka, performed by the men, with protruding tongues, vigorous arm movements, rhythmic body slapping and stomping of the feet, made famous worldwide, in one form or another, by the touring New Zealand rugby team, the All Blacks.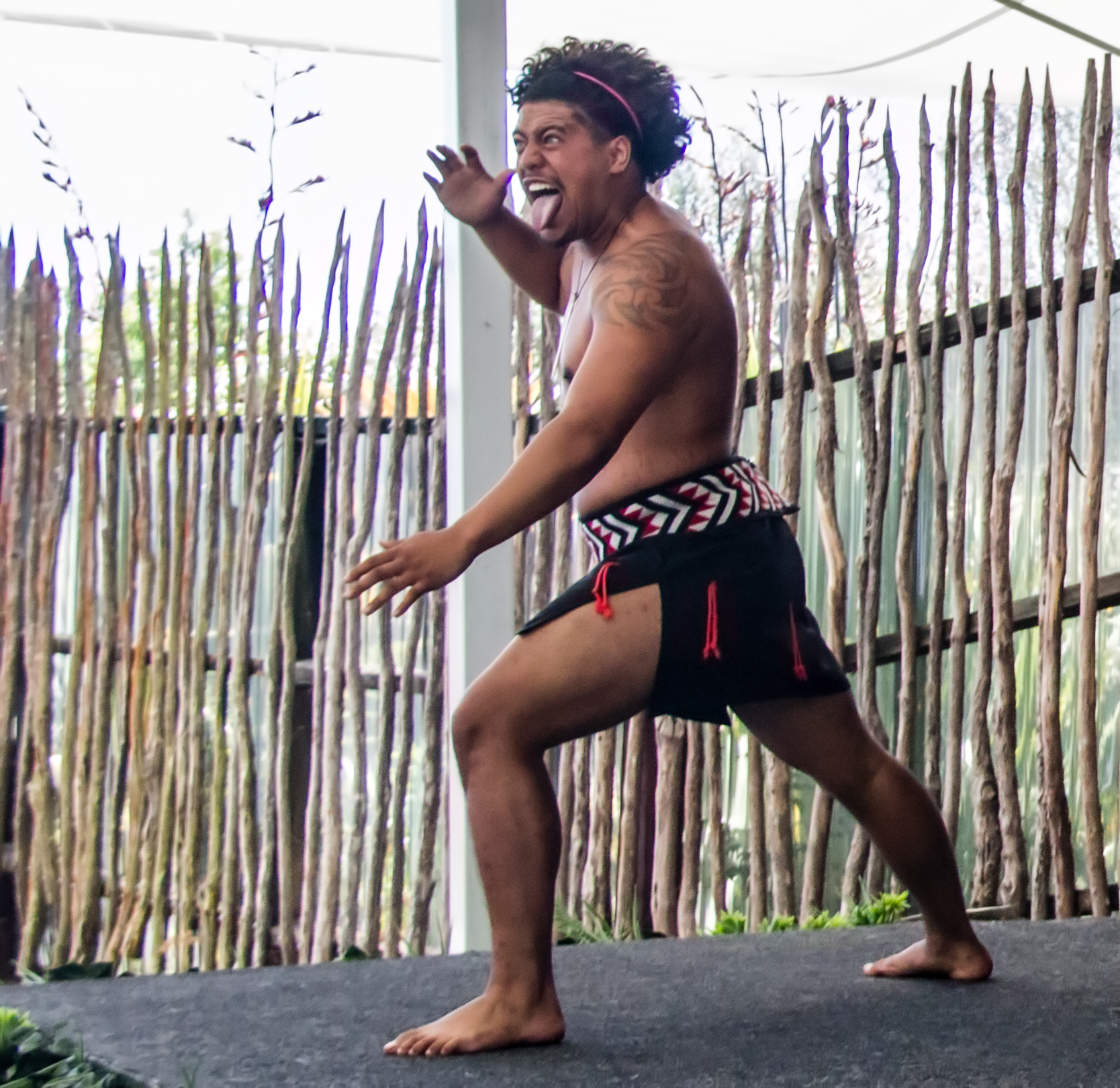 This awe-inspiring rendition was followed by an invitation to male members of the audience to join the troupe on stage and 'learn' how to perform this ceremonial war dance or challenge.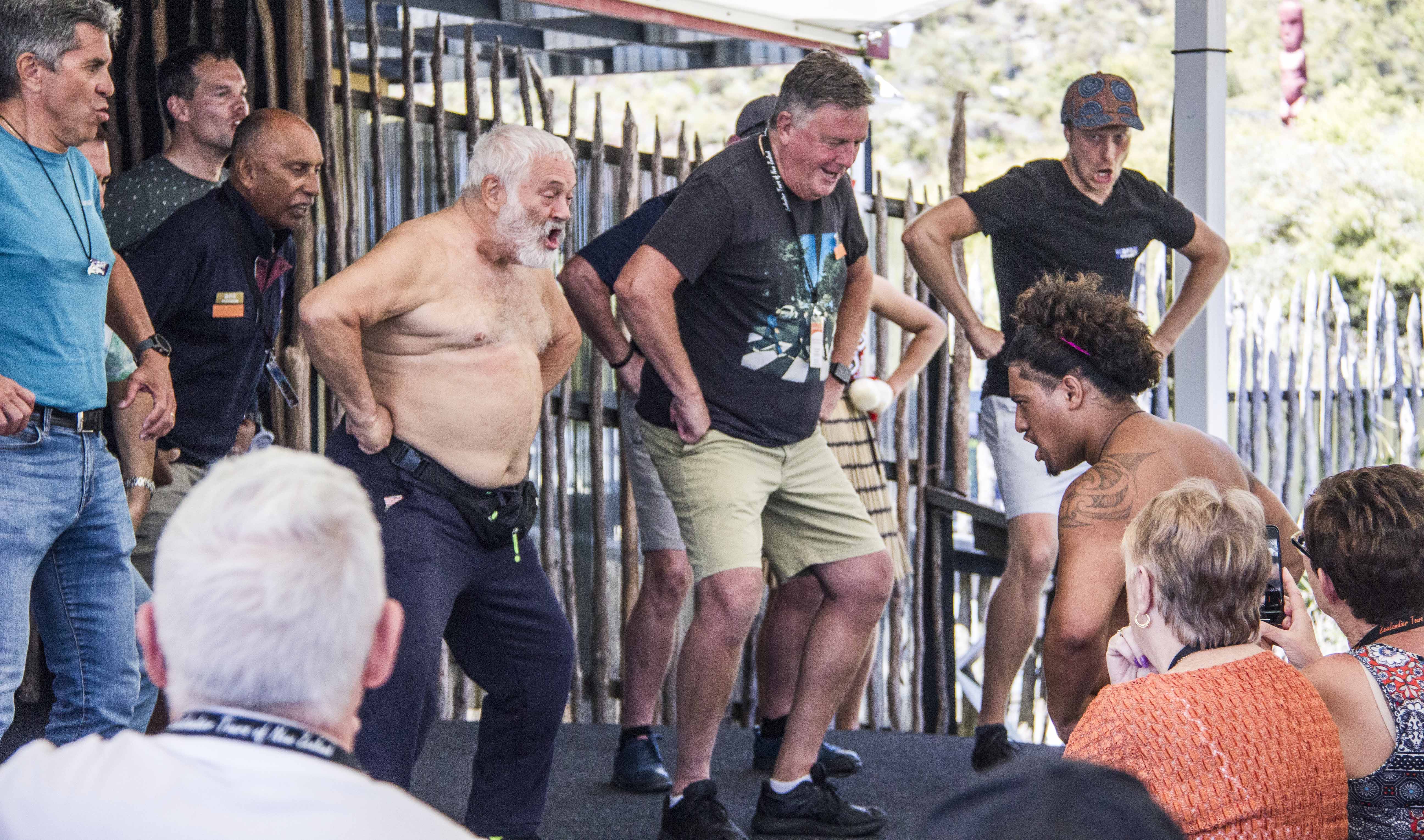 Needless to say, for those of us remaining in the audience, or, in my case, well cocooned behind my camera, the results were hilarious. The above picture paints a thousand words.
On completion of our richly entertaining programme, we joined our Maori tour guide on a geothermal walking trails experience. We were taken past surprisingly clear and blue hot pools, the temperatures of which reportedly vary from about 70 to 100 degrees Celsius (160 to 212 degrees Fahrenheit).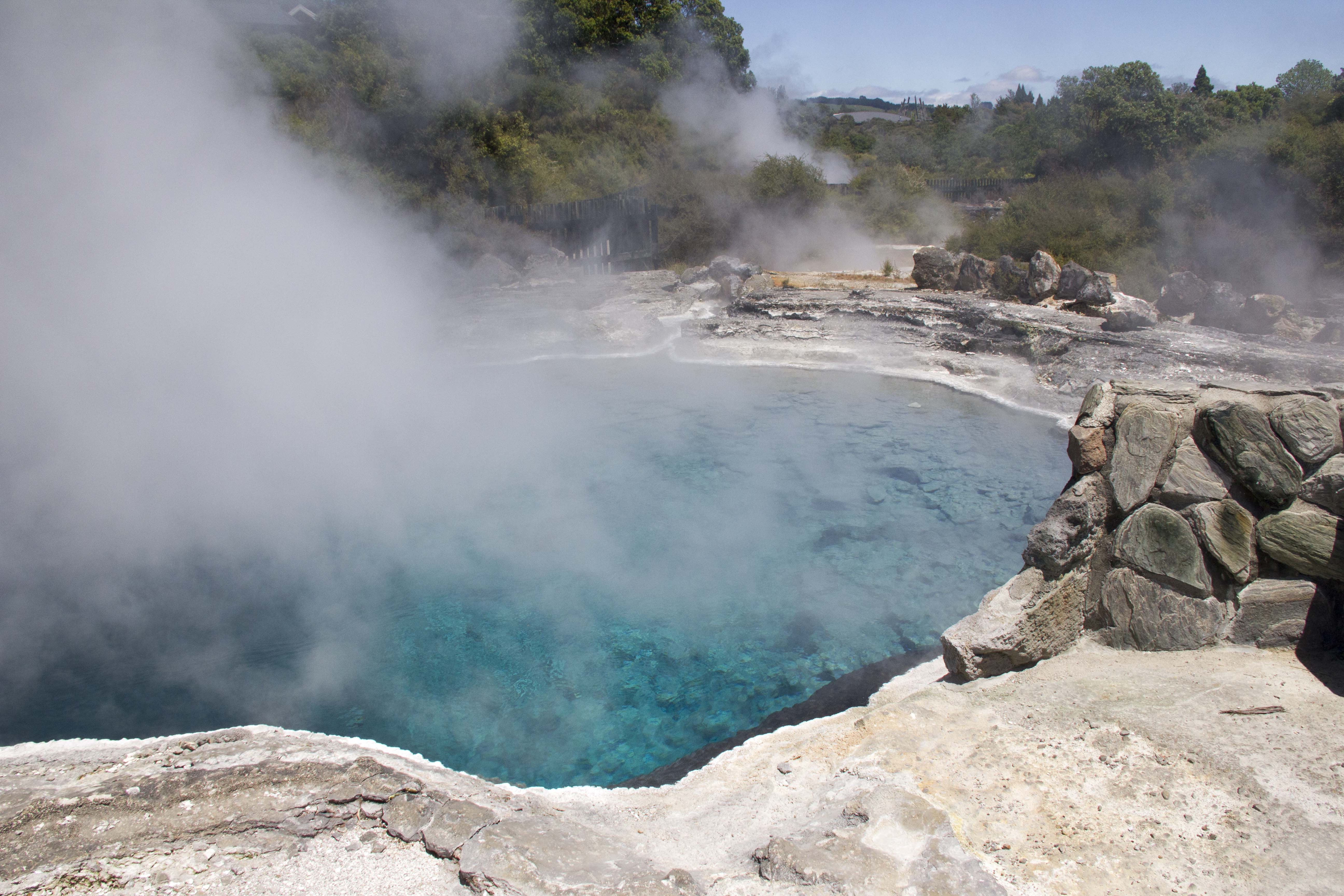 These clear waters are of near neutral pH or slightly alkaline, and are used by the local village people, along with steam vents (open cracks in the rock) for cooking.  While we were at the pool shown above, our guide cooked some corn wrapped in cloth bags.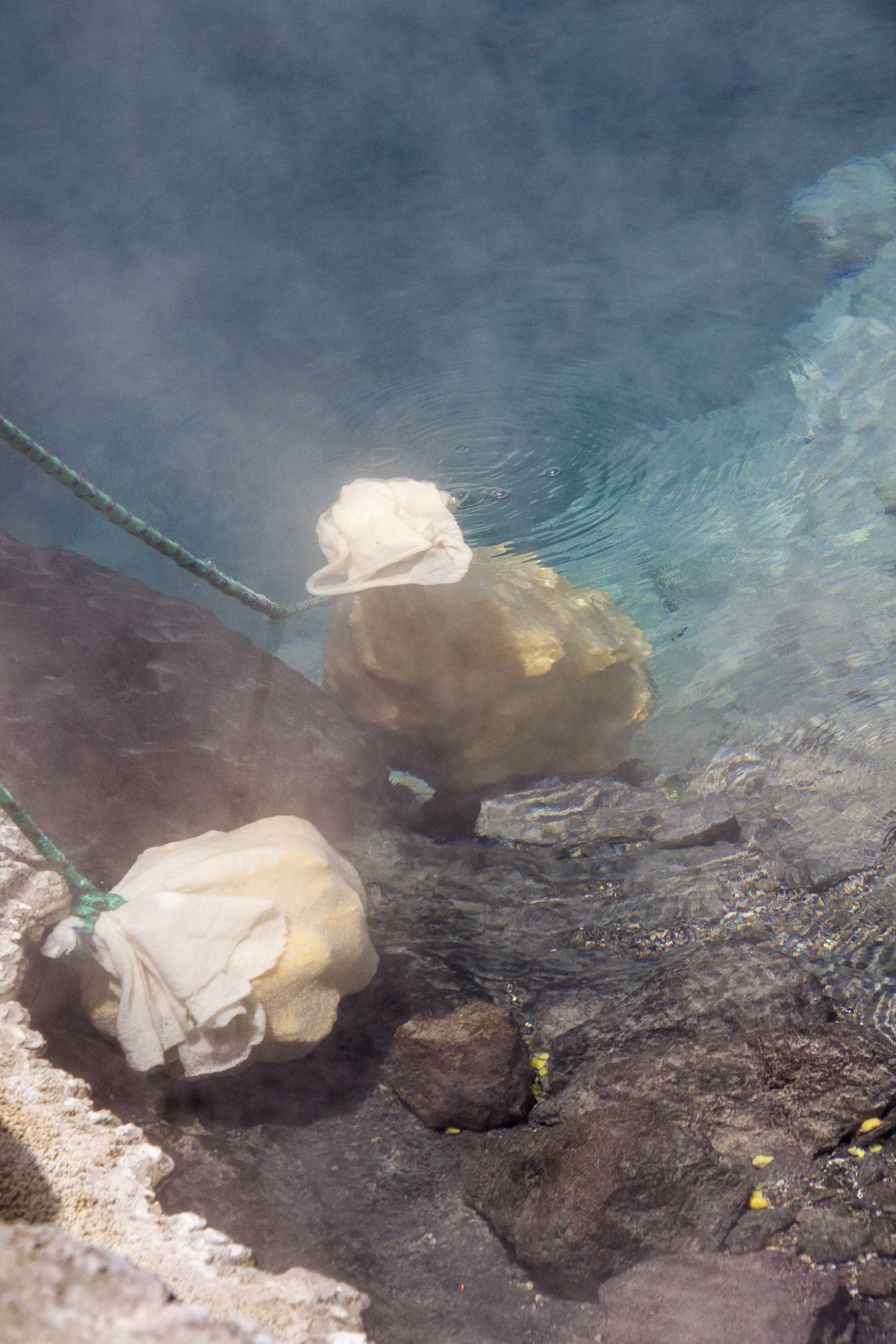 Having had a huge breakfast that morning I chose not to partake, but my wife assured me, as did the positive feedback from the other guests on our tour, that the corn tasted uniquely delicious, possibly as a consequence of the many salts contained in the thermal waters.
This same scorchingly hot water is diverted to bathing areas where the Maori version of a spa bath can be taken (see the individual bathing tubs pictured below).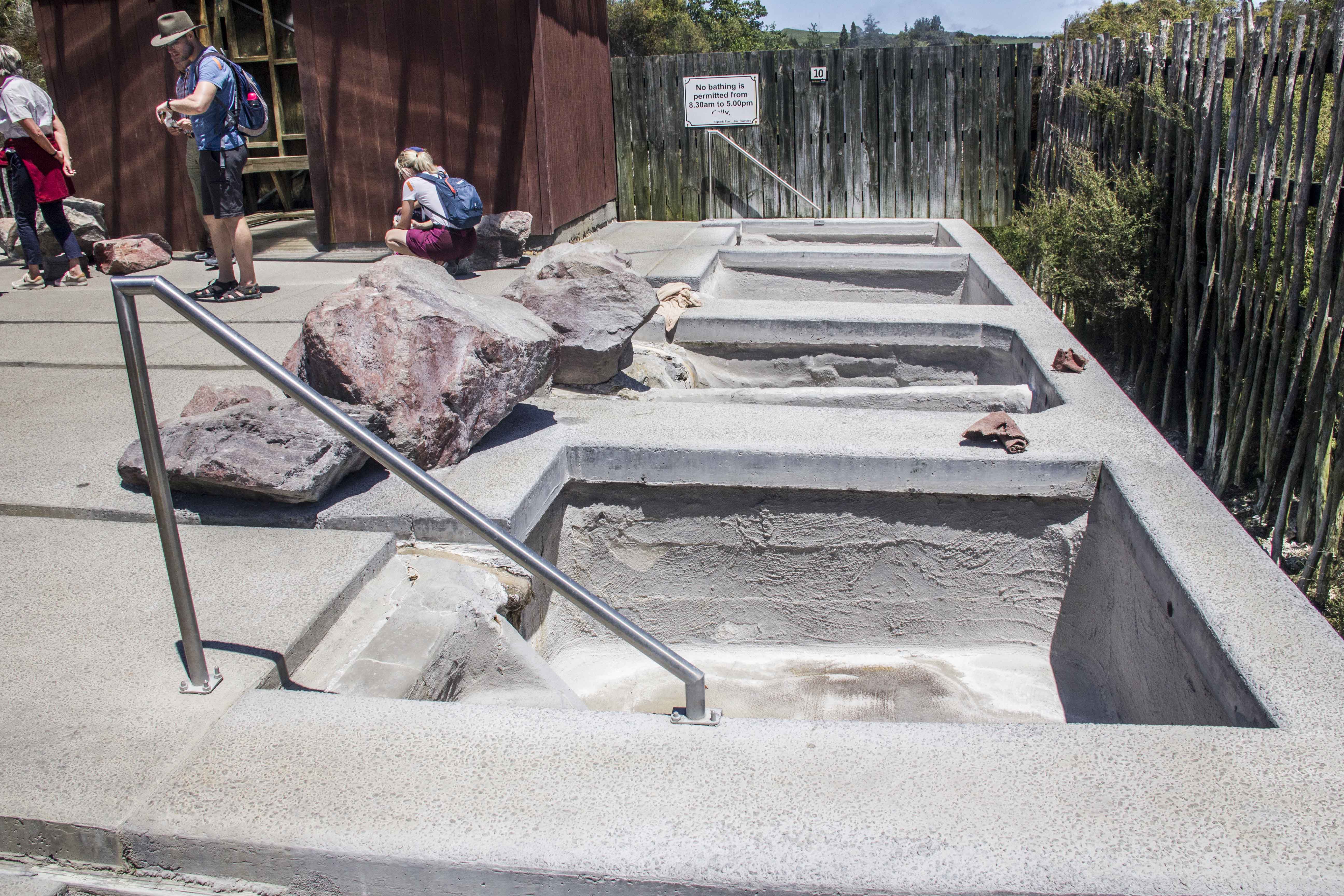 The sign on the far side of the bathing area reads, "No bathing is permitted from 8.30am to 5pm." This is presumably to save embarrassment both on behalf of local villagers and tourists. 
Away from the main fault areas, where the steam vents and clear hot pools are variously located, mud pools are found.  These tend to be very acidic and emit hydrogen sulphide (otherwise known as rotten egg gas). The acidic water associated with these mud pools can dissolve the native rock and tends to lead to ongoing areas of subsidence, resulting in 'collapse holes' (see photo below).  This would account for the many warning signs and fenced off areas around the village.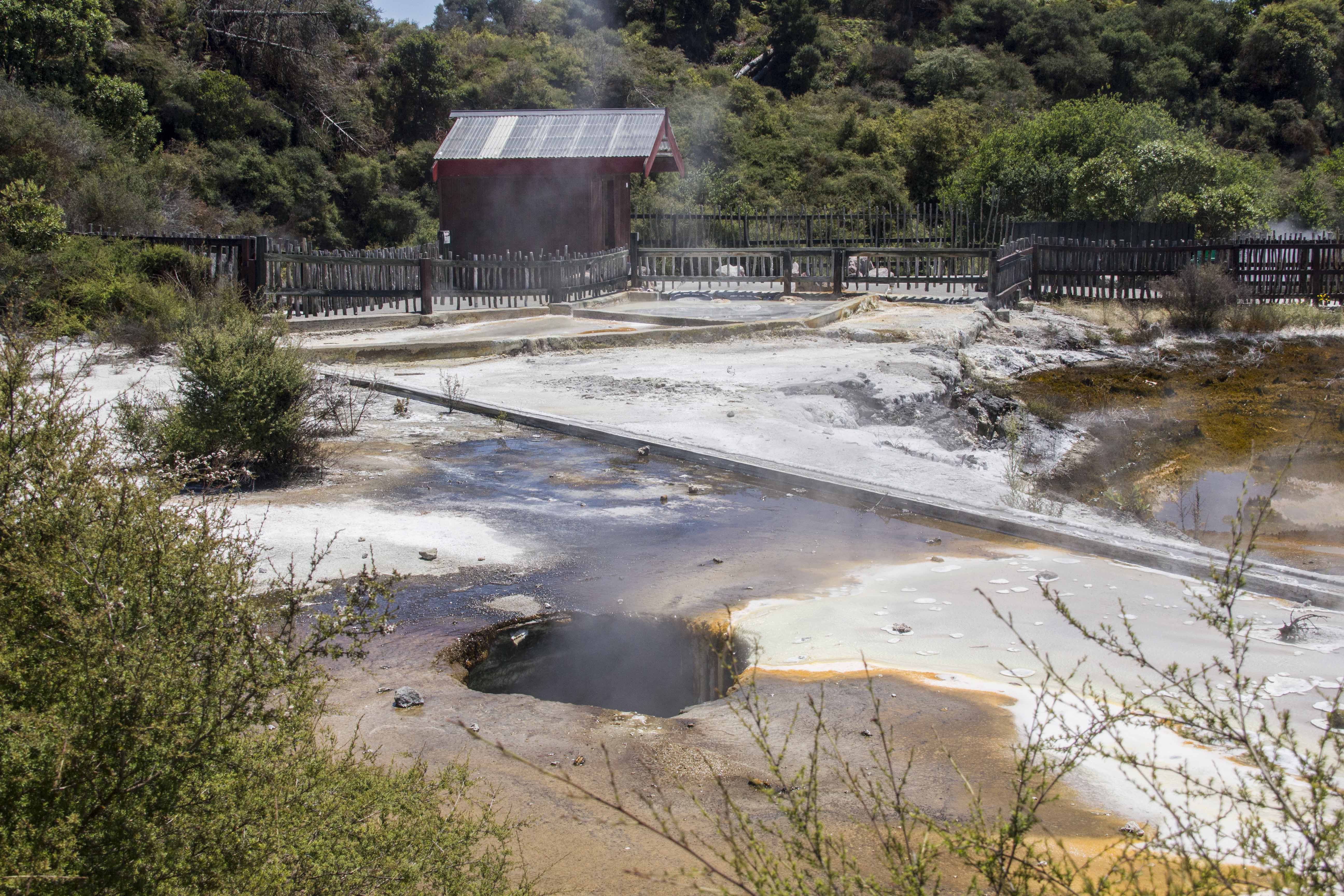 Of the estimated 65 geyser vents in the Whakarewarewa part of the Rotorua Geothermal Field, all of which have been named, the largest and most noteworthy is called Pohutu Geyser, meaning 'Big Splash'.  The picture below shows it beginning to blow, and was taken from a viewing platform a safe distance away from the actual vent.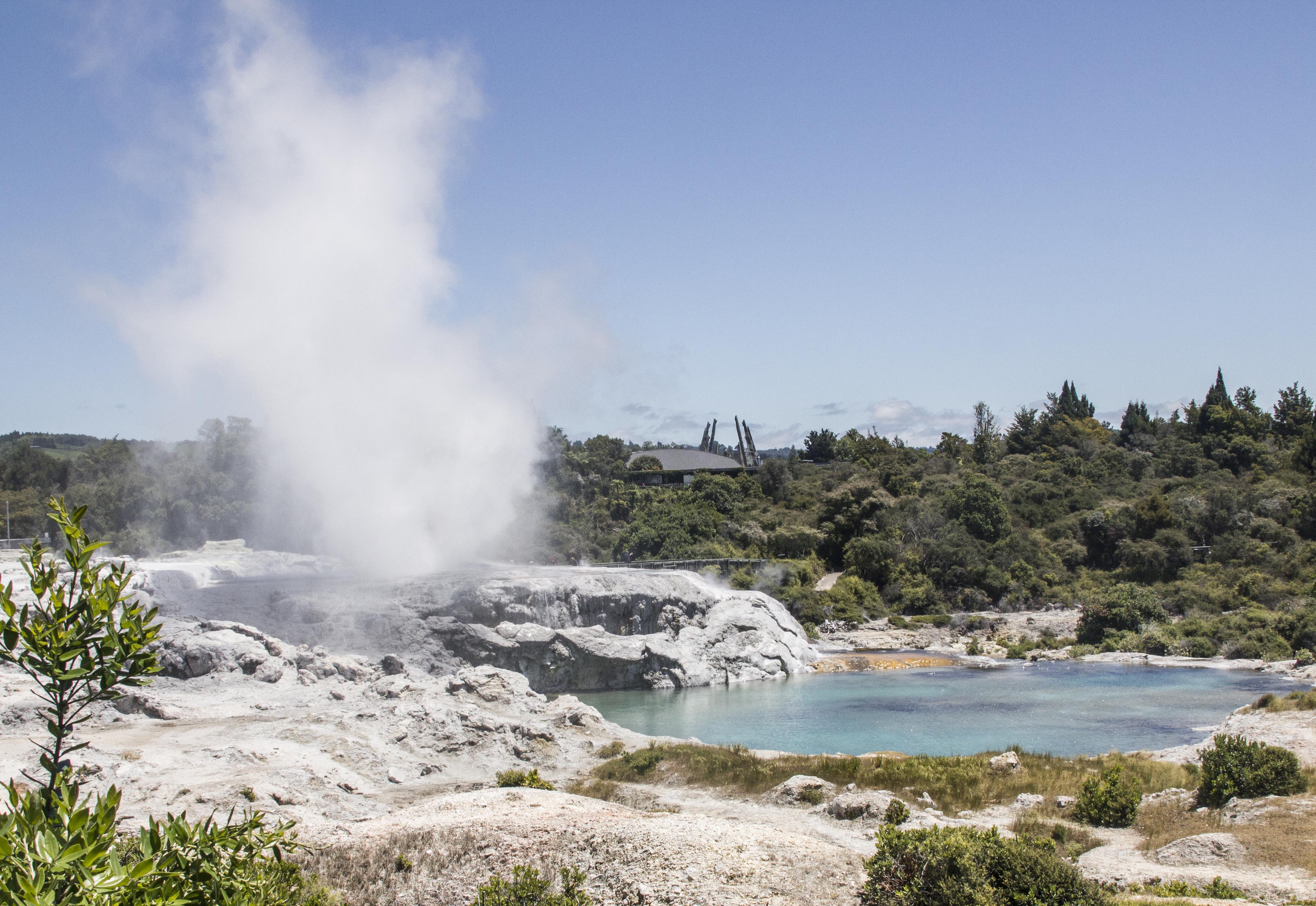 Pohutu apparently can 'go off' up to 15 times per day and reach up to 30 m (100 ft) above ground. The information provided to us on the tour of Whakarewarewa assured us that this geyser is the largest in New Zealand and, indeed, in the Southern Hemisphere.  Somehow, the term 'Big Splash' seems a bit of an understatement.
We were also shown the Tupuna Whare (ancestral meeting house), where funerals, meetings, seminars, entertainment and other events of "significance and Interest" are reportedly held.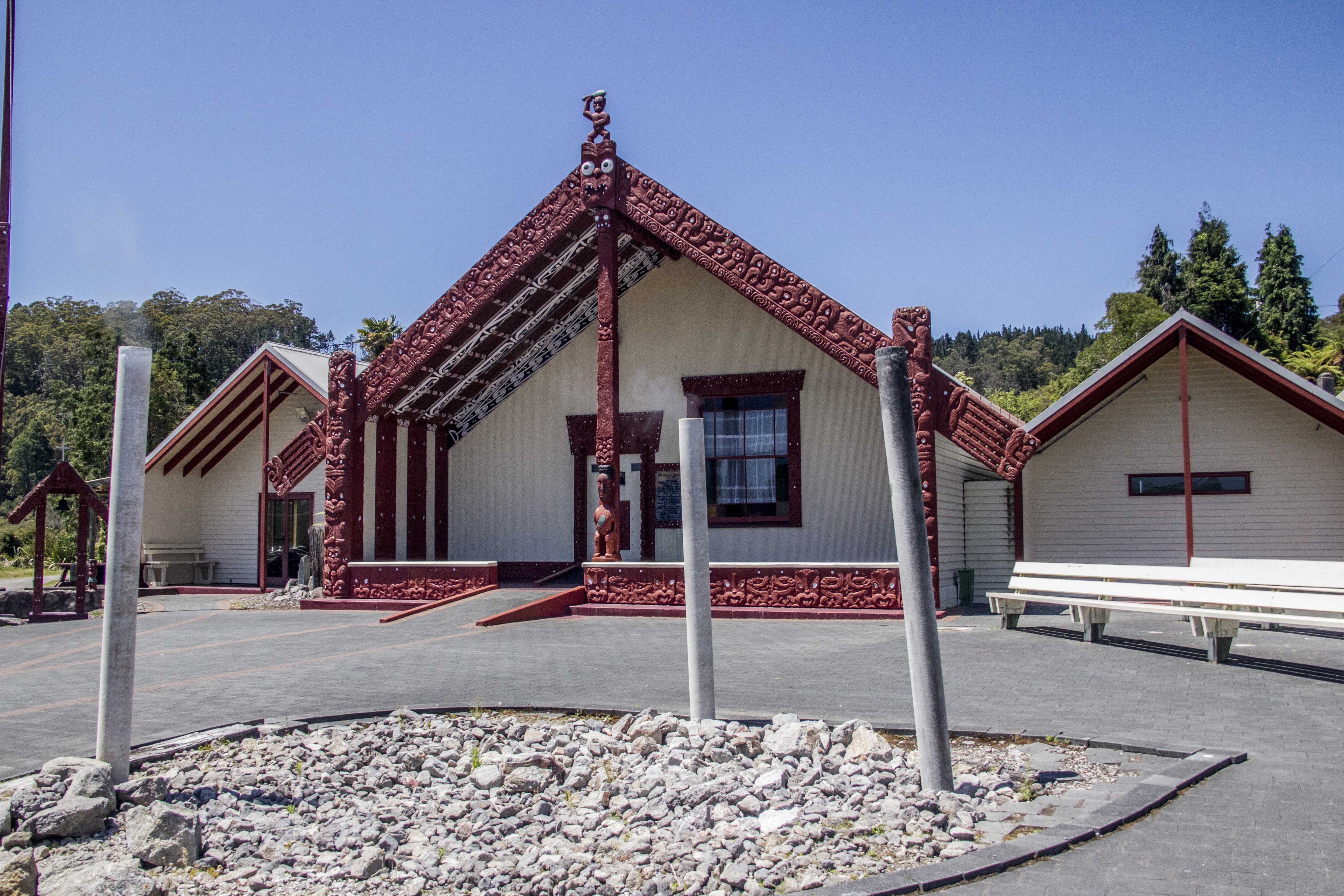 This stands on the tribe's Marae (meeting ground or sacred courtyard) which the Maori see as their Tūrangawaewae (their place to stand and belong).
As we explored the village of the Tuhourangi Ngati Wahiao people, I noticed many Tekoteko.  These are wooden carvings of humanlike figures which, we were told, have been shaped to represent the "ancient tribal ancestors who instil general protection and guardianship over the tribe". There was one obvious Tekoteko at the Koturu or carved apex of the Tupuna Whare roof, and another one free-standing at the entrance to the Marae (see below).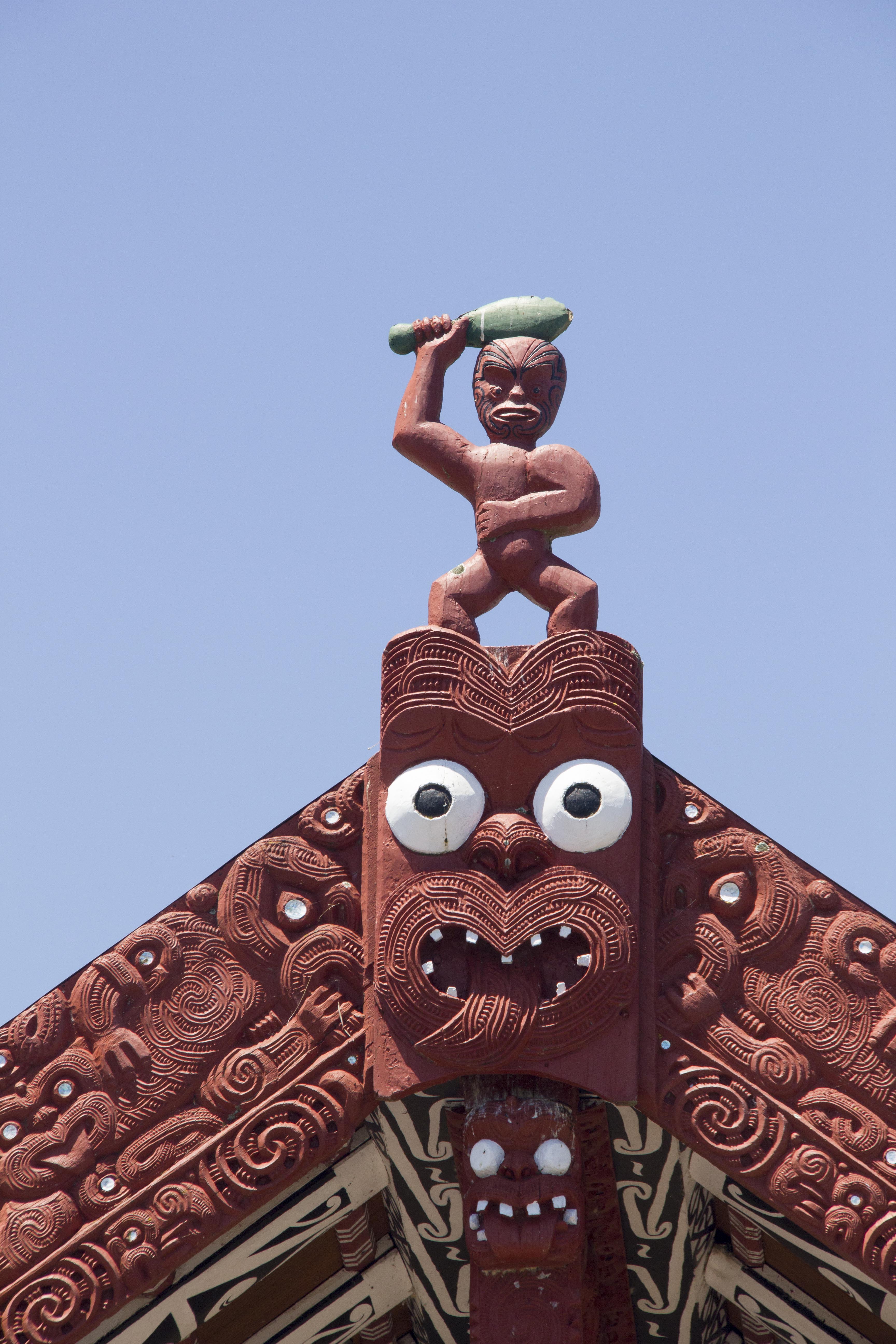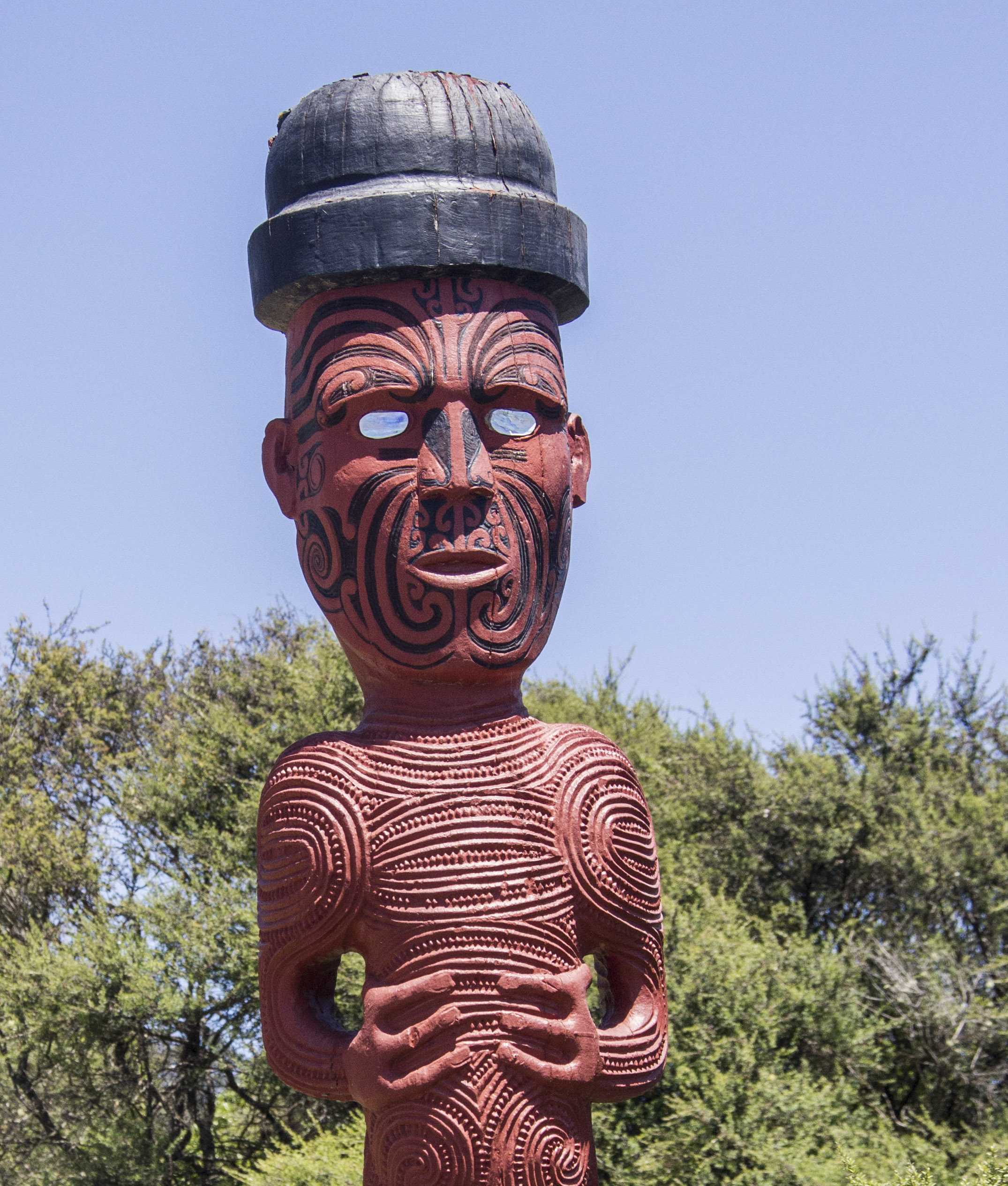 We also saw many smaller Tekoteko figures guarding either side of some of the fenced-off pathways, at regular intervals. These guardians can be either male or female (see photos below).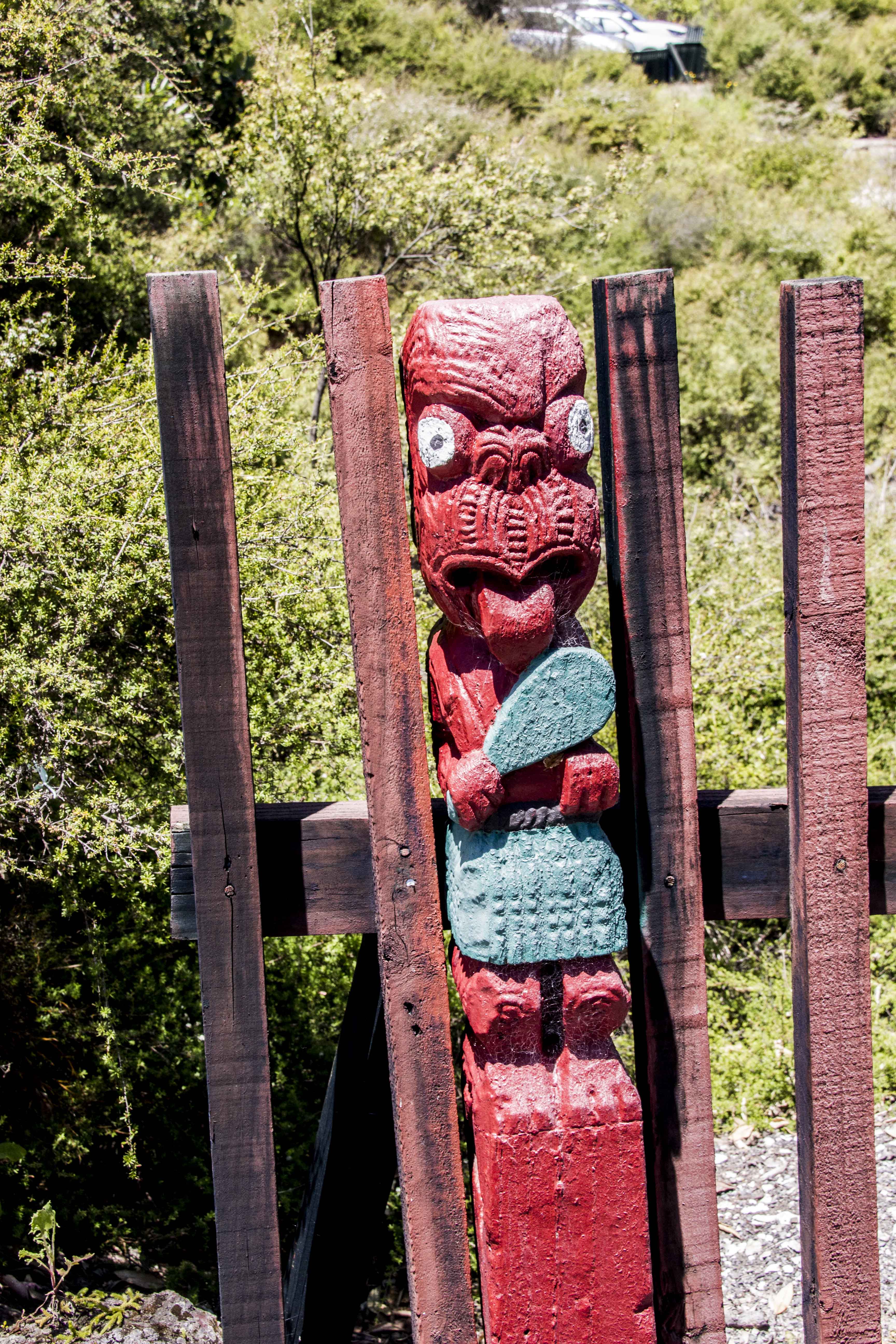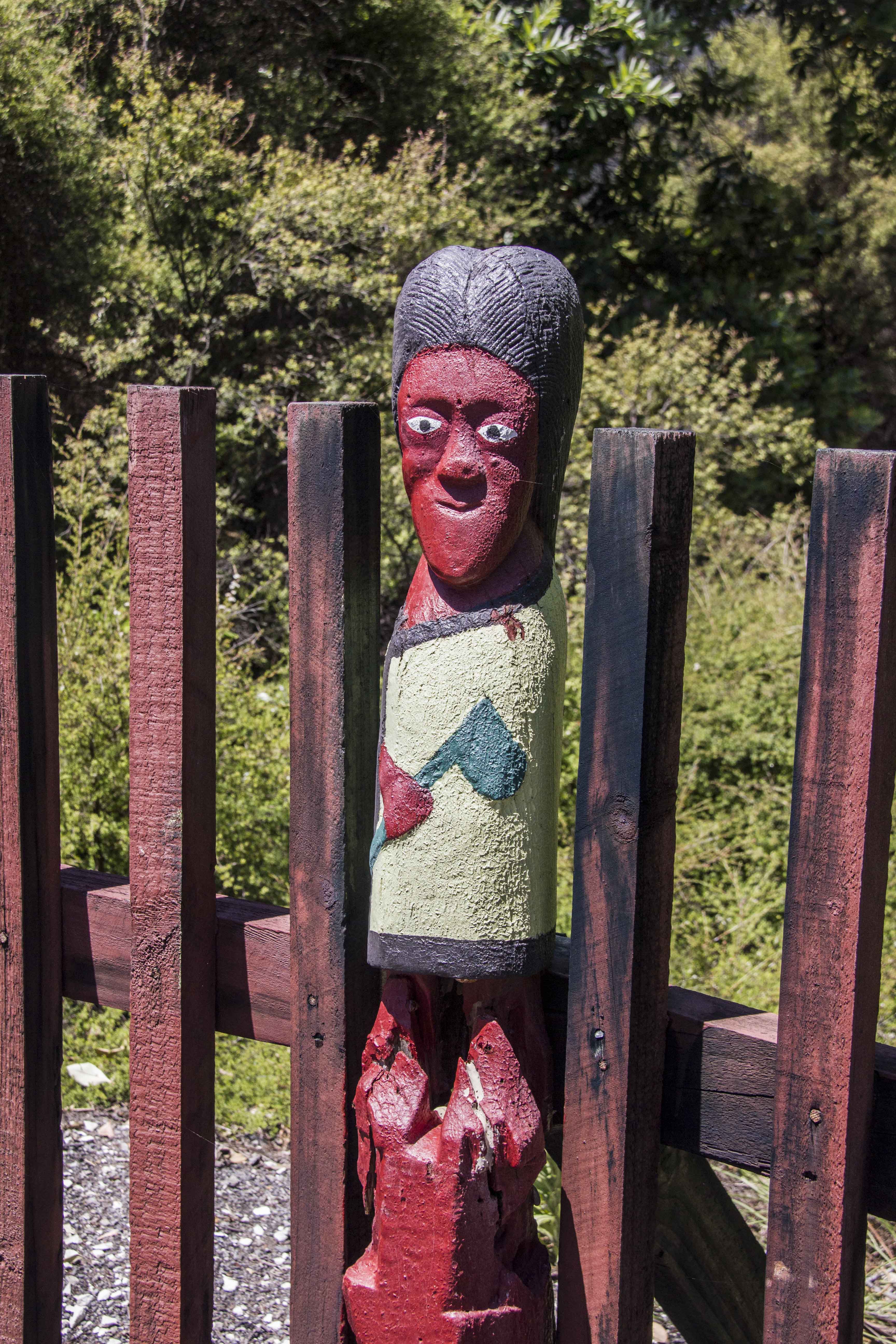 In addition, one particular Tekoteko was pointed out to us as representing a Tohunga (priest), with a distinctive forked tongue.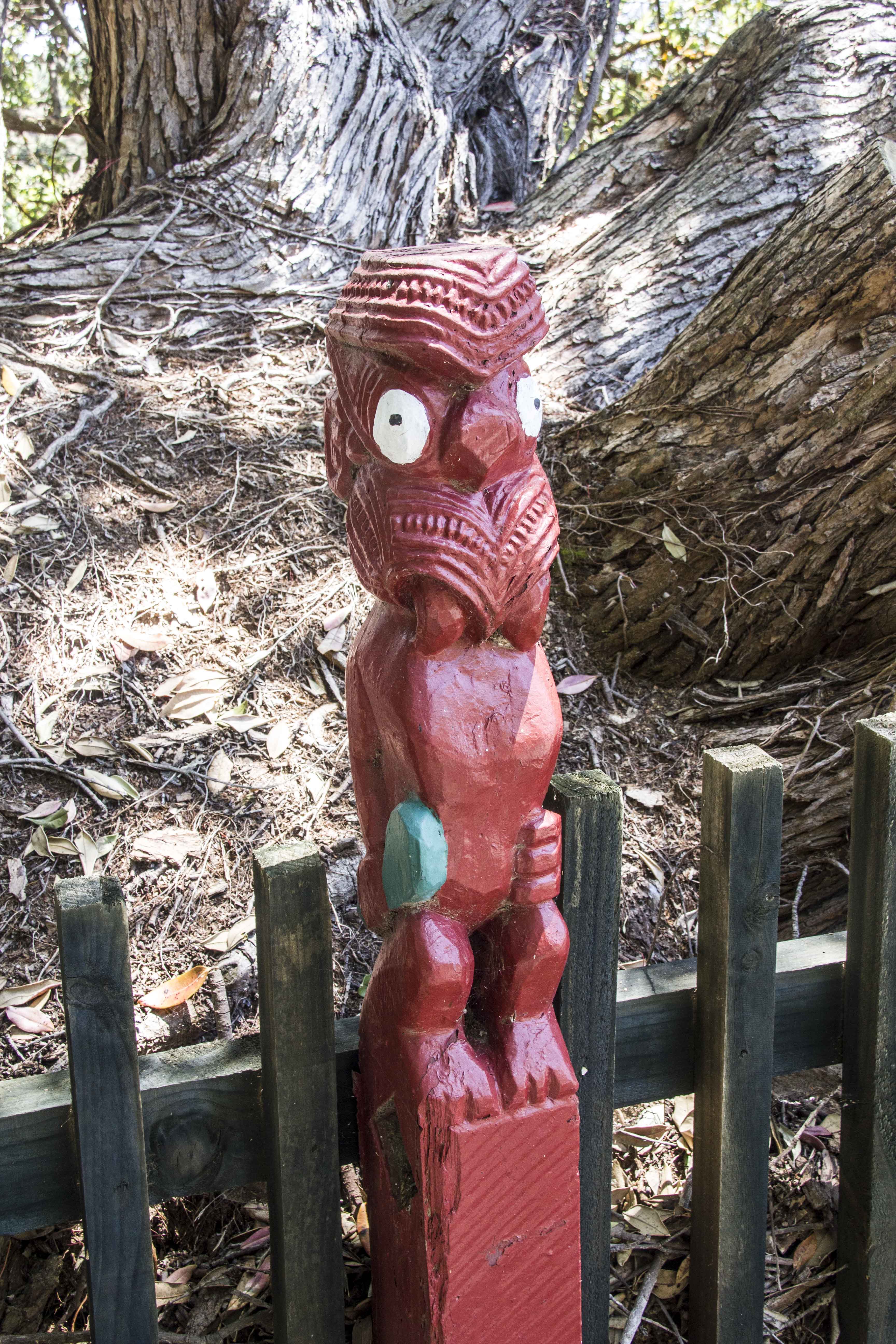 The Tohunga's forked tongue apparently represents his or her (some famous Tohunga were female) natural ability to communicate, through chanting, with the spirit world.  
There are reportedly some 80 Tekoteko in and around the village, acting as Kaitiaki (guardians) "to ward off evil spirits". The carved details of the Tekoteko often comprise "deeply carved faces, a traditional top knot, facial tattoos, a protruding tongue, bulged eyes and a challenging stance". They are traditionally carved from native timbers such as totara and rata. The eyes are often crafted in paua shells, which are found throughout NZ's tourist outlets in various polished forms.  This large edible marine mollusc, the paua, is known in Australia and the USA as abalone.
Additional Sources
Needless to say, much of the information I have presented in the above post, to complement the cultural display and tour we enjoyed, was sourced on-line after our visit.  This is because there are only so many questions that can be asked during a one hour tour, without testing the patience of both the guide and the other tour participants.  Indeed some questions only came to mind during the process of post-editing my photographs (converting them from 'raw' files to JPEGs using Photoshop) and selecting key images to complement the history and tradition of these wonderfully stoic and proud people.
If you wish to gain additional information about Whakarewarewa, its Tuhourangi Ngati Wahiao inhabitants and, indeed, the Maori people in general, you might do well to start at the following links:
https://www.tepapa.govt.nz/discover-collections/read-watch-play/maori">https://www.tepapa.govt.nz/discover-collections/read-watch-play/maori ">https://www.tepapa.govt.nz/discover-collections/read-watch-play/maori    
Until my next post, haere pai me te haumaru (travel well and be safe).
...................<<..................>>...................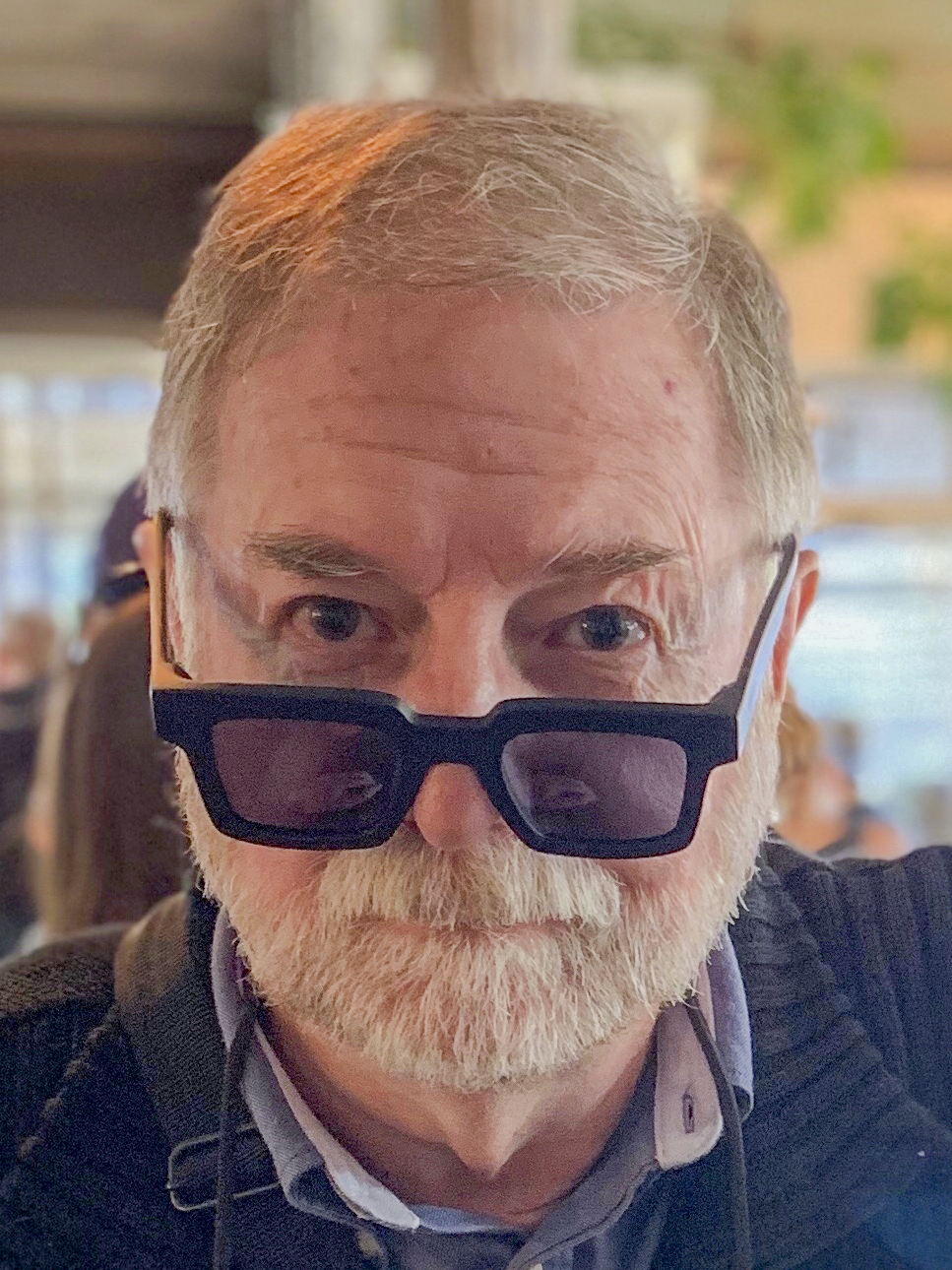 When not researching the weird or the wonderful, the comical or the cultured, the sinful or the serious, I chase my creative side, the results of which can be seen as selected photographs of my travels on my website at:
https://ken-boddie.squarespace.com 
The author of the above, Ken Boddie, besides being a sometime poet and occasional writer, is an enthusiastic photographer, rarely leisure-travelling without his Canon, and loves to interact with other like-minded people with diverse interests.
Ken's three day work week (part time commitment) as a consulting engineer allows him to follow his photography interests, and to plan trips to an ever increasing list of countries and places of scenic beauty and cultural diversity.
#maori #whaka  #rotorua  #newzealand 
Travel
You may be interested in these jobs
---

Specsavers AU

Melbourne, Australia

What you'll do · Talent Program Consultant · What we can offer you · At Specsavers we promise to make you feel good, smart and cared for. Being Great Place to Work accredited for the last three years, ...

---

Travelex

Manningham, Australia

Part time

Role Purpose · To offer exceptional customer service whilst maximising all initial sales opportunities and all future online sales. · Key accountabilities · • Deliver excellence in customer service · ...

---

Chemist Warehouse

Springvale, Australia

A career with endless opportunities is closer than you think_ · Flexible working hours and competitive hourly rates · Friendly and Supportive team environment · Attractive staff discounts across all o ...