6 months ago · 6 min. reading time · visibility ~10 ·
Because There's No Planet B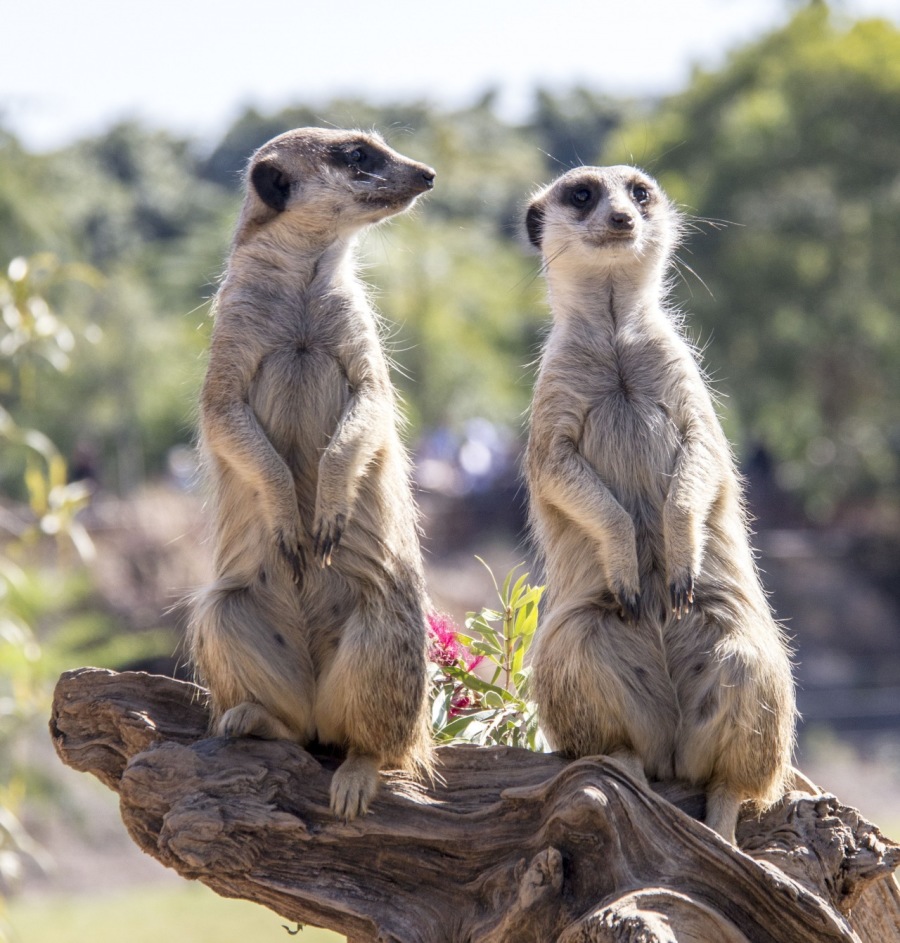 I read more than I retain, but nevertheless, I've always had the approach that if you spend enough time reading, then something will always stick.  Furthermore, when you get to my age, it would be fair to think that perhaps a lot has stuck, except for the indisputable fact that with age comes an increased propensity to forgetfulness.  It's not that we oldies have necessarily completely forgotten the facts and figures, biases and boguses, tantrum triggers and tolerances ingested (often subliminally) over way too many decades, but it's more that our recall mechanisms need a spray of WD40 now and again to efficiently connect to the decayed parts of our archived memory recesses.  
Hence, in recent years I've supplemented my more selective reading with blogging.  If I make notes as I read, and make use of electronic storage as I go, I can then summarise selected data in the form of a blog.  This not only permits me to share some entertaining (and not so entertaining) facts and fiction with all you fine folks, but provides me with a handy place to go when I wish to recall certain subject matter. Such is the modus operandi for the blogs I have written to date on environmental matters, as some of you may remember from the links below:
https://www.bebee.com/producer/@ken-boddie/let-s-talk-garbage  
https://www.bebee.com/producer/@ken-boddie/mangroves-mud-and-myopics 
https://www.bebee.com/producer/@ken-boddie/have-you-seen-my-drain-socks-dear
https://www.bebee.com/producer/@ken-boddie/so-whadya-want-me-to-do-about-it-smarty-pants
https://www.bebee.com/producer/@ken-boddie/let-s-untie-some-reef-knots 
https://www.bebee.com/producer/@ken-boddie/plastic-man-goes-green 
https://www.bebee.com/producer/@ken-boddie/starfish-enterprise 
https://www.bebee.com/producer/@ken-boddie/dreams-to-sell-fine-dreams-to-sell 
This brings me to the topic of this particular blog ... our birth, life and potential death on this planet as homo sapiens.

If this is not your cup of tea, then fair enough, go back to whatever tickles your fancy, and no hard feelings. If, however, you feel the time has come to try and get a better grip on all the damage we've done to date and what homo sapiens really needs to do in order to remain surviving on this planet, then I'd highly recommend you invest some time reading the following:
Sapiens, A Graphic History (1)
Fight for Planet A (2)
A Life on Our Planet (3)
But hey, no rush. We've still got a couple of years or so to get things sorted before homo sapiens goes down the gurgler in a descending and irreversible vortex of extinction.  Still, if you have difficulty reading multiple books, then perhaps start with the last one by David Attenborough (3).
But first let's look at a little historical timeline: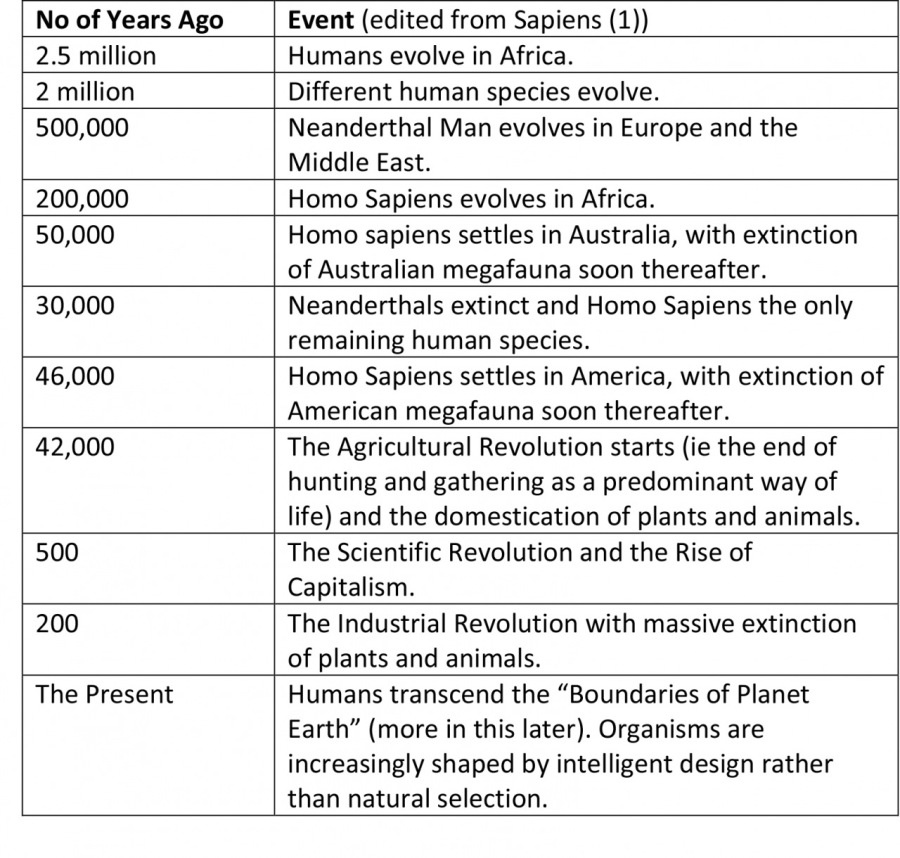 It seems that until about 50,000 years ago, or so, there were six different species of humans (that we are aware of) on the planet as follows:
Homo Erectus - Commonly known as Upright Man (and nothing to do with the male member's prowess between the sheets, or indeed with the male 'member').  This species survived from 2 million to 50,000 years ago, were the first to use fire, and reportedly made the same weapons repeatedly without change.  Perhaps if they were still here instead of us, there's be no need to worry about nuclear weapons?
Homo Neanderthalensis - This Neanderthal species survived from 300,000 to 30,000 years ago, survived the ice-age climate, but had a very poor public relations profile, still to this day being the butt of many a dad joke.
Homo Luzonensis - The Species from Luzon Island survived from 700,000 to 50,000 years ago.  although well adapted to tropical climate he/she is little known as a species and obviously did not take any time out to build a Facebook profile.
Homo Denisova - Although this species was reportedly around from 300,000 to 50,000 years ago, they were originally identified solely from a single fossilised digit.  It seems pretty obvious that they should have gone to a few more footy matches and hence had their finger in a few more pies.
Homo Florensiensis - So named after the island of Flores, near Bali, and surviving from 800,000 to 50,000 years ago. Although they were reportedly good at hunting dwarf elephants and giant lizards, they had a disastrous social life and never left Flore. I can't blame them really, since they probably heard about the Balinese being overrun by Aussie Homo Sapiens behaving badly.
Homo Sapiens - That's us folks, more commonly known as 'Wise Man', although we all know that our woman folk are generally much wiser. Although we've been around from 300,000 years ago till now, I wouldn't take any bets that we'll still be around in the twenty second century, unless we get rid of most of our politicians, industrial capitalists, carbon polluters, and the like, and start acting like grown ups. Besides who are we going to trust to hold the stake money till then?
Talking about the mistakes that the above various species made before popping off the planet, I found that David Attenborough (3) in particular seems to have a good handle on the mistakes that we now, as the only surviving human species, have made, and how these catastrophic errors have crept up on us so slowly that many of our so called 'Wise' species are still either not aware of the dangers we face, or are choosing to ignore them, while cocooned in a smoke screen of self indulgence.
So just who is this David Attenborough (for those of you who've been living under a rock for the last 94 years) and what gives him the right, do I hear you ask, to be an expert on the planet and our effect on it?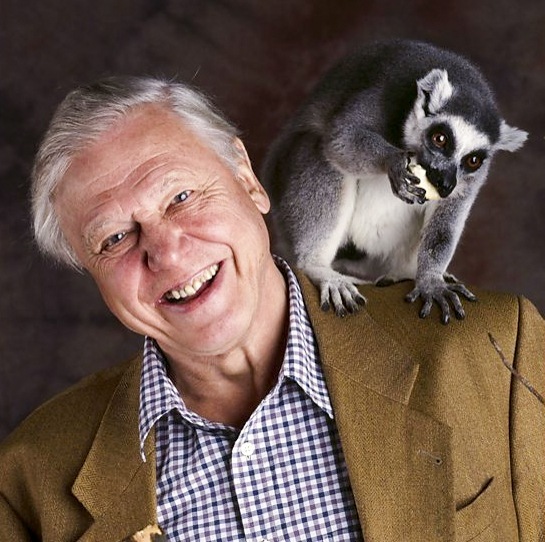 Sir David is undeniably "Britain's best known natural history film-maker' with his career as a naturalist and broadcaster spanning almost seventy years. I remember my parents buying me his colourful book on Birds of Paradise in the late fifties when I was very young, a fitting first introduction to the then wild people and fauna of PNG. The memories of his many landmark travel series have been with me for most of my life. He was knighted in 1985 and received the Order of Merit in 2005, is a fellow of the Royal Society (as were Isaac Newton, Charles Darwin, Michael Faraday, Albert Einstein, and Stephen Hawking) and "stands at the forefront of issues concerning the planet's declining species and conservation". If you need any further convincing then please read the section titled "My Witness Statement" near the front of his latest book A Life on Our Planet (3).
Perhaps one of the things that got my attention most was Sir David's introduction to the Planetary Boundaries Model. This is summarised in the table below, can be accessed via links (5) and (6), and explained in Rockström and Klum (4):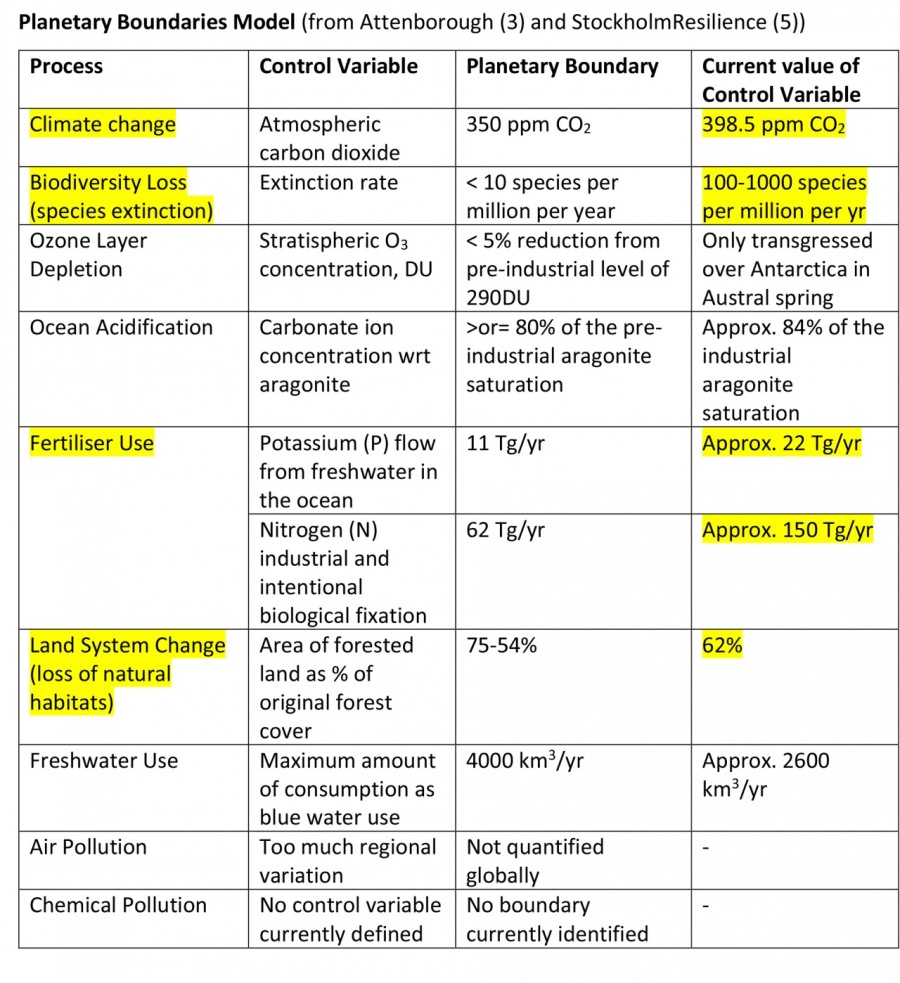 The yellow highlights in the above table indicate that we have already exceeded 4 out of the 9 planetary boundaries, as explained further below from Attenborough (3):
"We are warming the Earth far too quickly, adding carbon to the atmosphere faster than at any time in our planet's history."
"We are causing a rate of biodiversity loss that is more than 100 times the average."
"We are polluting the Earth with far too many fertilisers, disrupting the nitrogen and phosphorus cycles."
"We are converting natural habitats on land - such as forests, grasslands and marshlands - to farmland at too great a rate."
So, in summary, it appears that we have a set of 9 inter-related guidelines to enable us to work towards a sustainable future.  If we keep our impact within these planetary boundaries then we can maintain a sustainable future. As we have already overstepped 4 of the 9 boundaries then we need to stop fluffing around and get on with the job of invoking change for the better.  More specifically from Attenborough (3):
"We must immediately halt and preferably start to reverse climate change by attending to greenhouse emissions wherever they occur."
"We must end our overuse of fertilisers."
"We must halt and reverse the conversion of wild spaces to farmland, plantations and other developments."
"We need to keep an eye on - the ozone layer, our use of freshwater, chemical and air pollution, ocean acidification."
"If we do all of those things, biodiversity loss will begin to slow to a halt, and then start to reverse."
But the final and equally important point is that almost 50% of our impact on the planet is attributable to the richest 16% of humanity (Dasgupta Review (7)). Hence we need to learn not only to live within our planet's finite resources in a sustainable fashion, but also to share these resources, globally, in a much more even fashion.
The aim of this post is to act as a wake-up call for those who are still sitting on the climate change fence and oblivious to our future (or lack of it) on this planet, in the hope that you too will take to reading up more about the many problems we face as Homo Sapiens and hence live up to our name of the Wise species, rather than going the way of the dinausor and our other 5 or so hominid species. You will then be in a much stronger position to lobby your politicians and to ask them more knowledgeably what they are intending to do about climate challenge.
Rather than finishing on a gloomy note, let me just say that both Attenborough (3) and Reucassel (2) have presented credible working plans on how we can reverse our present situation. Here are some topics on this from Attenborough (3):
A Vision for the Future: How to Rewild the World.
Moving Beyond Growth.
Switching to Green Energy.
Rewilding the Seas.
Taking up Less Space.
Rewilding the Land.
Planning for Peak Human.
Achieving More Balanced Lives.
And here are some positive suggestions from Reucassel (2):
Energy for Australia: Be the minister for a day.
Energy at home: Reduce and renew.
Transport: What can government do?
Transport: What can we do?
Food: Reducing your carbon hoof print.
Buying and throwing stuff out.
I'll sign off with another quote from Sir David:
We often talk of saving the planet, but the truth is that we must do these things to save ourselves.  With or without us, the wild will return.  Evidence of this is no more dramatic than that to be seen in the ruins of Pripyat, the model city that had to be abandoned when the Chernobyl nuclear reactor exploded" ... "The wild has reclaimed its territory."
David Attenborough in A Life on Our Planet
References:
(1) Harare, YH (2020), Sapiens, A Graphic History, The Birth of Humankind, HarperCollins, New York.
(2) Reucassel, C (2020), Fight for Planet A, HarperCollins, Sydney.
(3) Attenborough, D (2020), A Life on Our Planet, My Witness Statement and a Vision for the Future, Witness Books, London.
(4) Rockström, J and Klum, (2015), Big World, Small Planet, Yale University Press.
(5) https://www.stockholmresilience.org/research/planetary-boundaries/planetary-boundaries/about-the-research/the-nine-planetary-boundaries.html 
(6) https://www.carbonbrief.org/explainer-nine-tipping-points-that-could-be-triggered-by-climate-change 
(7) https://www.gov.uk/government/publications/final-report-the-economics-of-biodiversity-the-dasgupta-review
...................<<..................>>...................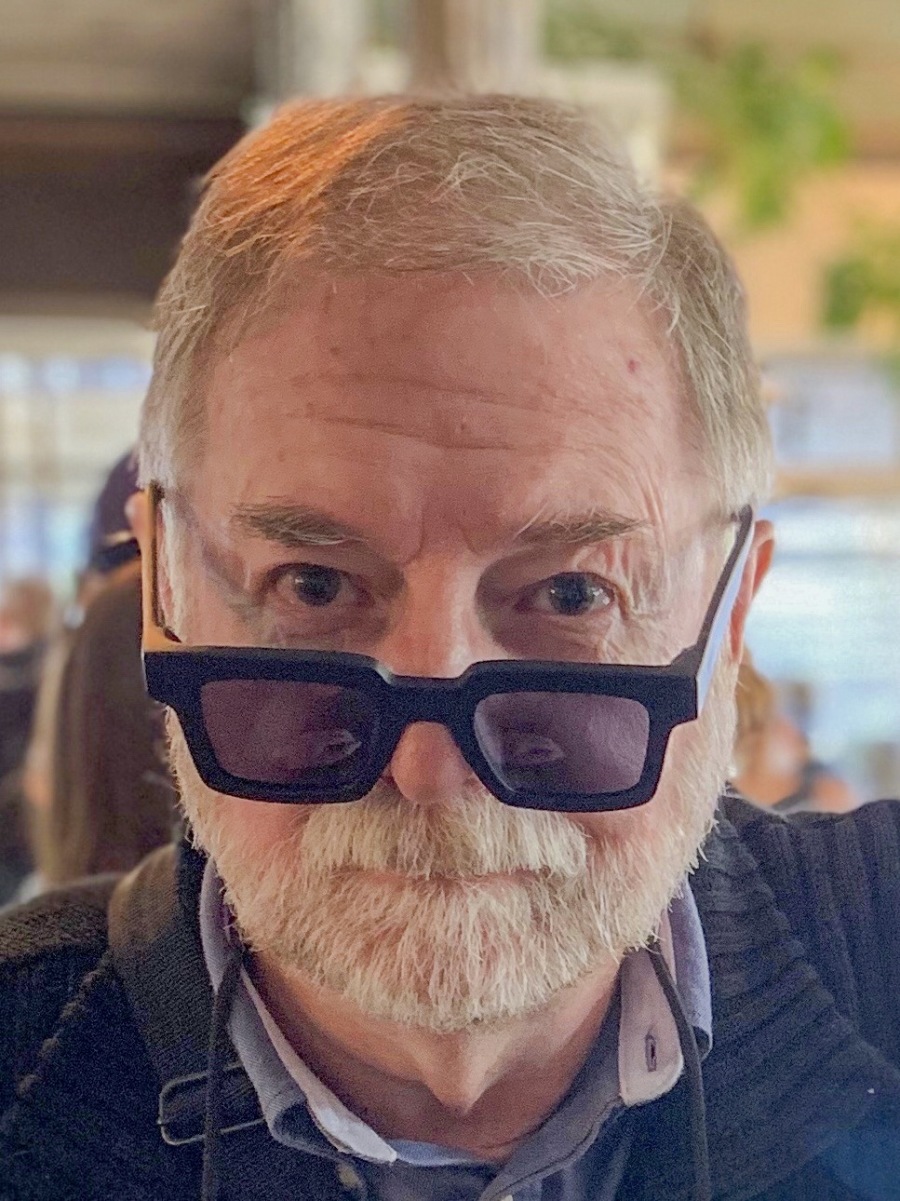 When not researching the weird or the wonderful, the comical or the cultured, the sinful or the serious, I chase my creative side, the results of which can be seen as selected photographs of my travels on my website at:
http://ken-boddie.squarespace.com
The author of the above, Ken Boddie, besides being a sometime poet and occasional writer, is an enthusiastic photographer, rarely leisure-travelling without his Canon, and loves to interact with other like-minded people with diverse interests.
Ken's three day work week (part time commitment) as a consulting engineer allows him to follow his photography interests, and to plan trips to an ever increasing list of countries and places of scenic beauty and cultural diversity.
You have no groups that fit your search