2 years ago · 1 min. reading time · visibility 0 ·
WEBINAR: TWITTER BASICS FOR YOUR BUSINESS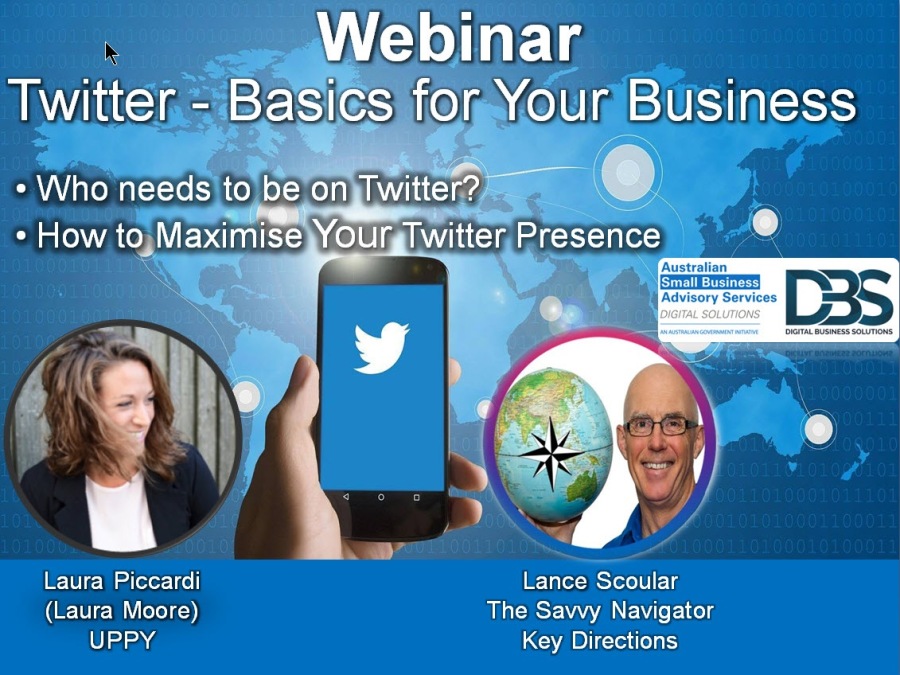 WEBINAR: TWITTER BASICS FOR YOUR BUSINESS
- FREE
- Who needs to be on Twitter
- How to Maximise Your Twitter Presence
with Lance Scoular @LanceScoular of  and  Laura Piccardi @liveuppy
Lance is a key Twitter influencer with over 180,000 followers; Laura is a speaker, author and coach who is building a substantial Twitter following.
Twitter is possibly the most powerful social media channel in the world, and not well understood or utilised in Australia. The Twittersphere can be an overwhelming place! Learn how to make sense of it, and how to begin to wield it's power.
Twitter (/ˈtwɪtər/) is an American online news and social networking service on which users post and interact with messages known as "tweets". Tweets were originally restricted to 140 characters, but on November 7, 2017, this limit was doubled for all languages except Chinese, Japanese, and Korean.[14] Registered users can post, like, and retweet tweets, but unregistered users can only read them. Users access Twitter through its website interface, through Short Message Service (SMS) or its mobile-device application software ("app").[15] Twitter, Inc. is based in San Francisco, California, and has more than 25 offices around the world.[16]

Wikipedia

Wed 6 March 2019 9:30 – 10:15am AEDT ( #Sydney #Australia)
This webinar is delivered under the Australian Government's Digital Business Solutions Program.
The webinar will include live demonstration on:
Lance's Twitter handle:
https://twitter.com/LanceScoular
@LanceScoular
and the hashtag:
#twitter #basics #howto #business
Register here>
https://www.eventbrite.com.au/e/webinar-on-twitter-basics-for-your-business-tickets-55954208544
You have no groups that fit your search