1 month ago · 5 min. reading time · visibility ~100 ·
Strawberry Fields Forever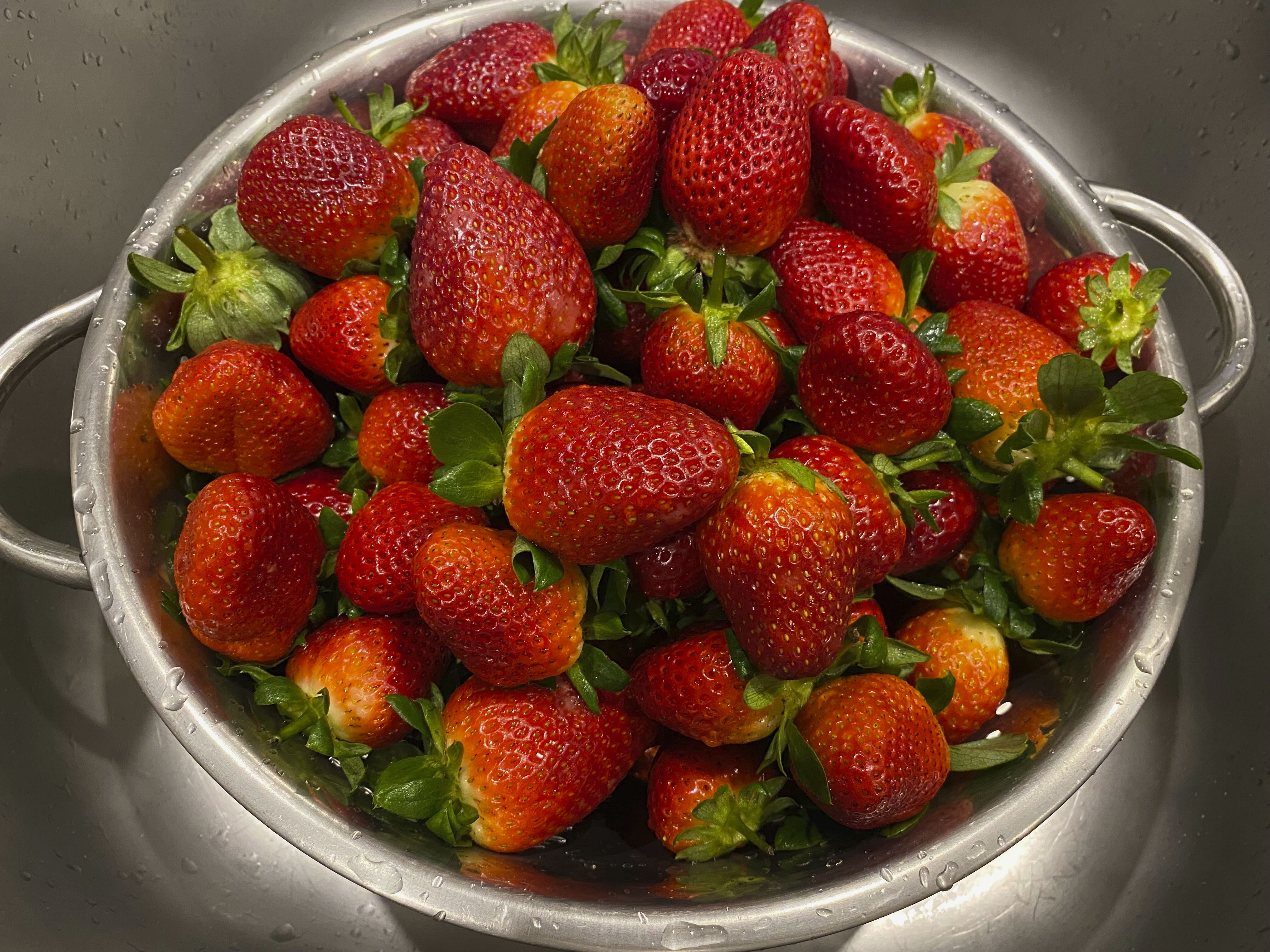 Well the Beatles may have thought that Strawberry Fields were "nothing to get hung about", but at least from May to October each year, the call of the tasty strawberry draws folks from all around, as if the ripeness of these fields will indeed last 'forever'.  This seven month feast of berries is Queensland's strawberry harvest season, starting in late autumn and running through to mid-spring. 
It was a late Sunday morning, the gardening was finished for the day and a drive out of town was on the cards, but where? Something had been nagging me for attention over the last few days and here it was again, as I scrolled through my emails, in one of the regular newsletters I subscribe to on-line, "Things to do in and around Brisbane."  'LuvaBerry, the Family Berry' was dancing from the screen, beckoning me with its integrated ripe juicy strawberry logo.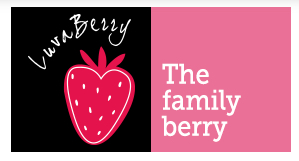 And so, a short while later, we were on the road and heading north for what Google Maps promised to be about an hour's drive.  Well it would have been about an hour, had we not been f'ingly, GPS'ingly, misdirected into a ploughed paddock once we left the bitumen seal on the outskirts of Caboolture.
"G'day," hailed a stocky tractor driver as she descended from the cab of the well used machine, and followed up with, "Can I help you?" This, of course, is code for, "What the hell are you doing on my property?" The burnt amber skin and her oriental ethnic features were at odds with her broad Aussie twang, but hey, Queensland is about as diverse as any other country these days, with a complete range of citizens of the world, or their grown up offspring, now calling Australia home.
A fruitful conversation ensued, ending with a set of detailed instructions, delivered somewhat philosophically, not just to us, but also to the occupants of an equally lost vehicle that had been tailing us, also bent on picking strawberries (as we later found out). It would appear that this GPS glitch is a regular occurrence around these particular and infrequently travelled lanes and byways, usually only providing passage to local residents and their commercial deliveries.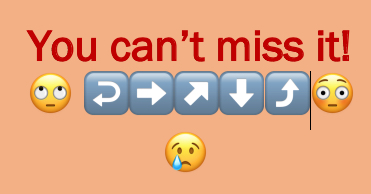 Another 10 or 15 minutes later, however, after taking a right back onto the track outside the ploughed paddock, then a sharp left, then right, then right again, we had arrived at the small family farm that Adrian and Mandy Schultz have called home for the last 17 years, with the proud LuvaBerry sign on display along the final approach and at the main entrance.
We were met at the sales shed (a cleverly converted former shipping container) by Mandy who explained that there weren't many visitors that day and hence the formal farm tour we had booked on line was off the menu, but she'd be happy to take us on an informal stroll around her smallish family farm and working buildings.  Perfect!  The less formality the better.
After a quick check over the camera gear, we slipped on the 'sunnies' 🕶, slapped on a hat, and followed Mandy as she headed first around the sheds and farm buildings.  The farm dates back some 80 years, when the original occupants grew tobacco,  being recipients of a give-away land and house package for returning World War 2 veterans, to encourage farming in the area. Indeed, the original vented towers for drying the tobacco leaves still form an integral part of the complex of work sheds (see the white painted towers, centre and right on the photo below).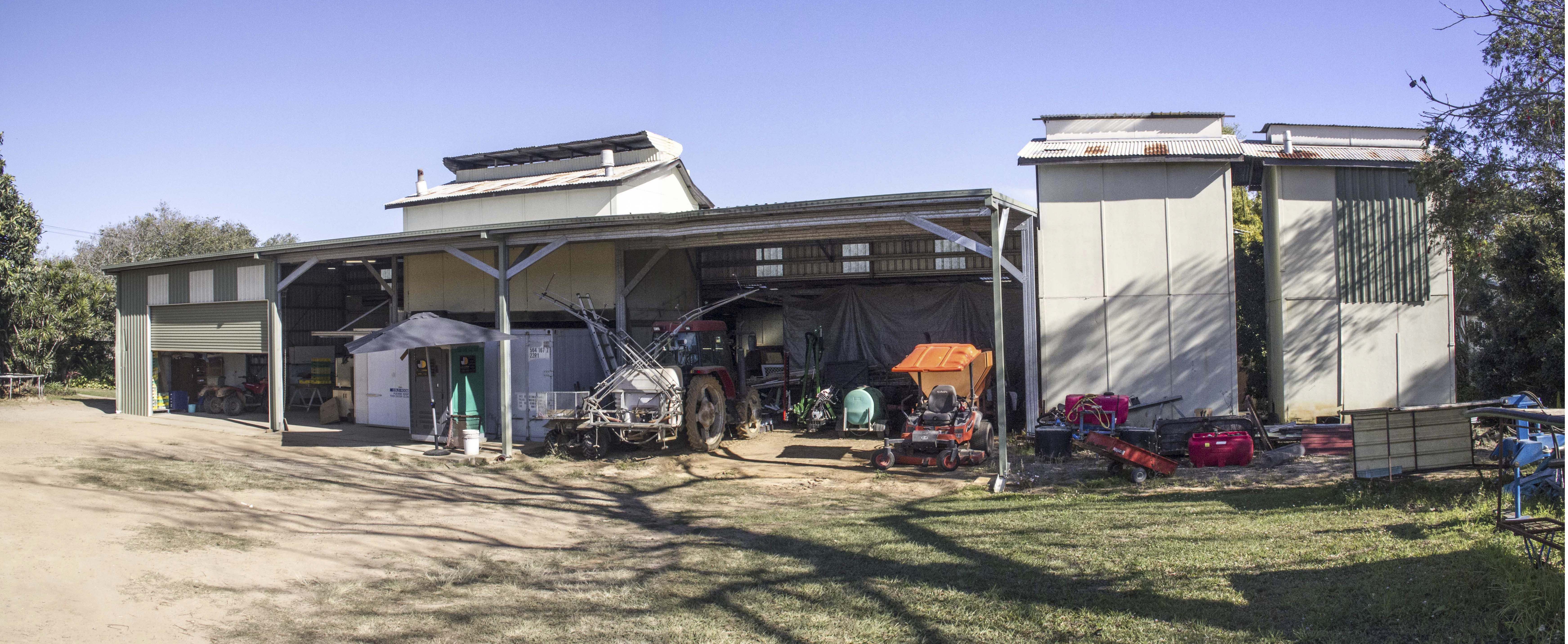 We then watched a few of the casual workers in the packing shed, where Mandy explained that, being a relatively small organisation, they had not been affected by COVID to the same extent as some of the other farms in the region and had a crew of seasonal employees from various backgrounds and origins.  Some of the fruit farms in Australia have suffered recently from a general lack of backpackers and other itinerant casuals and Queensland is currently closed off from the southern states due to health restrictions. Nevertheless, LuvaBerry's packers and pickers seemed a happy enough lot.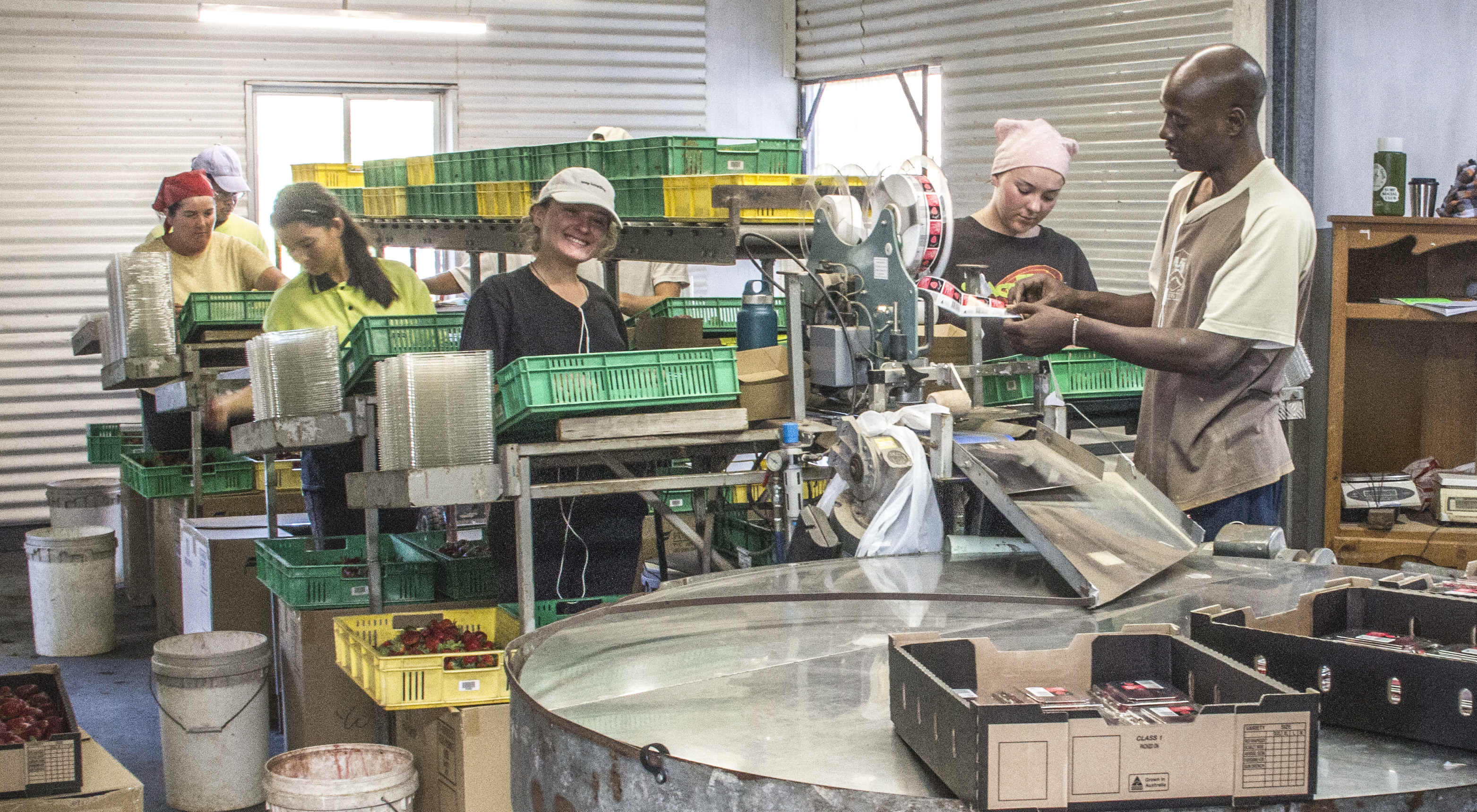 Once out in the open again it became immediately obvious that this small holding had diversified extensively.  There were rows and rows of chives, rosemary, sage and many other herbs, all looking deliciously green and healthy.  Mandy must have seen my wife's eye's bulging because she bent down occasionally to snip a cluster of this and that for her, as we wound our way to the strawberries at the top of the hill.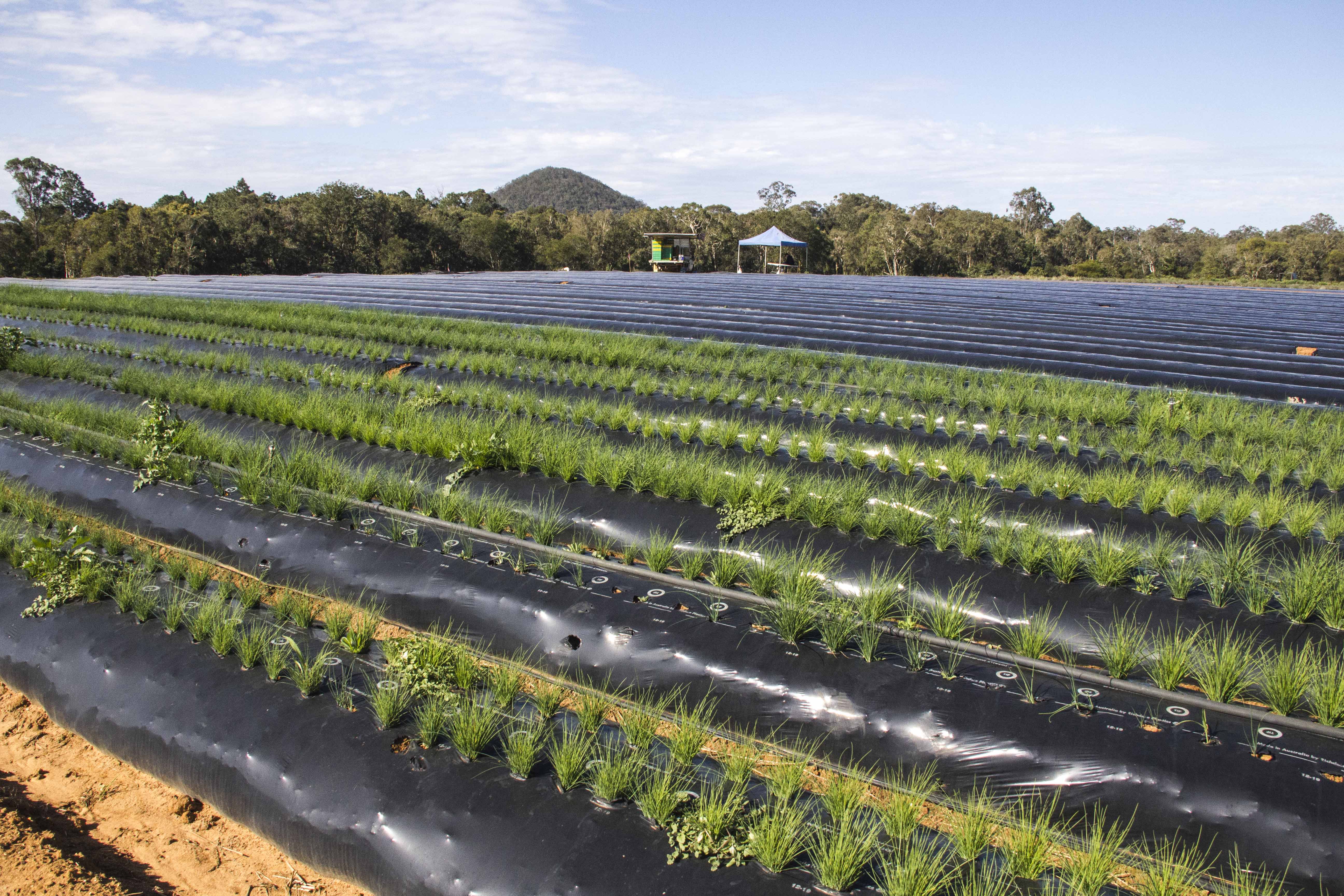 We had a brief tour of the main attraction for the day, the extensive strawberry patches, and were keen to see how the fruit grows in a spread of stalks from the main plants. The berries appeared to be strewn among the plant foliage and that is where the original name, 'strewberries', came from.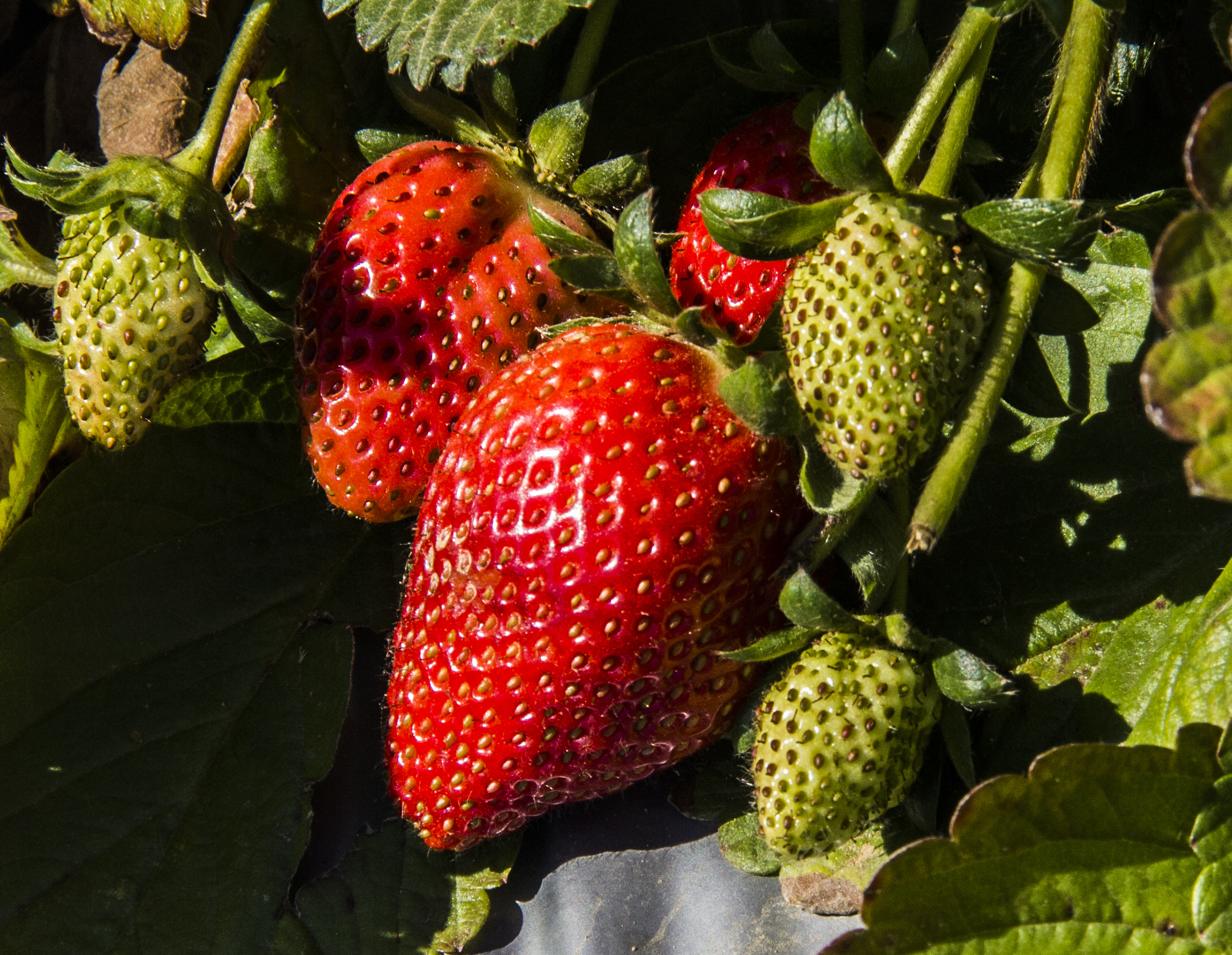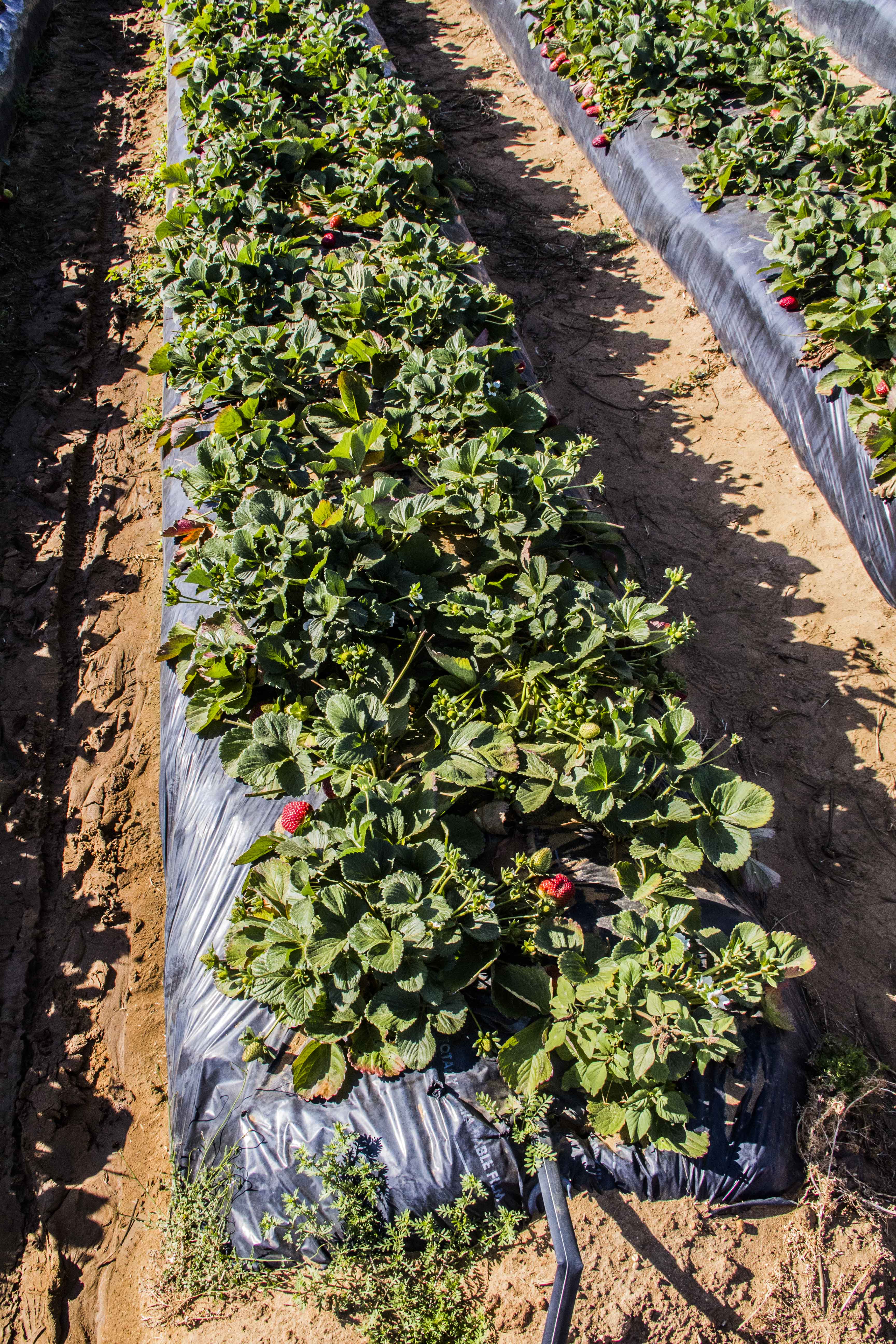 We would return to pick some berries for ourselves later that afternoon, but, for now, we were still agog and salivating at the scenes of various fruit and herbs in front of us. Then there was the old Holden ute (pickup truck for all you non-Aussies), where the small sunshade mounted on the back featured an electric balance for weighing the fruit, powered by two solar cells laid across the bonnet (or hood for the Yanks).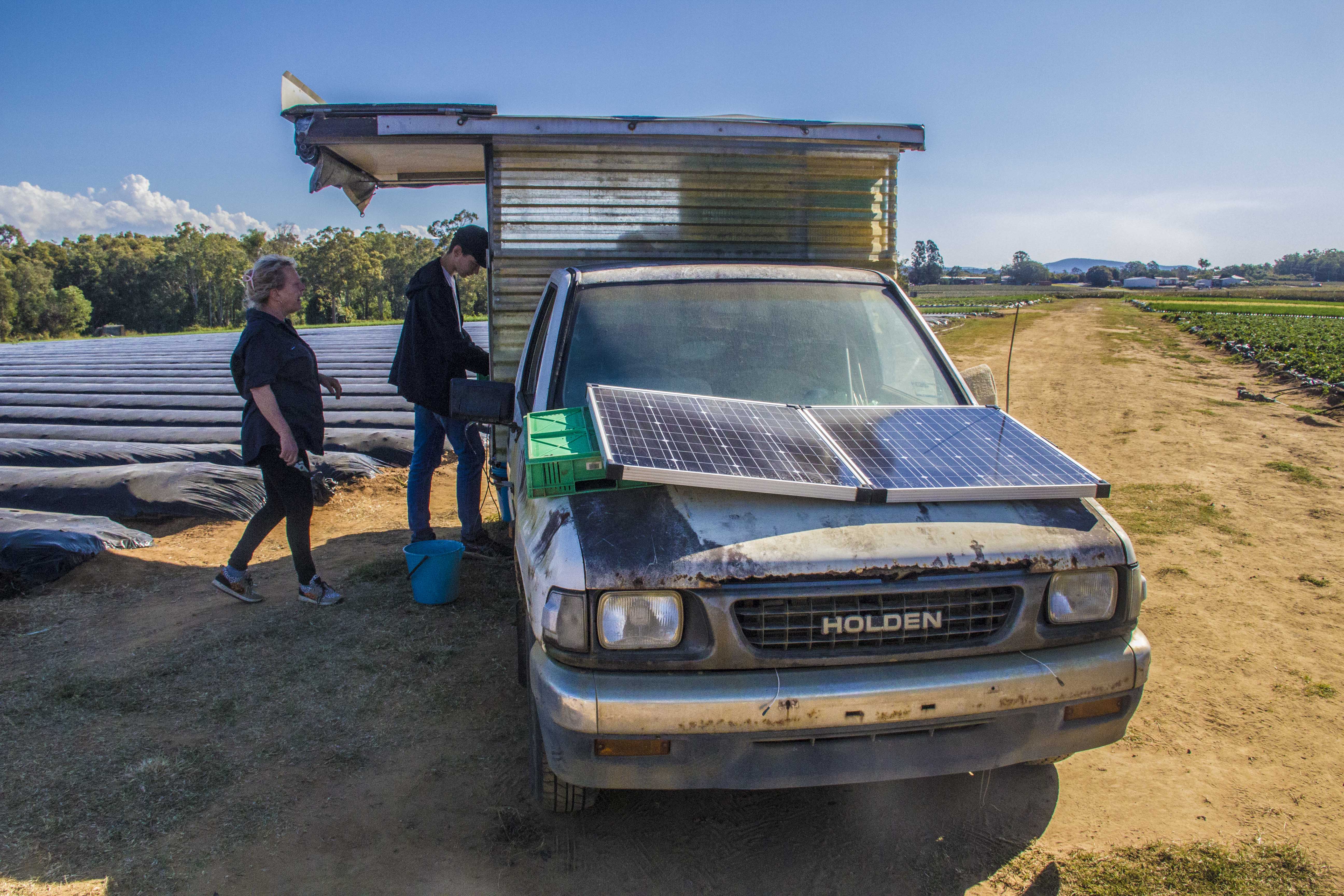 I was transported back to my days in Scotland in the school holidays, when I had occasionally worked on a small farm picking various berries, including strawberries.  As kids we hated the strawberry picking because it was back breaking work (compared to the fruit that grew on bushes above the ground) and, back then, we had to husk the berries as we went, meaning that the juice worked its way slowly up into your fingernails and became excruciatingly painful by the end of the day.  As I was regaling our small party with tales of my youthful days of back and finger pain, our host was quick to point out that husking is no longer required in the field and indicated a splendid set of trolleys on which her pickers sat these days. Oh what heavenly luxury!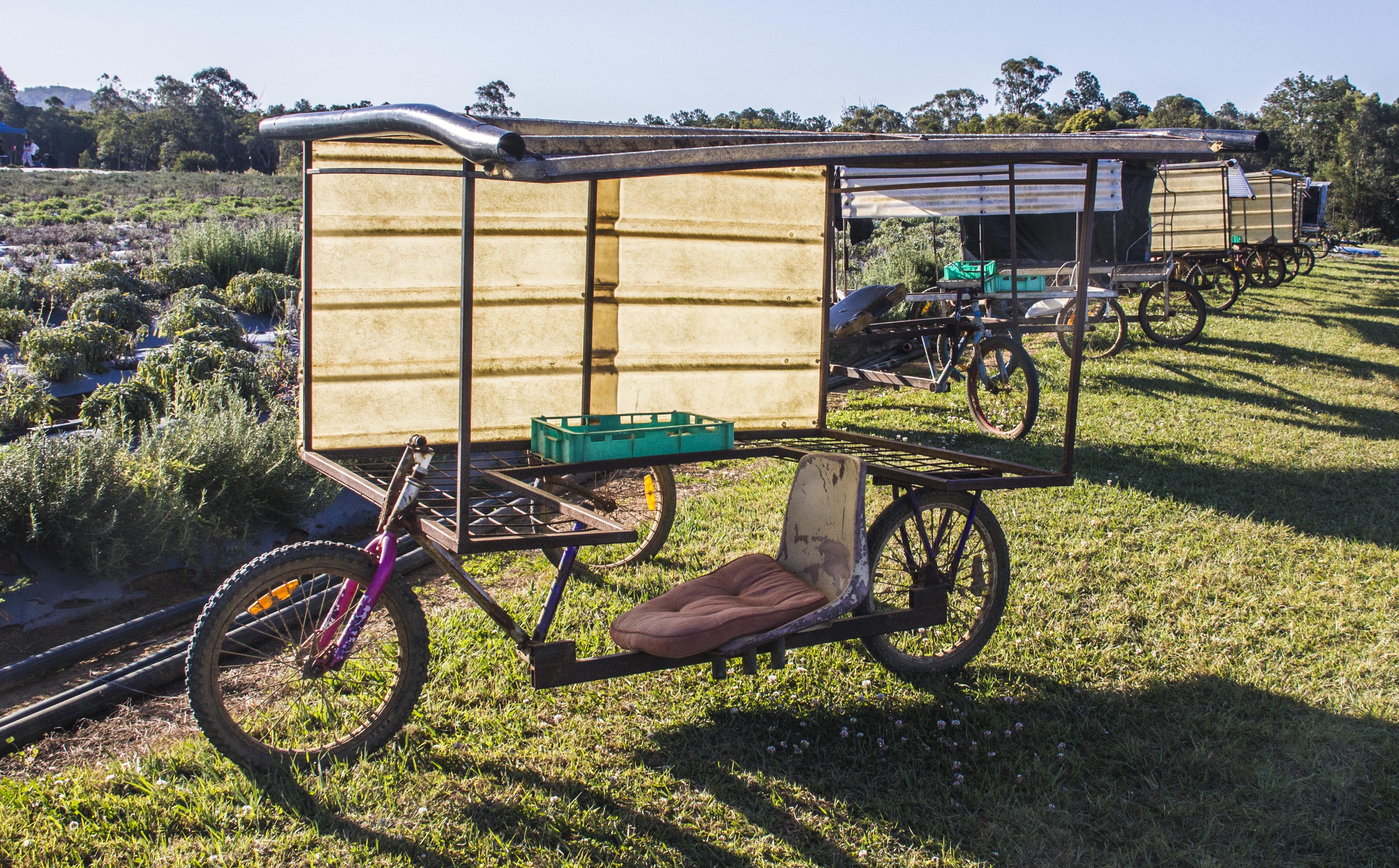 But before we finished our tour, Mandy asked us if we would like to see one more of her diversifications, located off to one side and hidden in clusters of small green bushes.  She was quite rightly proud of her 'finger limes' (a kind of lime that I'd never heard of before) which we tried somewhat sceptically at first, until we found out how deliciously sweet and sour they are.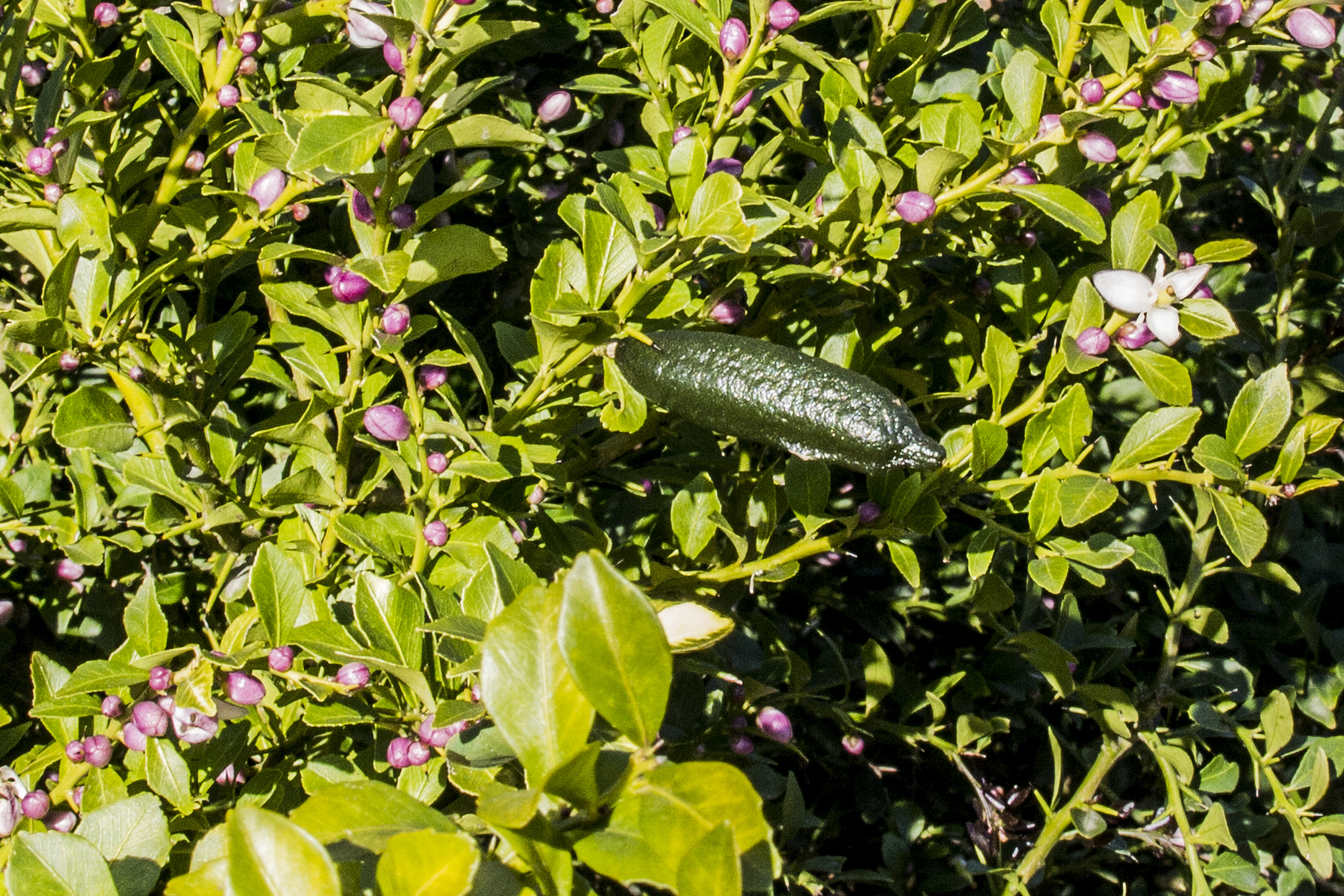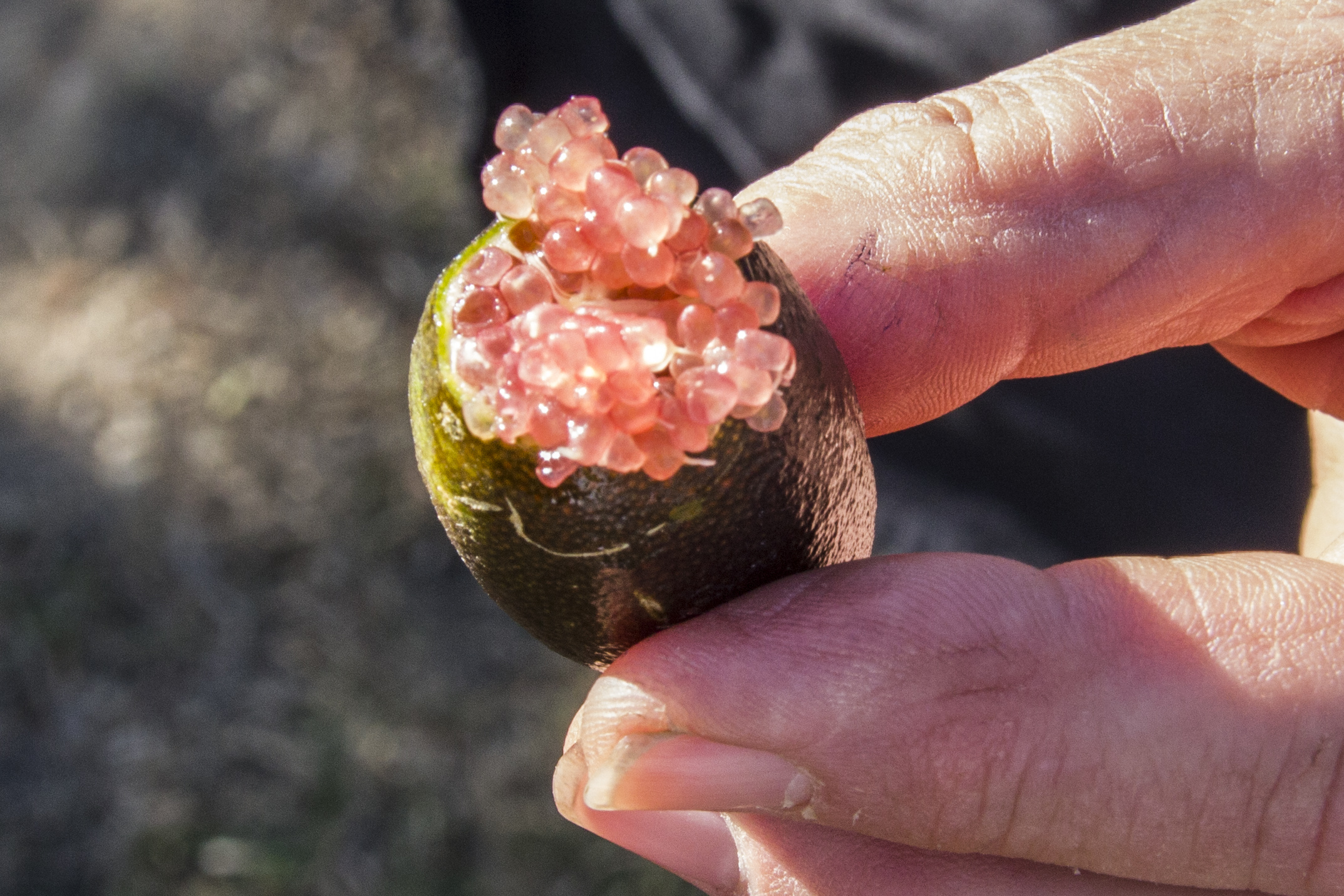 After picking a couple of kilos of juicy, ripe, allover red strawberries to take home with us, it was time to sample the many delights made on the farm and surrounds by Adrian and Mandy in conjunction with their neighbouring entrepreneurs. There were Strawberry Sundaes, smoothies, ice-cream, and yoghurt, feta cheese, jams (my favourite was strawberry and finger lime), but then there were the freeze-dried products, seemingly motivated by the objective of reducing farm product waste, not only from LuvaBerry, but by also helping neighbouring farmers with theirs.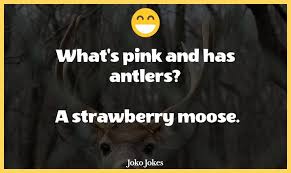 This sustainable range comprised assortments of freeze-dried fruit snacks, strawberry dust for sprinkling on dishes, and fruit crunches, in tastebud heavenly flavours such as blueberry, raspberry and, of course, strawberry., all at reasonable 'farm gate' prices.  No daylight 'strobbery' here, folks.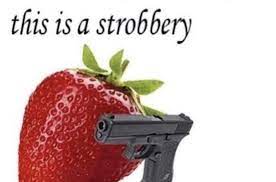 Then, all too soon, our farm trip was over, but not before a final snap or two at the front gate, to remind us, along with a boot load (that's trunk load for my American buddies) of goodies, of a day well spent out in the fresh farm air.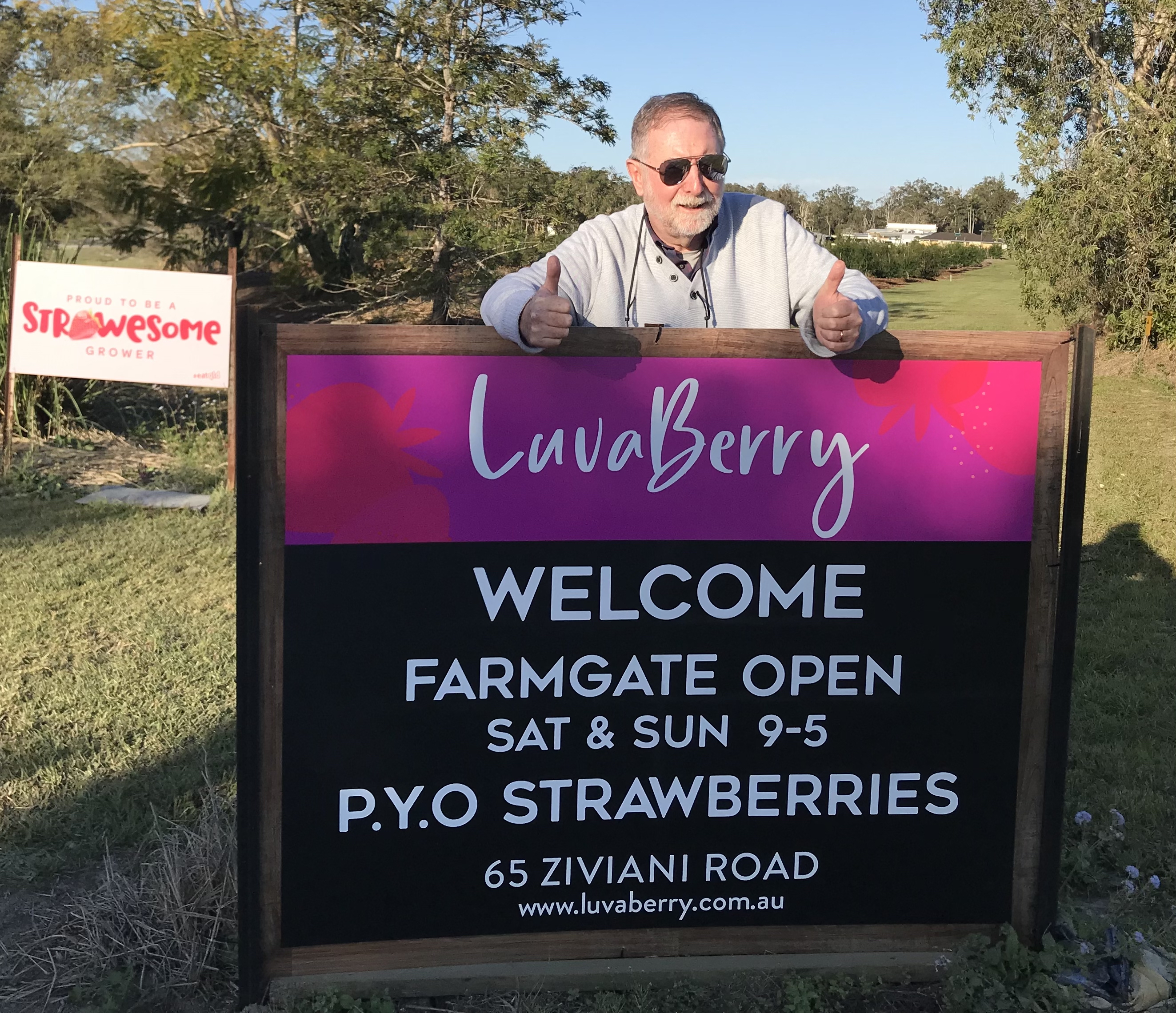 ...................<<..................>>...................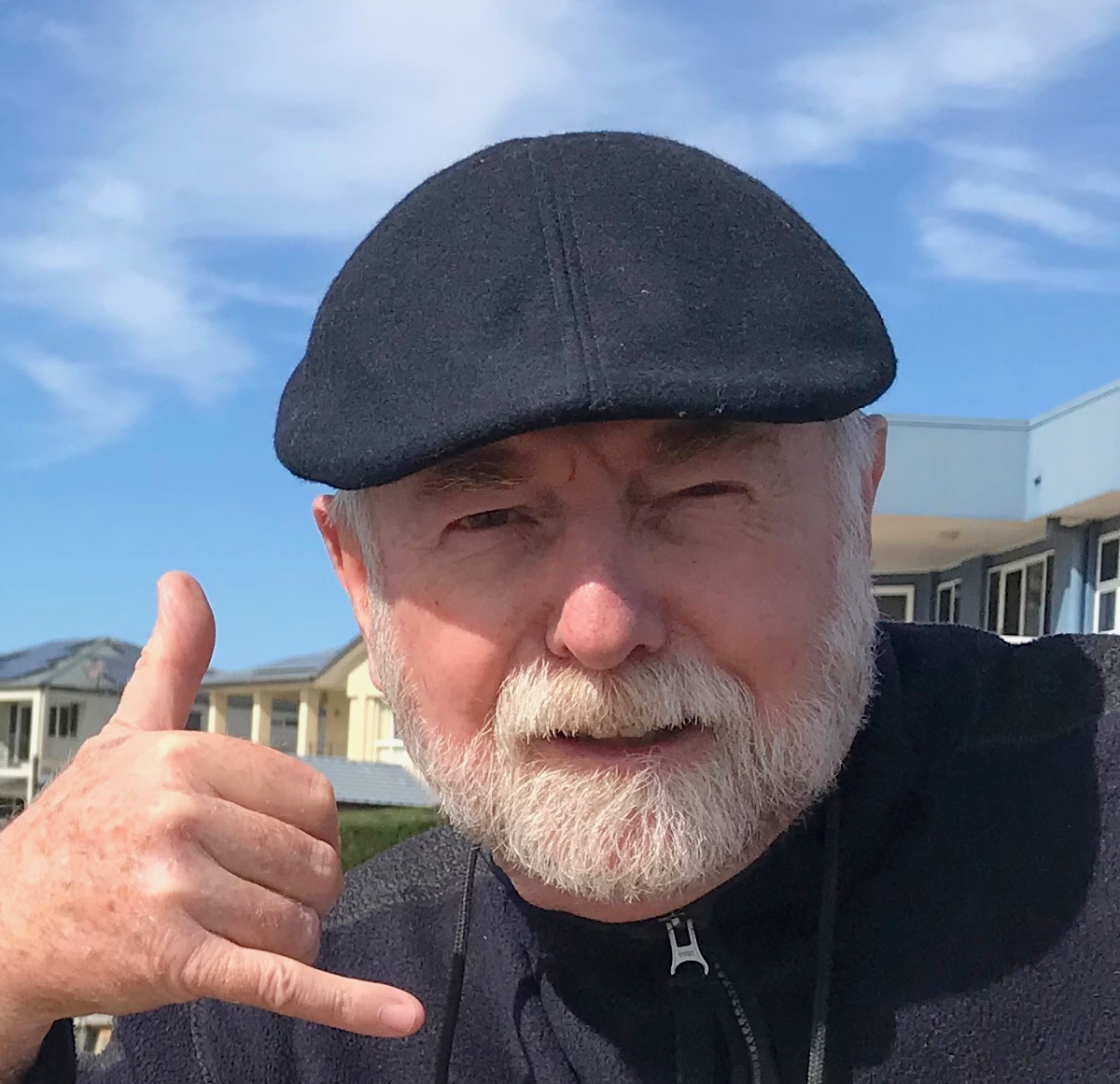 When not researching the weird or the wonderful, the comical or the cultured, the sinful or the serious, I chase my creative side, the results of which can be seen as selected photographs of my travels on my website at:
http://ken-boddie.squarespace.com
The author of the above, Ken Boddie, besides being a sometime poet and occasional writer, is an enthusiastic photographer, rarely leisure-travelling without his Canon, and loves to interact with other like-minded people with diverse interests.
Ken's three day work week (part time commitment) as a consulting engineer allows him to follow his photography interests, and to plan trips to an ever increasing list of countries and places of scenic beauty and cultural diversity.
You have no groups that fit your search