Sands Through the Hourglass, Gone but not Forgotten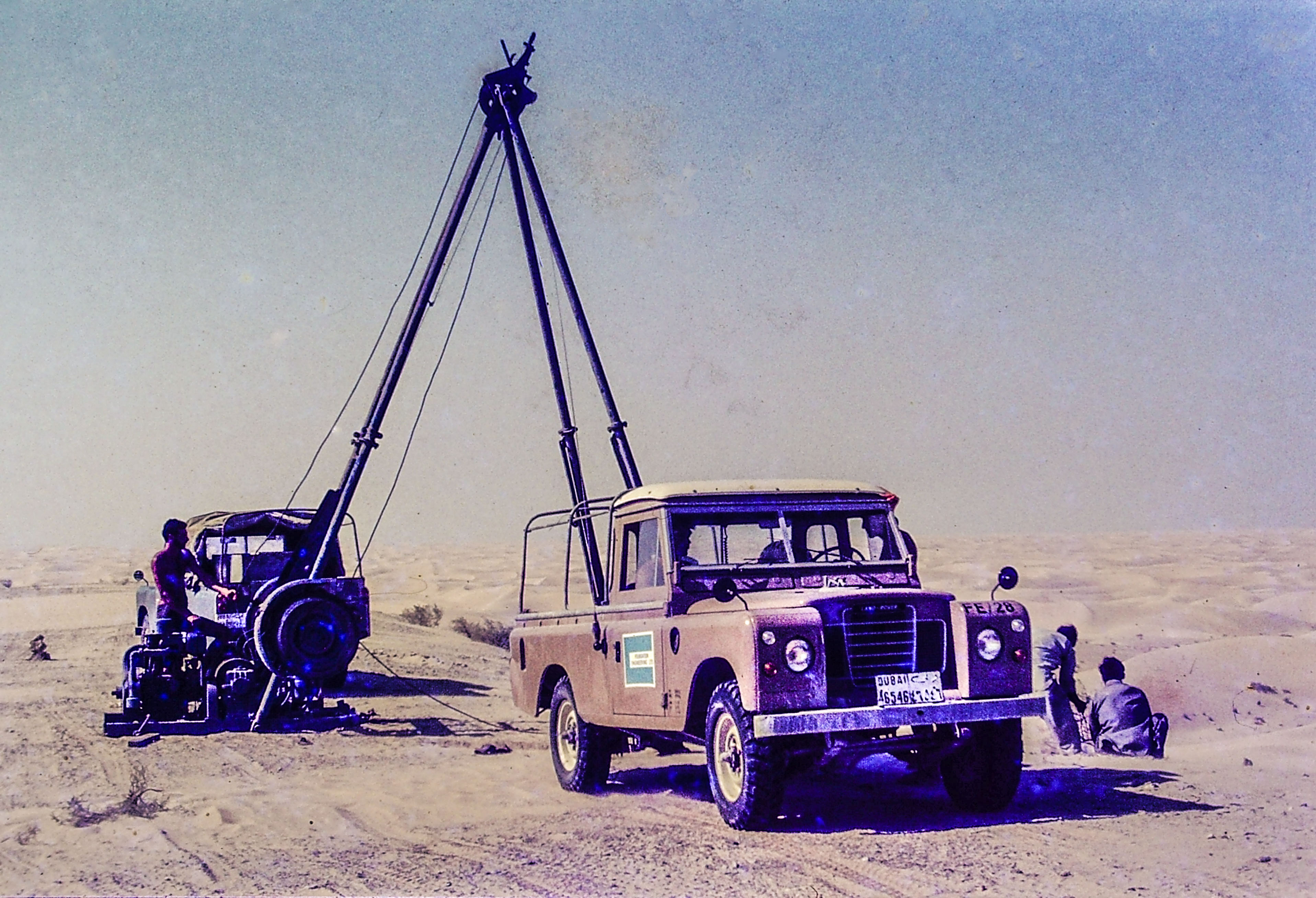 It was hot … bloody hot! … yet here we were in the middle of the 'high dune' country, in the south of the United Arab Emirates (UAE), on the edge of Saudi Arabia's 'Empty Quarter'.  We were drilling site investigation holes down to 20m or 30m depth and logging the soil recovered, all fine sand, silty fine sand, fine sand with silt, etc, etc (you get the idea?).  These sands were aeolian (wind blown) in origin, often 'loose' on the surface, then 'medium dense becoming dense', then 'dense to very dense' with depth. No rock within 'cooee' and no groundwater either, unless you brought in the big rigs and drilled down for it.
The year was 1977 and we were to visit the wellhead camps of Bab, Asab and Sahil, to investigate the proposed sites of various flare stack towers and associated plant and equipment facilities, but they didn't tell us that we were to be in the middle of ... well, absolutely nowhere.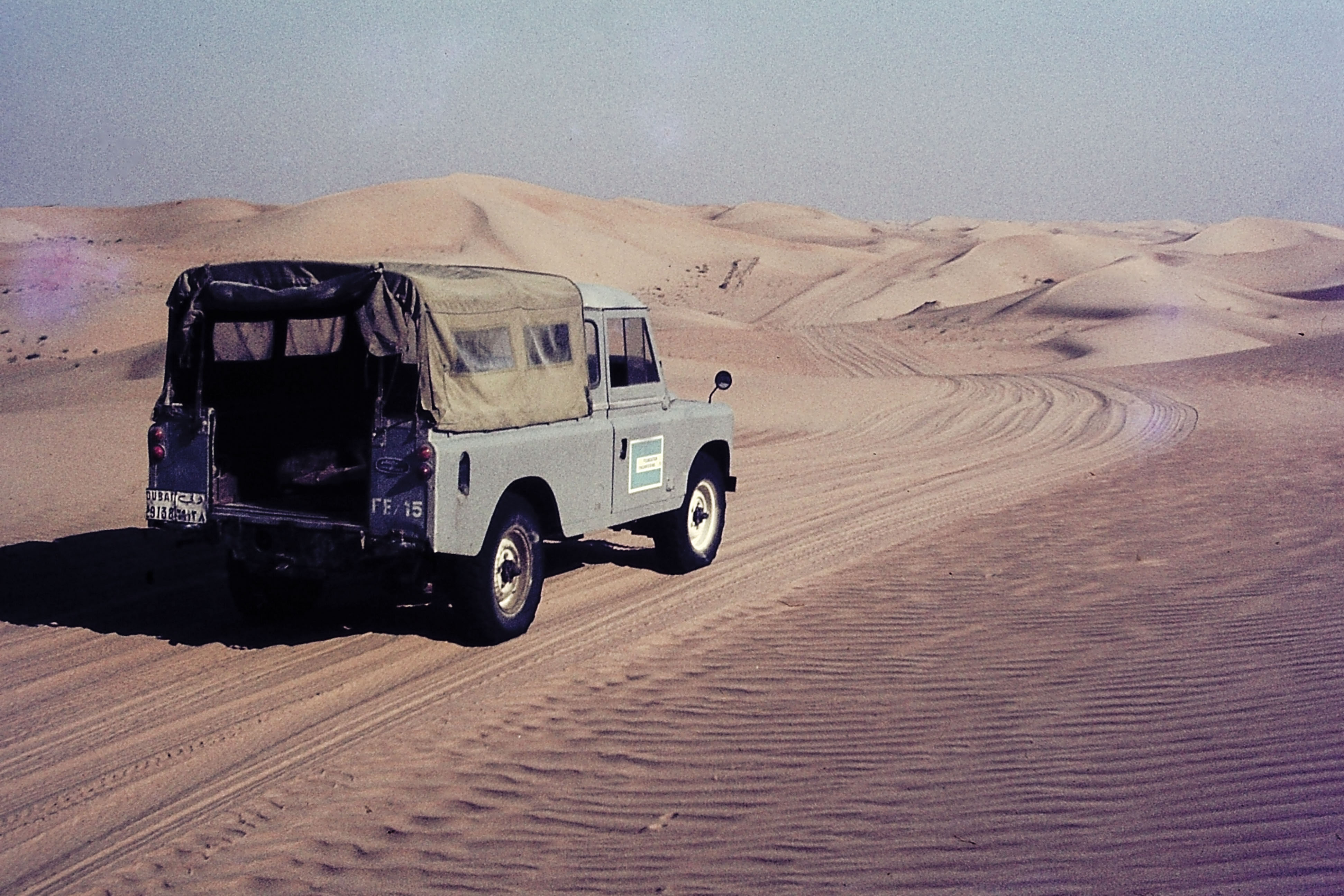 We drove in convoy, our two Pilcon Wayfarer cable percussion rigs each towed by a classic Land Rover, plus another support vehicle in the group for good measure. No 'air con' in those days (except for open windows). Such luxury items were reserved for the then super expensive Range Rover, driven by the occasional Emirates 'nouveau riche' oil sheik, or by the oil company executives (from the Abu Dhabi National Oil Company) who were funding our project. The now common Toyota Landcruiser had (back then) only just recently made its first ugly Mark 1 appearance on the market.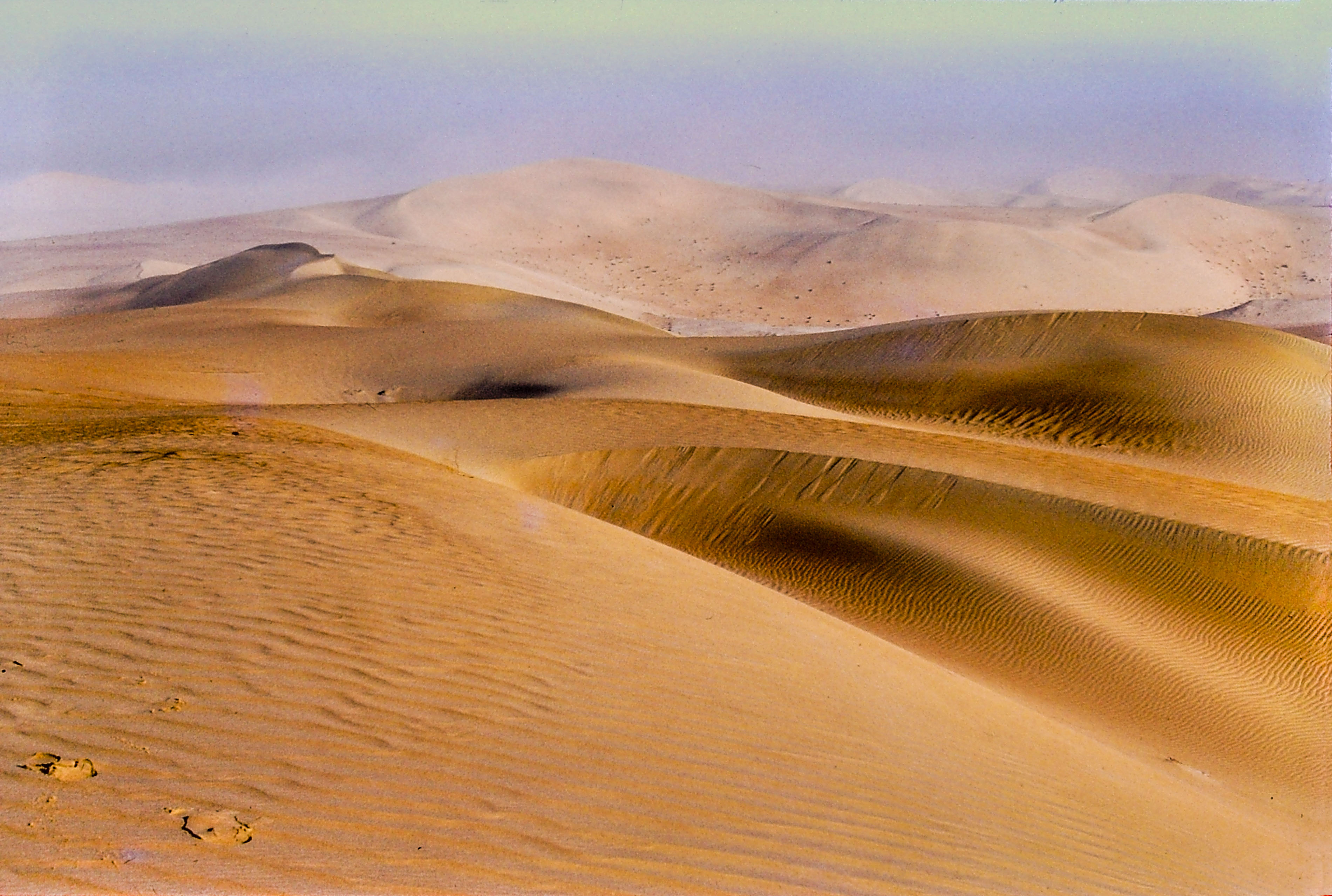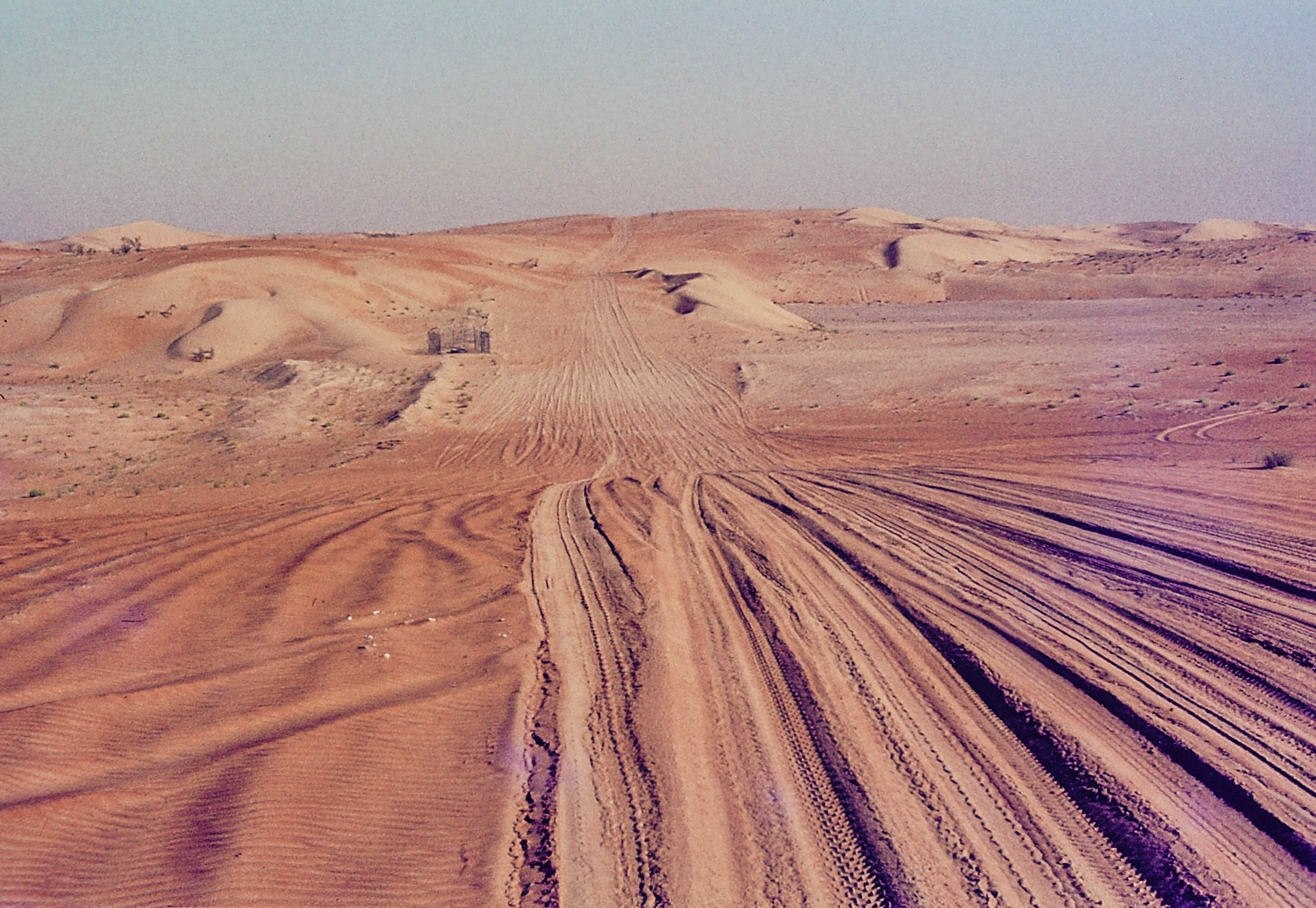 Once off the bitumen, we drove along deep tracks in the dunes formed by supply trucks (Macs and Kenilworths) which reportedly trundled across this part of the desert every so often (although we didn't see any during our contract). We checked into the radio shack at one camp, before leaving on the several hours drive to the next camp, where we checked in again to record our successful arrival. No GPS, mobile phones or even two-way radio coverage in those days.  If we got lost or went missing in one of the frequent sand storms, we were primed to stay put and wait. After a few hours without contact at either end, it was 'usual' practice (or that's what we were told) for our masters to send out a search party from each end to try and find us (after the sand storm had blown itself out).  Luckily we didn't 'come a cropper' on any of our inter-camp trips during the several weeks duration of our typical project field work, and never had to try out the success (or otherwise) of this pre OH&S and pre Safe Work Method Statement, arguably Mickey Mouse, 'if all else fails', procedure.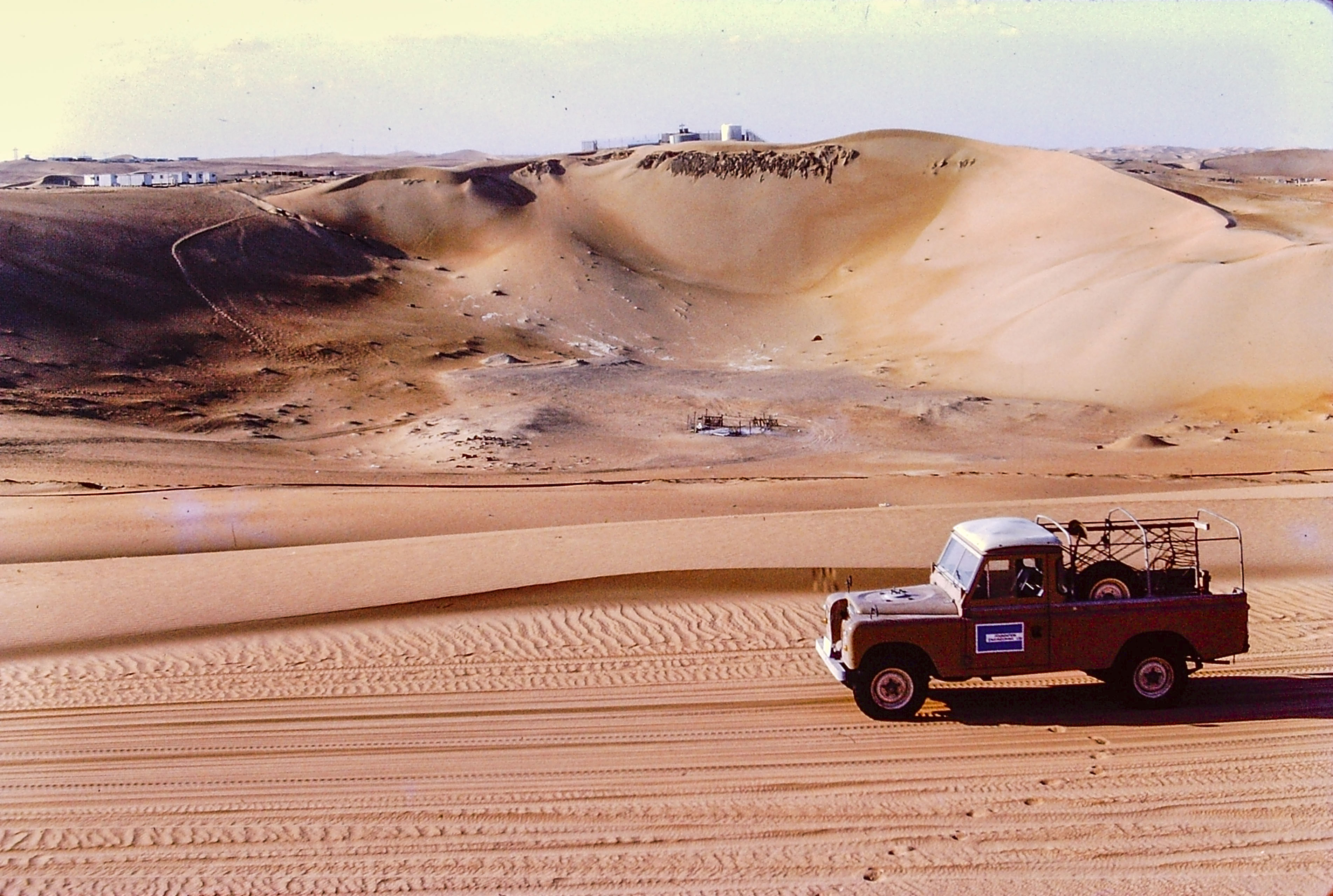 I still remember clearly arriving at Asab Camp, which was literally an oasis in the desert.  Here the oil workers were choppered in and out (no loose sand tracks across the Woop Woop for these guys). The accommodation, although in 'Portacom' prefabricated units, was like 'glamping', and there were at least two swimming pools (but not for us subcontractors and consultants), and an impressive mess hall, where we compensated for the heat of the day, each evening, with a few cool ales (no dry camps in those days).
No sand tyres either. Our 'modus operandi' in loose sand terrain was to let half the air out of our tyres.
But we were all in our early twenties, happy as Larry with the 'joys' of batchelor life, 'bullet-proof', and craving adventure. We took each day as it came and each beer too.
The world was much bigger in those days, schedules more rubbery, and, when the chips were down we either had to talk our way out of trouble or get down and dirty and fix things there and then. No back-up, no calls back to base for instructions, and no Plan 'B's.
And then there was the beauty of the sand dunes, each morning as the sun rose, and even more so each evening, as it made its hard earned descent below the shimmering desert horizon. That's when the dunes came alive in a kaleidoscope of colour for a few brief minutes, before the stars popped out to punctuate the cool night sky. 
Time passed slowly, like sand through the hour glass.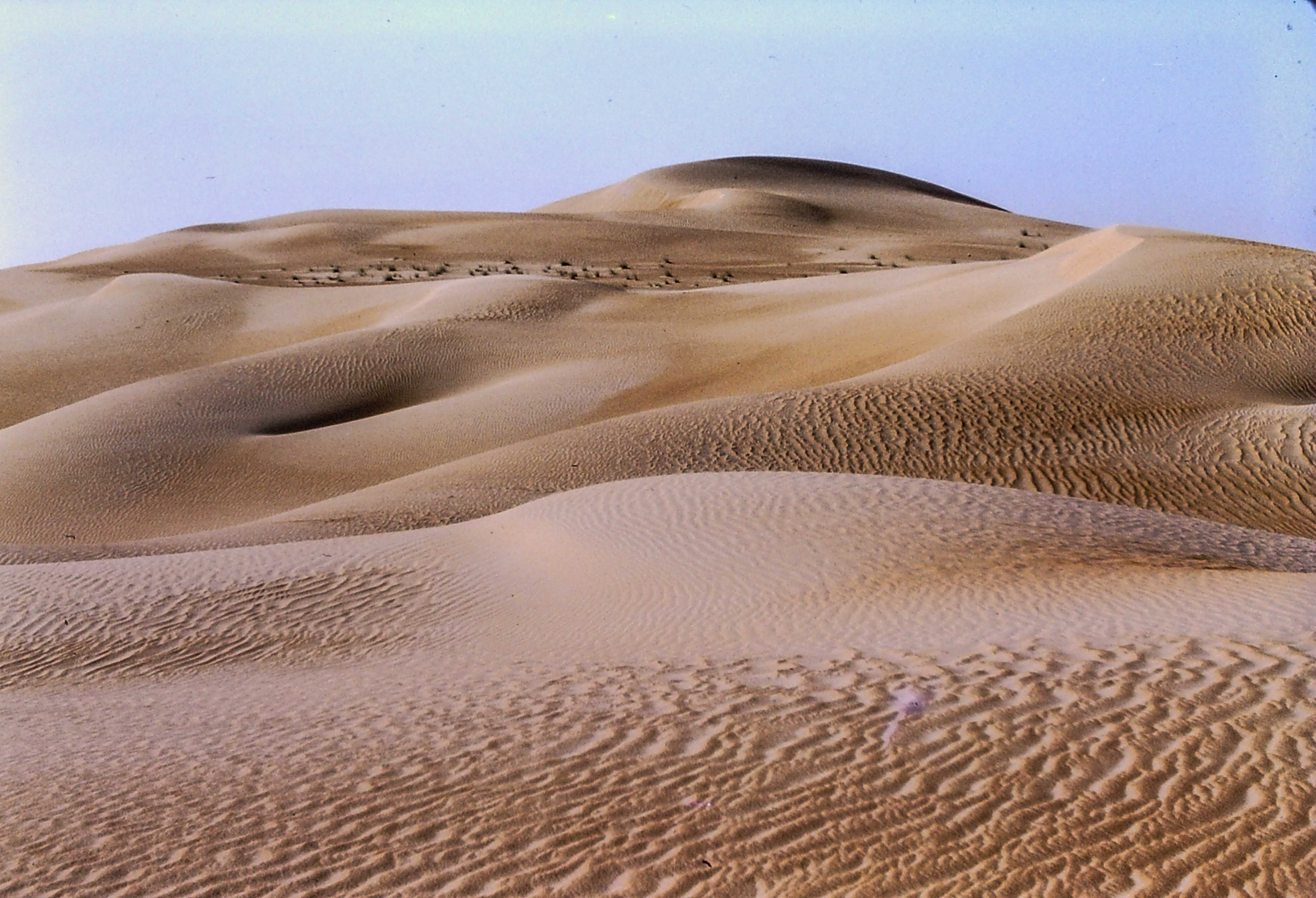 We were also a lot thinner then and still had the abundant locks of the young to help ward off sunstroke.  For we had yet to sample the joys of overindulgence that come with being overly content with our lot, accompanied by the loss of drive that keep's the innocent and ambitious moving forward to explore what lies beyond the next horizon.  Back then we still awoke to the anticipation that each new day's dawn brought to our enquiring minds.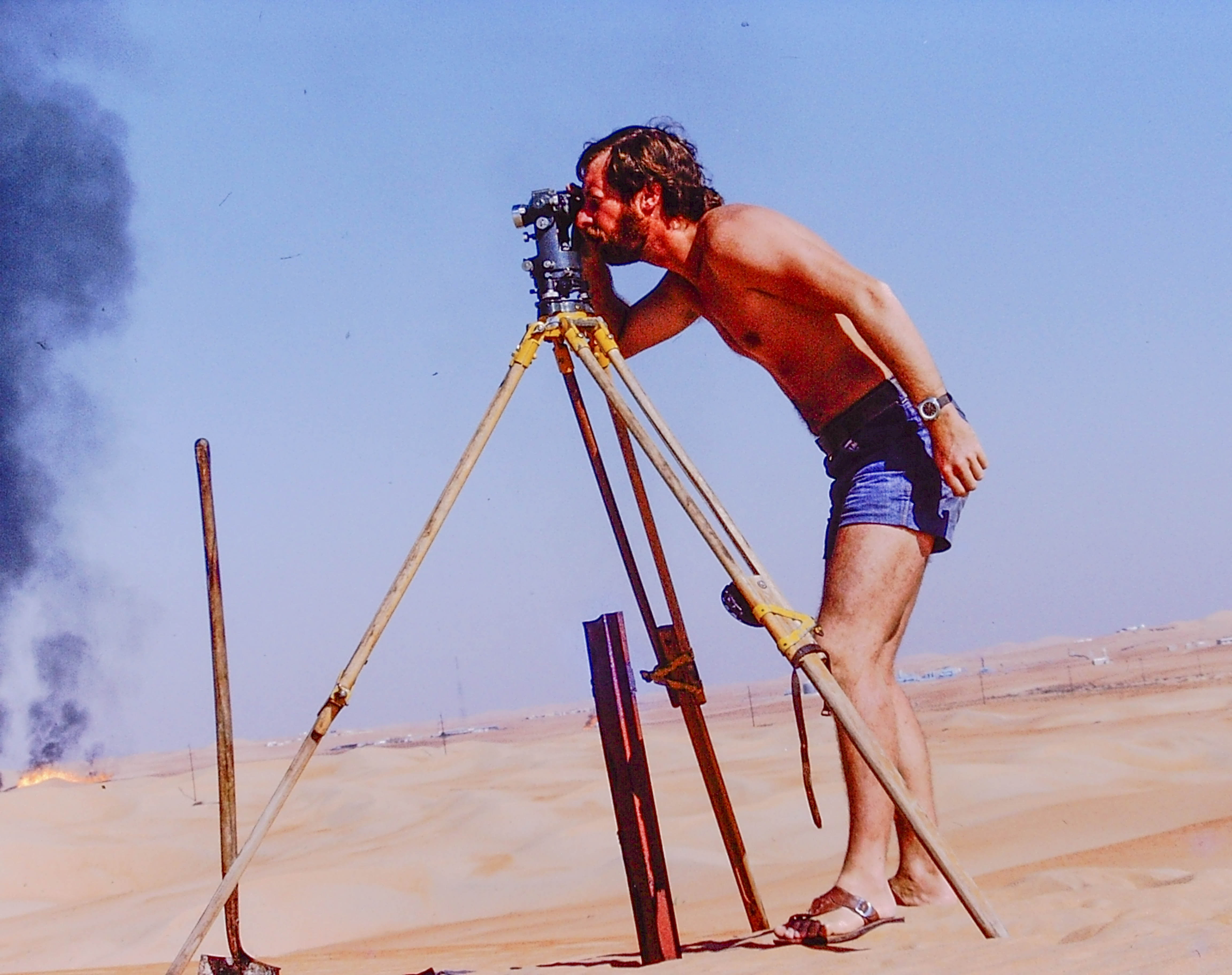 For we were totally and absolutely bullet-proof.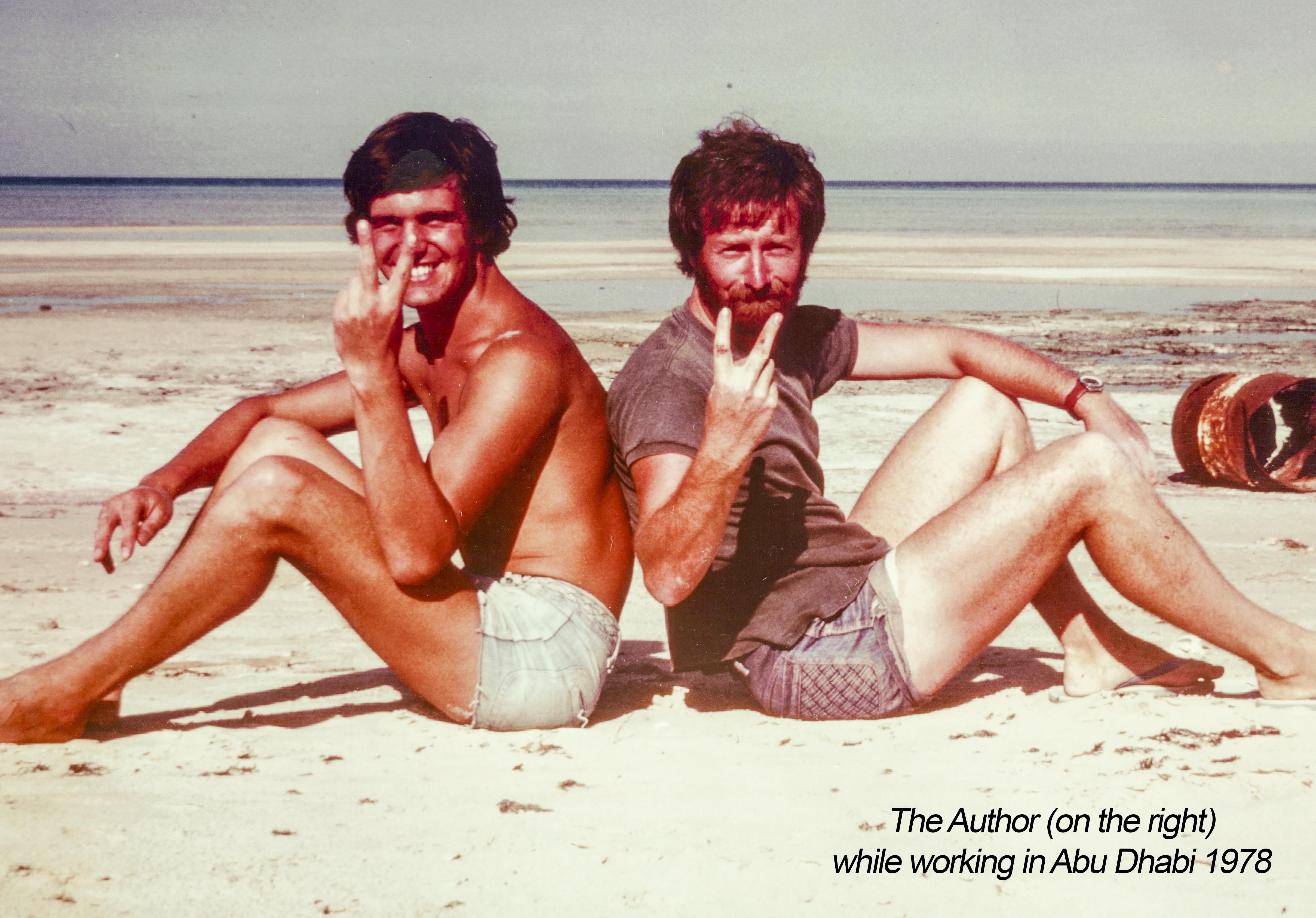 Photos: by Ken Boddie. 
(The original images were all developed as slides, back in the day before digital photography, but, thanks to the purchase, a few years back, of a Wolverine F2D Mighty Film to Digital Converter, my old boxes of slides are now experiencing a new lease of life).
...................<<..................>>...................  
This 'ancient parable', originally chiselled in stone tablets, was first published on beBee.com in 2017.  The old platform post, however, has suffered from some missing photos and comments, a casualty of recent upgrades to improve the blogging portion of what is undoubtedly a greatly improved beBee platform.  I was therefore easily prompted to republish this tale of sand, sweat and silliness, following a recent comment received from my Emirates-based friend @🐝 Fatima G. Williams who wrote, requesting more historical desert tales, in my post compairing cultures here:
https://au.bebee.com/producer/east-or-west-what-s-Msajzhdii2vS 
...................<<..................>>...................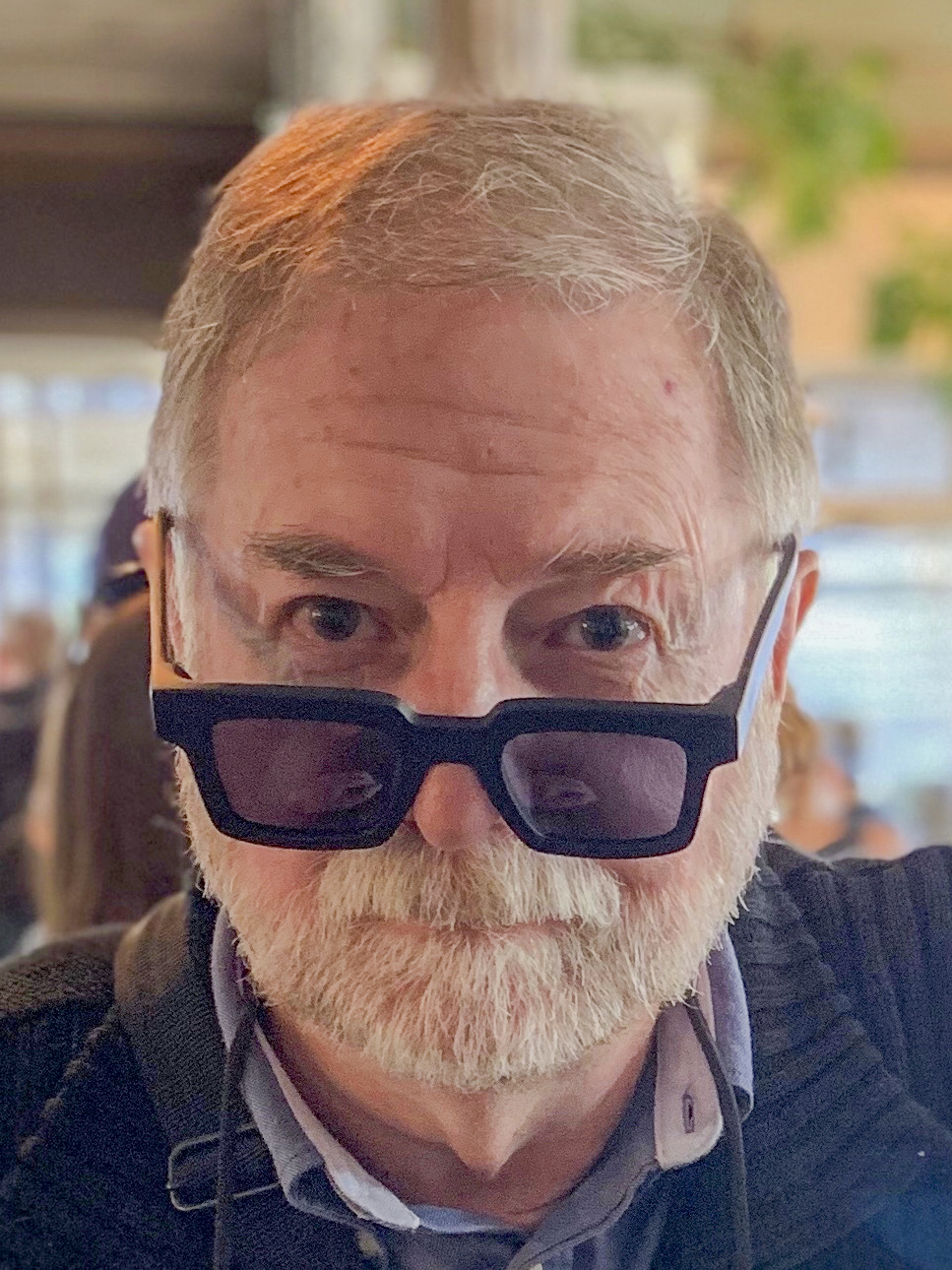 When not researching the weird or the wonderful, the comical or the cultured, the sinful or the serious, I chase my creative side, the results of which can be seen as selected photographs of my travels on my website at:
https://ken-boddie.squarespace.com 
The author of the above, Ken Boddie, besides being a sometime poet and occasional writer, is an enthusiastic photographer, rarely leisure-travelling without his Canon, and loves to interact with other like-minded people with diverse interests.
Ken's three day work week (part time commitment) as a consulting engineer allows him to follow his photography interests, and to plan trips to an ever increasing list of countries and places of scenic beauty and cultural diversity.
Travel
You may be interested in these jobs
---

Employment Hero

Adelaide CBD, Australia

Join our expanding firm We have an exciting opportunity for an experienced accountant with a property specialisation to join Pitcher Partners, Adelaide. · Working in our Private Business & Family Advi ...

---

Winson Group

Wakerley, Australia

Permanent Full-Time | Monday to Thursday Day Shift Only · Great teammates · Opportunity to develop manufacturing skills · About the role: · We are currently seeking a reliable and motivated Process Op ...

---

JJ's Waste & Recycling

Maryborough, Australia

Full time

Monday to Friday | Competitive Salary | Excellent work/life balance · Uniform & PPE Provided | Modern & Safe Workplace | Hands On Leadership Role · Job Security - Full-time Permanent - Essential Serv ...