1 week ago · 5 min. reading time · visibility ~100 ·
MONA Rocks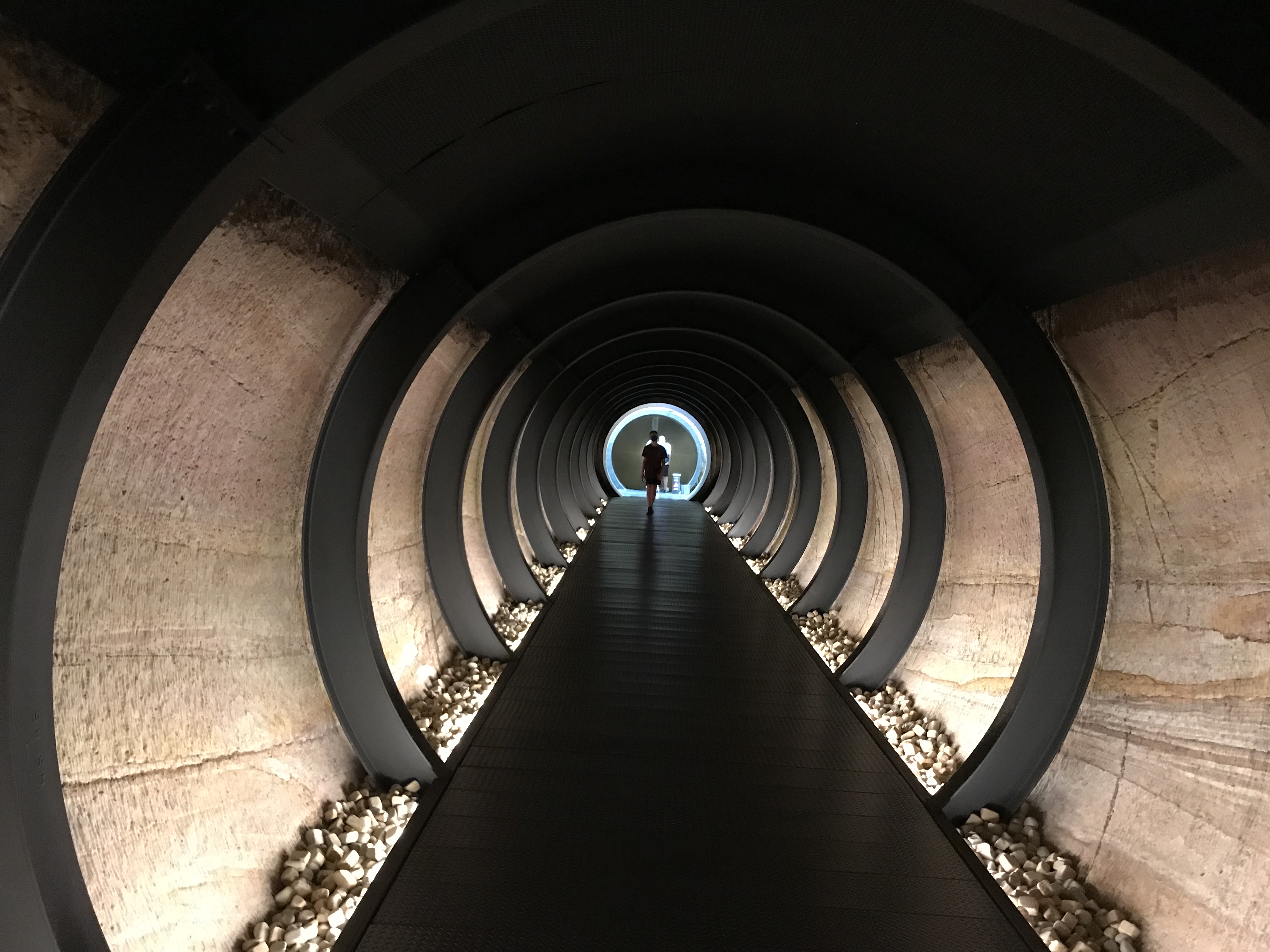 For all you aging art and pop music aficionados, this post is not confirmation of the brilliance of da Vinci's Louvre mounted smiling enchantress, nor is it an appreciation of the 45 year old Detroit-based exotic dancer, reportedly portrayed on the 'B' side of "Hey! Bo Diddley" and subsequently adopted as the template for Buddy Holly's "Not Fade Away".
Rather, MONA is an abbreviation for Tasmania's world class Museum of Old and New Art, skilfully hewn out of the Triassic sandstone rock in Hobart's riverside suburb of Berriedale. Let me be clear, however, that this was not written as a cultural awakening for the more boorish philistines among my long suffering readers (if the cap fits), but was written from the perspective of my engineering background and the total feelings of awe that swept over me as I descended into the bowels of this windowless man-made magnificent series of rock excavations and concrete construction.  Although the museum artefacts on display were unique and curiously inviting of an assortment of reactions, I was more attracted to the massive geological structures and support systems forming the various components of the underground chambers and interconnecting tunnels.  The architect and designers had obviously intended to show off, at their best, the resplendent colours and texture of this sandstone formation and, where required, the various concrete lined, anchored and otherwise stabilising features.
Why, When and How
But first indulge me an explanation of why we visited, when and how. It was New Year's Eve and we were nearing the end of a family reunion in Australia's 'apple isle', Tasmania. This was my second visit to 'Tassie', having organised a fairly comprehensive self-drive 15 day tour some eleven years previously, when I had visited all the usual tourist spots, such as:
Port Arthur with its historic penal colony buildings and its dark past.

Cradle Mountain depicts the typical beauty of the Tasmanian wilderness

Stanley and the Nut, which rises unchallenged above the surrounding countryside.

Freycinet Peninsula and Wine Glass Bay, a walker's paradise.

Strahan on the Macquarie Harbour and nearby Gordon River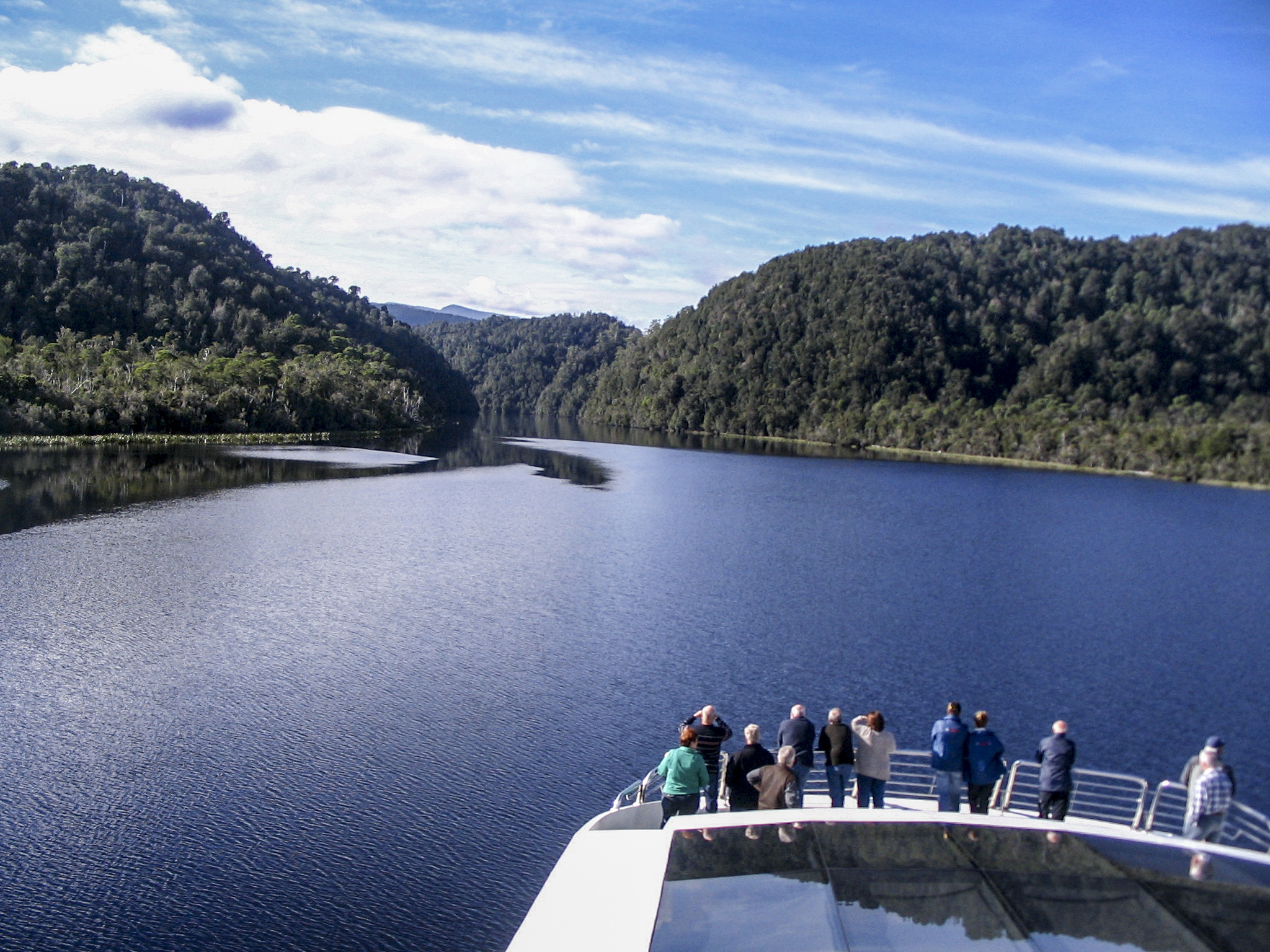 Launceston and the Scenic Tamar Valley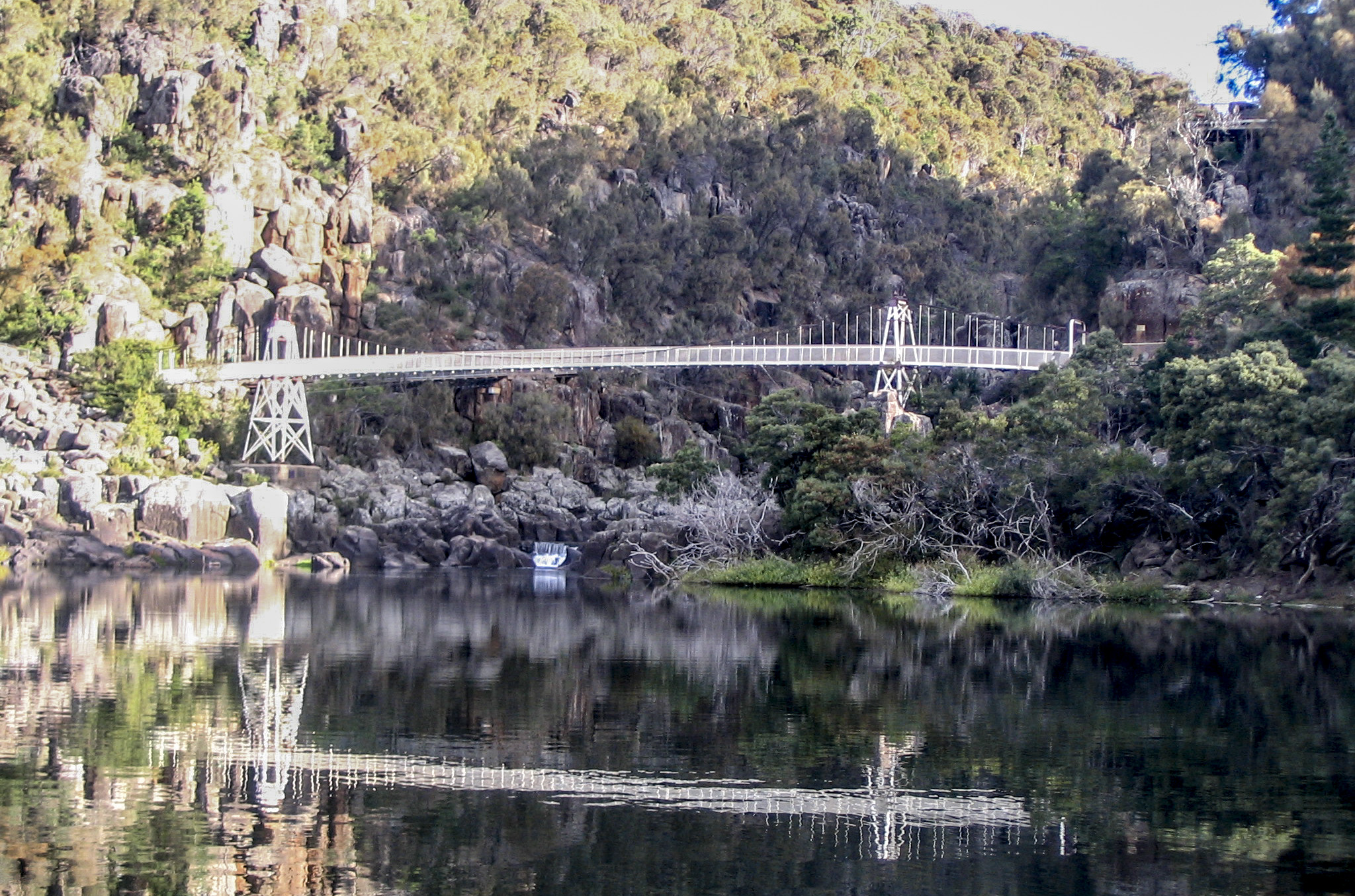 Hobart's Historic Wharves, Salamanca Markets, Mt Wellington and Cascades Brewery.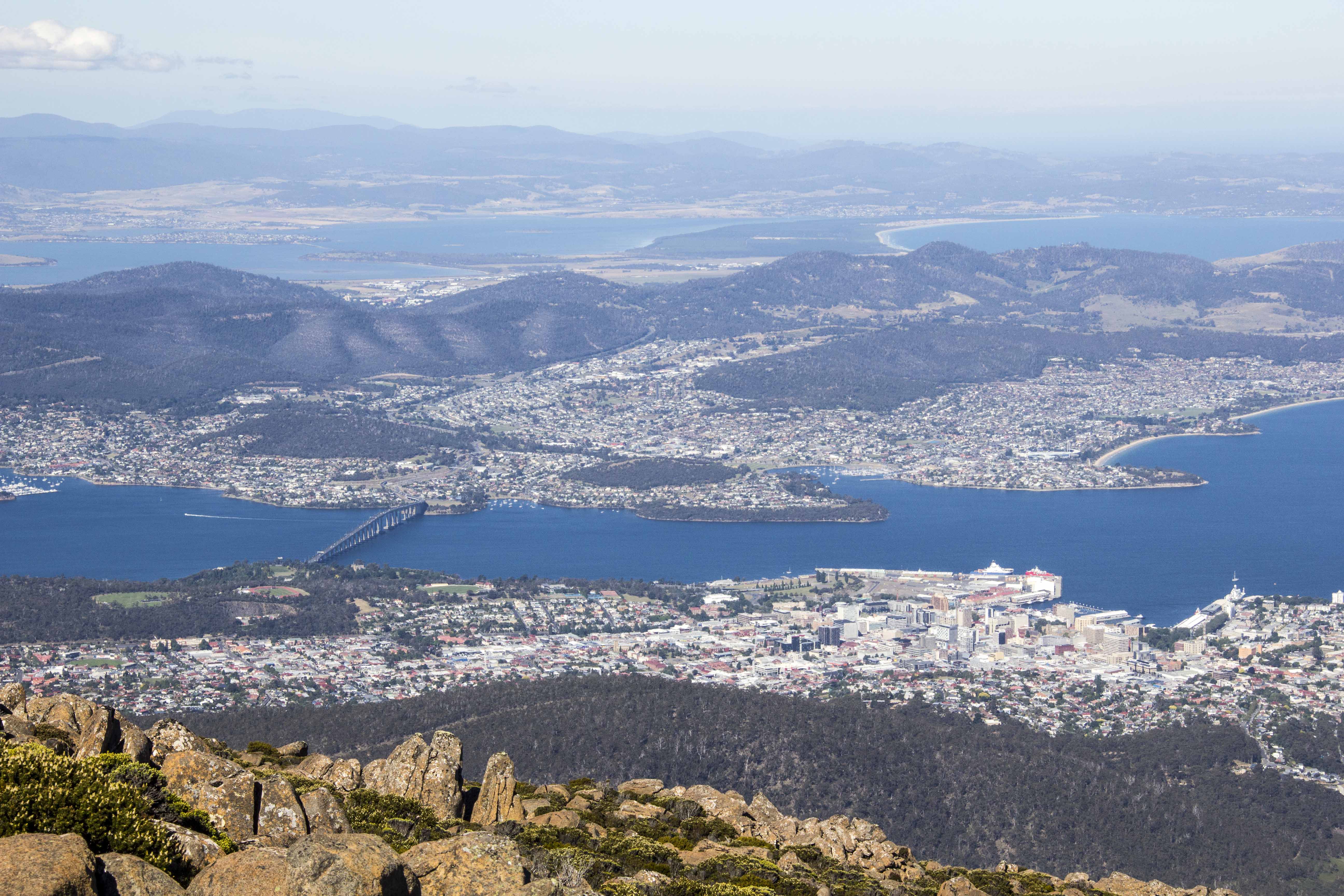 This time round, however, we chose to have our reunion visit last only a few days, due to the COVID travelling restrictions and the ever present threat of potential quarantine.  We therefore picked Hobart as a base from which to explore, thus limiting the possibilities of where we would go.  We had all our various visits and tours mapped out in advance, by joint agreement, but I must admit that I had not heard of MONA before (it was apparently still under construction during my previous more extensive tour of Tasmania) and, what's more, I wasn't sure what the fuss was all about when my adult children indicated it to be a "must visit".  It followed that some research was in order.
How Would We Get to MONA?
We had rented accommodation approximately 100 m back from the main wharves in the centre of Hobart, but MONA was located some 12 km up the Derwent river from where we were based.

As luck would have it, however, MONA had a fast ferry service running from the Brooke Street Pier, at the end of our street, taking only 25 minutes each way.  Having nominated our day to visit and having pre-booked all ferry and museum entrance tickets, we were soon aboard one of the two large camouflage painted catamarans and on our way up river.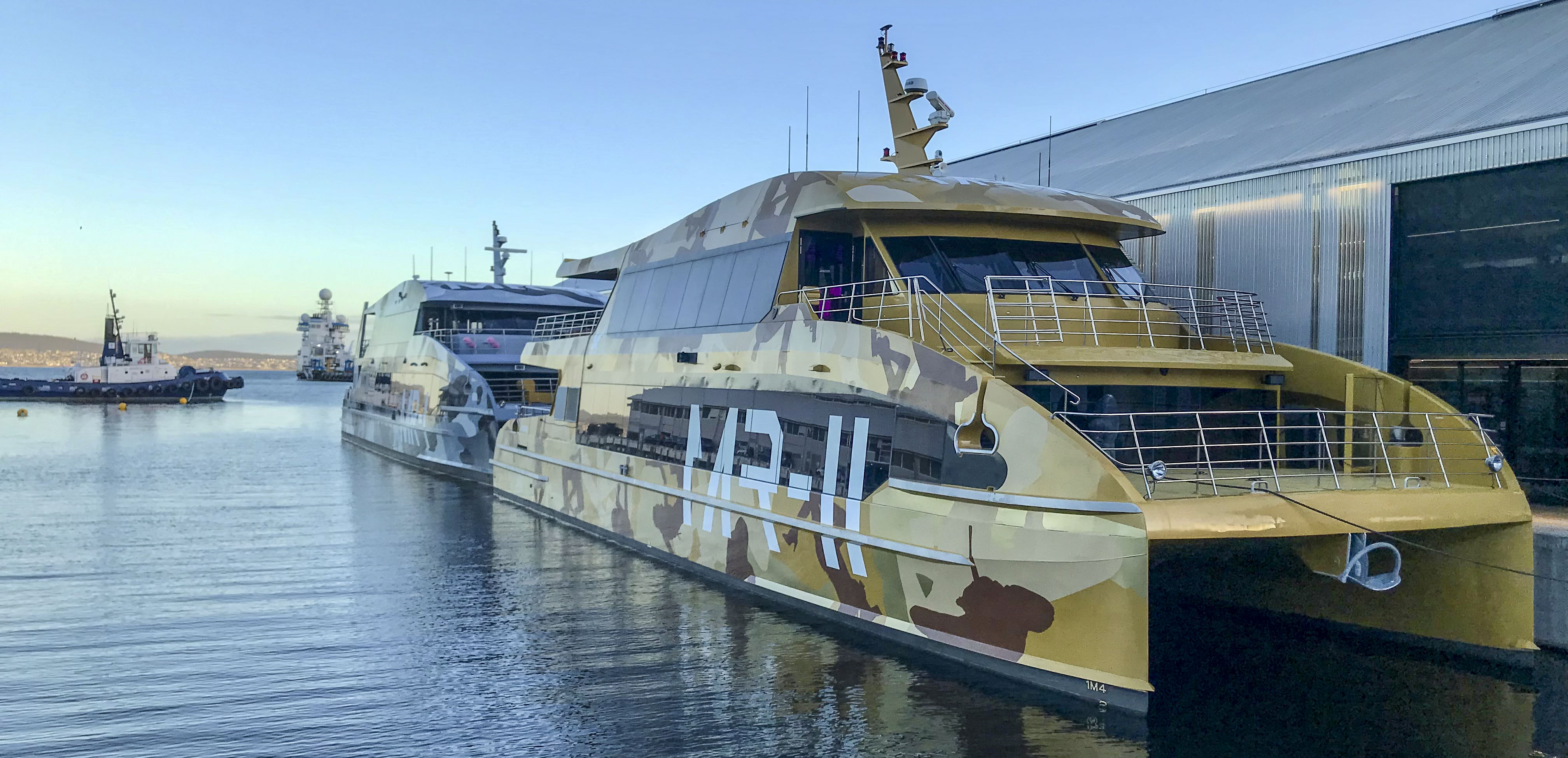 The trip on the river provided another chance for us to view the many places of interest along the way, and one of the highlights was passing beneath the Tasman Bridge.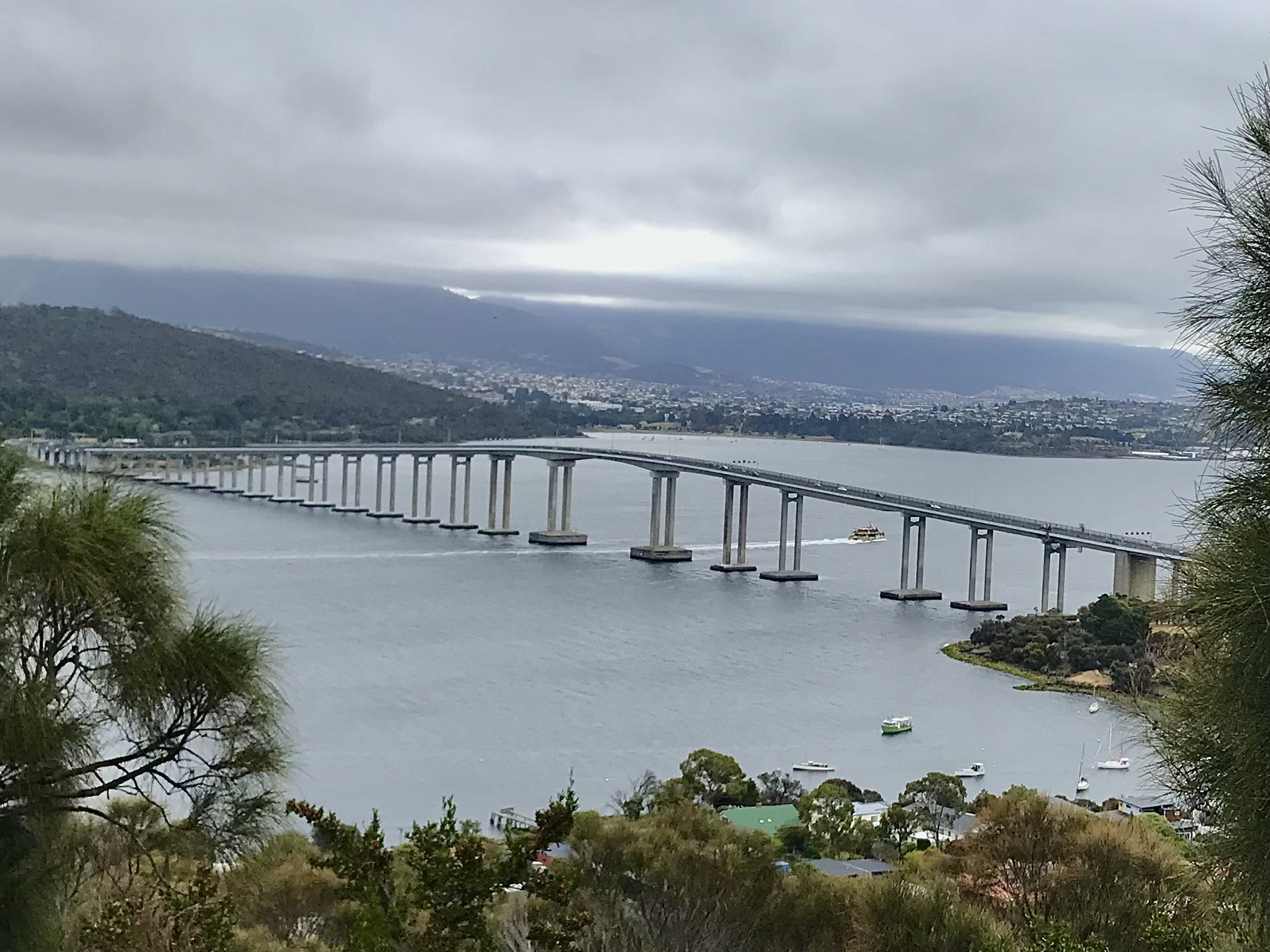 The Rock and the Construction
Our arrival from the river at the MONA jetty was initially deceptive, as much of the construction features are hidden by trees and the main mass of the three level 9000 square metre museum is below ground, with only a few small buildings, some metal exhibits and roof gardens apparent on the surface.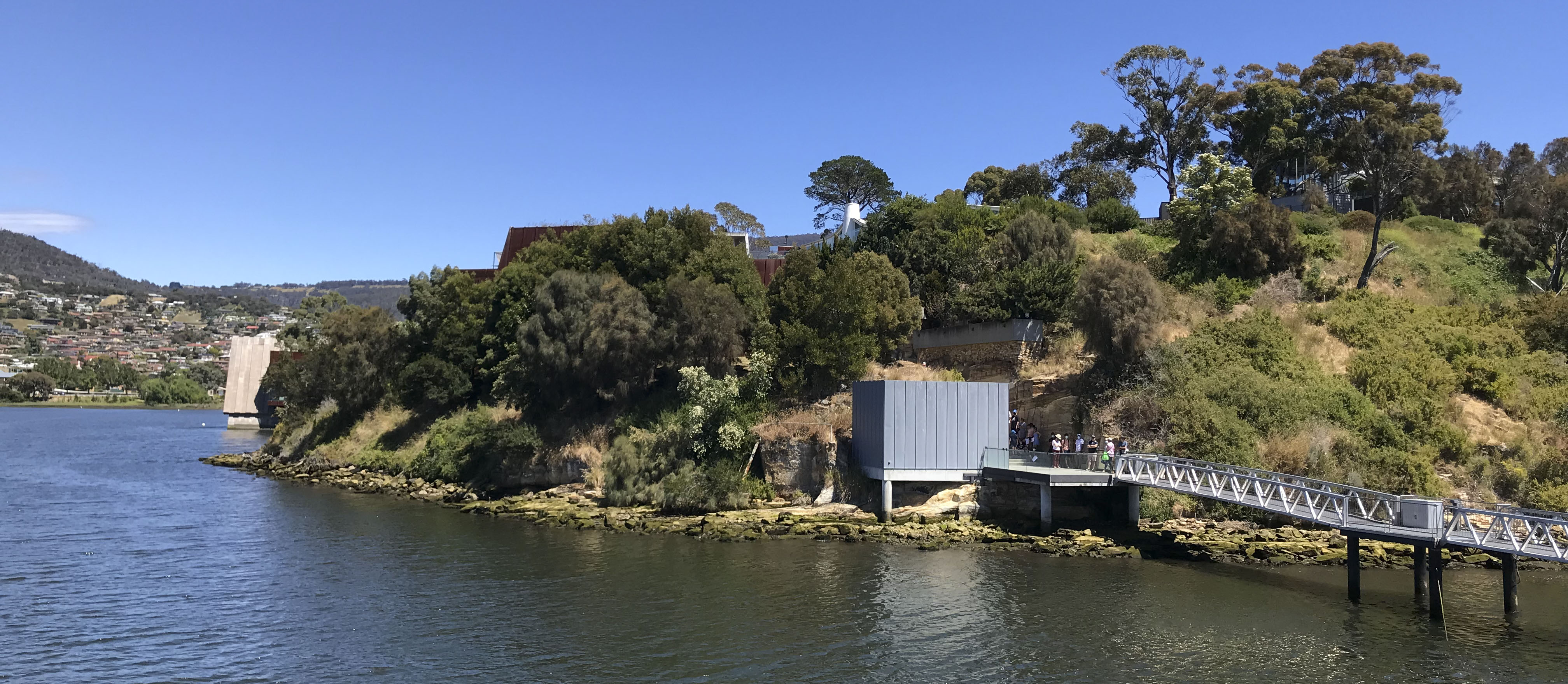 Once on the museum grounds we found the main entrance to be via a preserved 1950s Art Deco house.  Having entered, we descended via a helical steel staircase, spiralling round a central glass-encased elevator.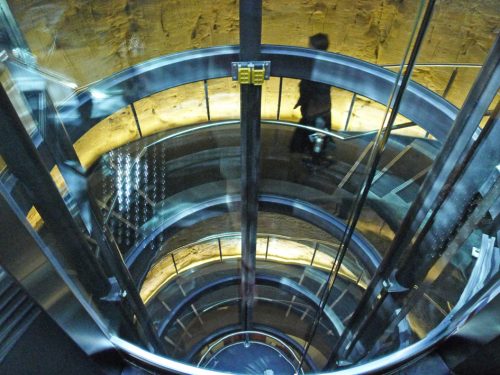 Our 17m descent afforded our first opportunity to view the massive sandstone on the outer walls, covered by shotcrete (sprayed concrete) in two main sections, presumably where the rock was less stable.  As we walked out onto the lowest of the three museum levels, towards the Void Bar, we saw first hand the impressive 14m high sandstone walls either side of us.  These were reportedly progressively cut, from the top down, with a large excavator mounted circular saw.  Rock anchors were installed on a grid pattern to stabilise the rock structure and prevent the steeply dipping joint planes from incurring wedge failure.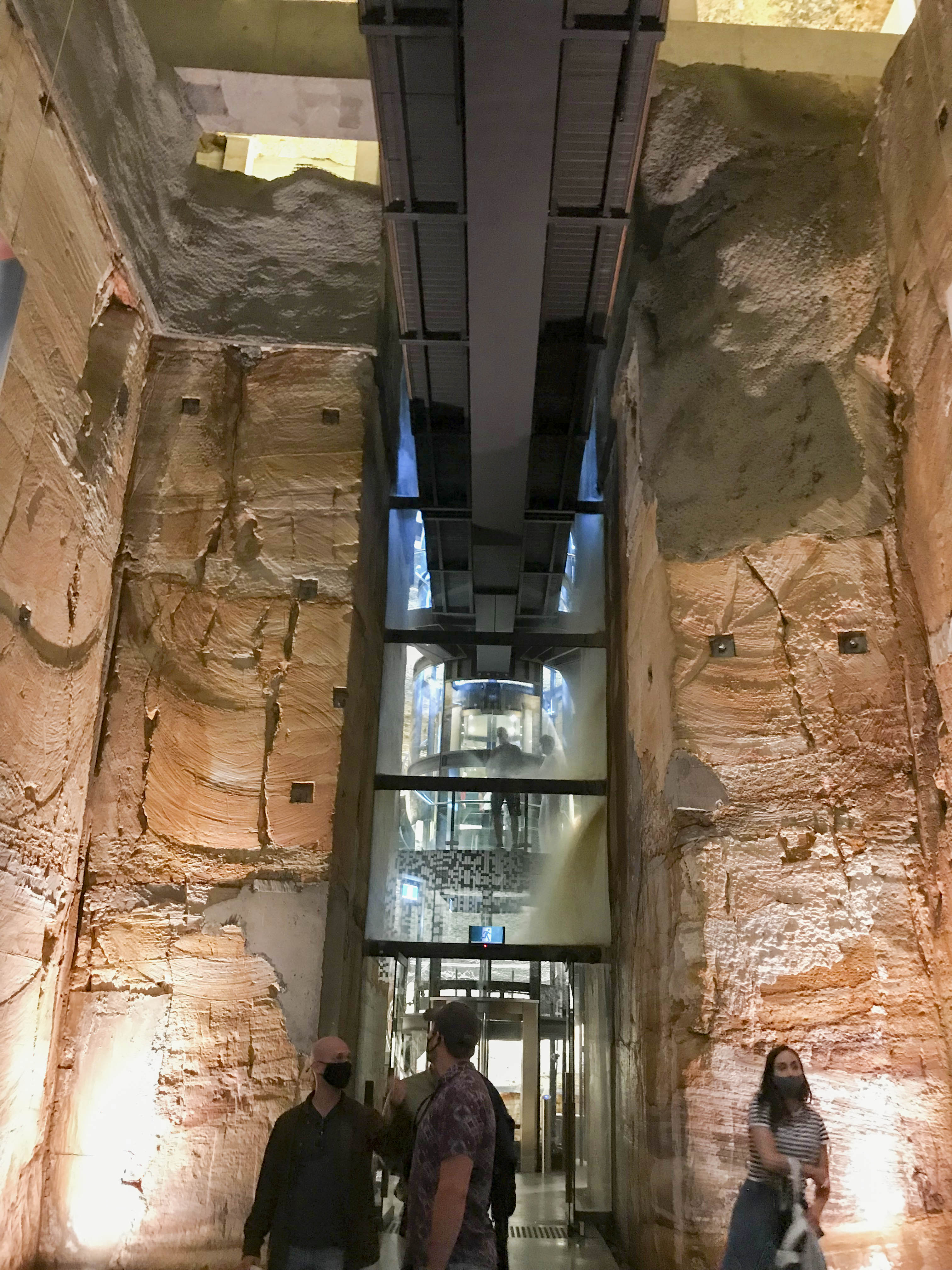 The awesome size of the main rock excavation is further displayed by these shots below and in the video.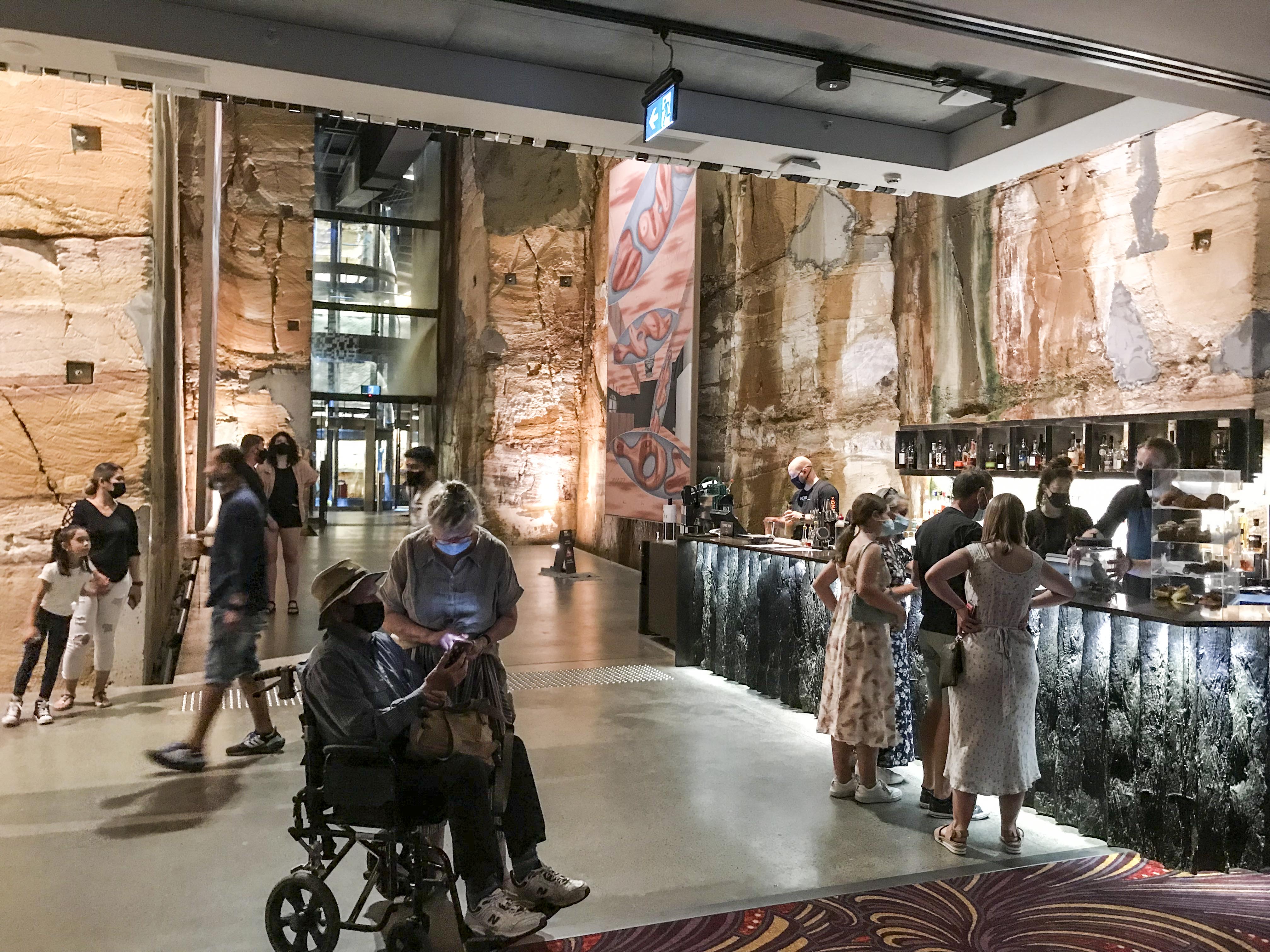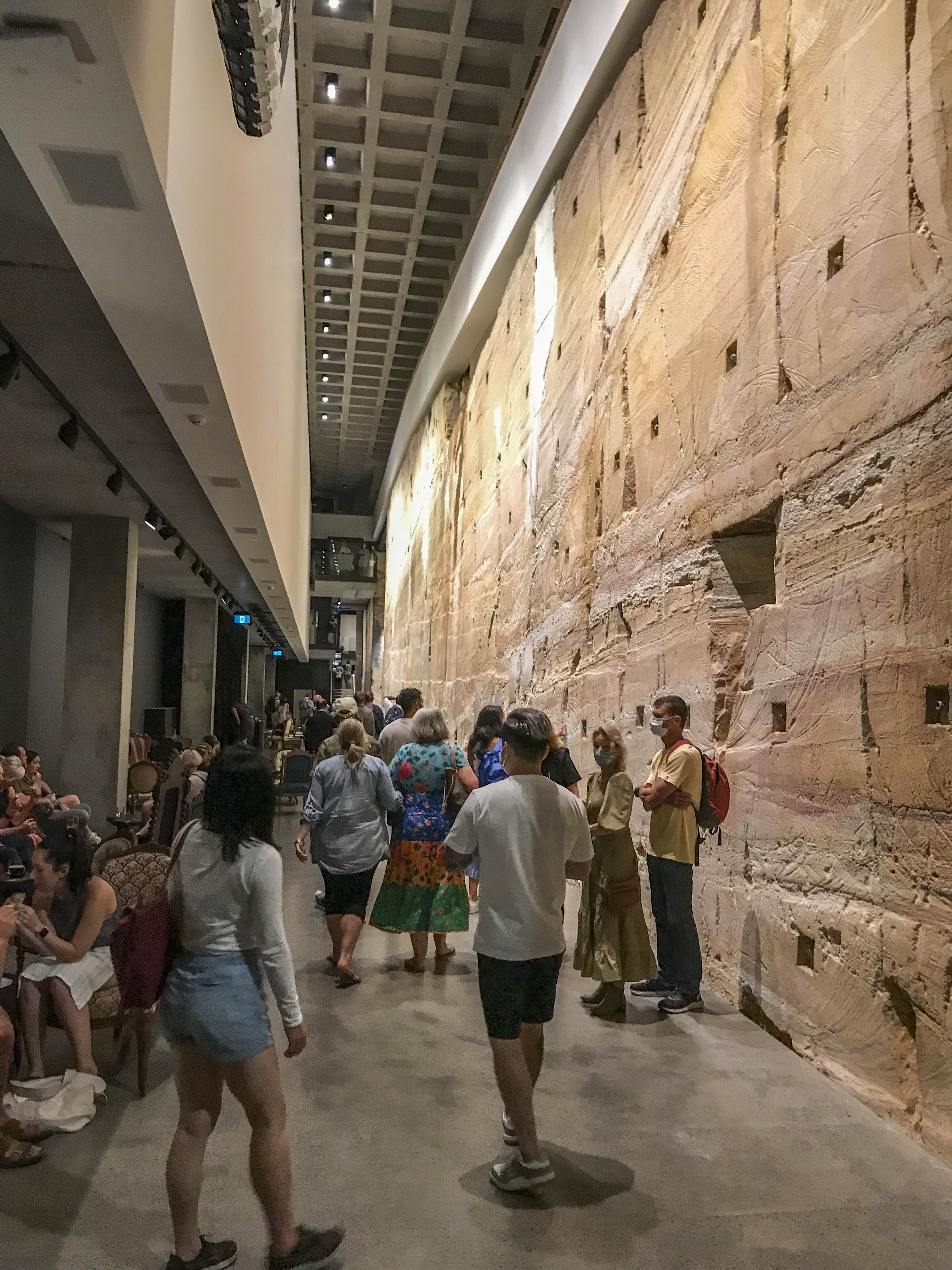 The above video link shows the imposing length of the main excavation and the 'bit.fall' waterfall with daily updated news headlines 'floating' down the water face.
In some parts of the museum, the excavation face was supported by soldier piles (bored cast reinforced concrete) installed prior to excavation and with concrete and steel mesh panels between them where the rock required additional support.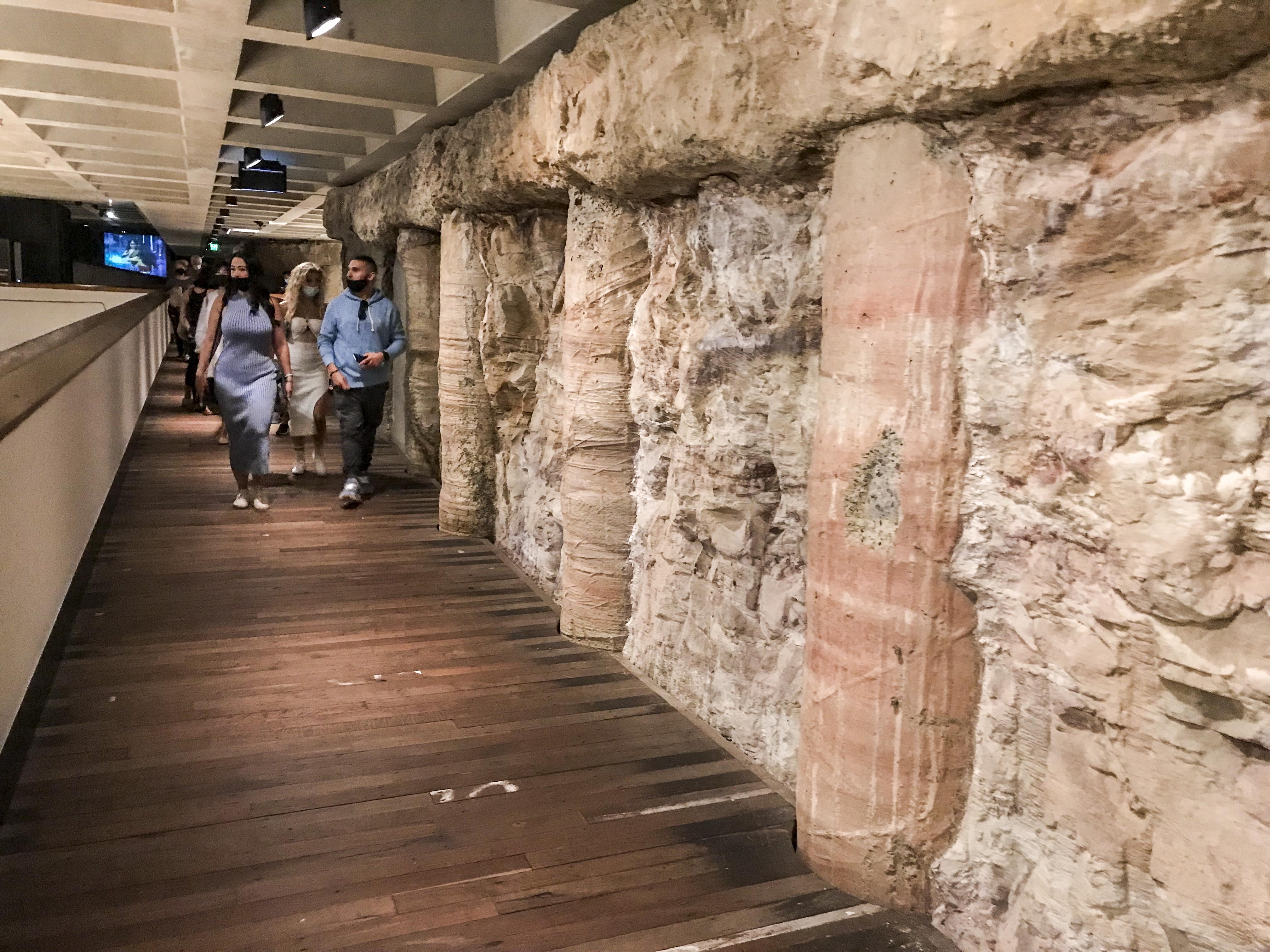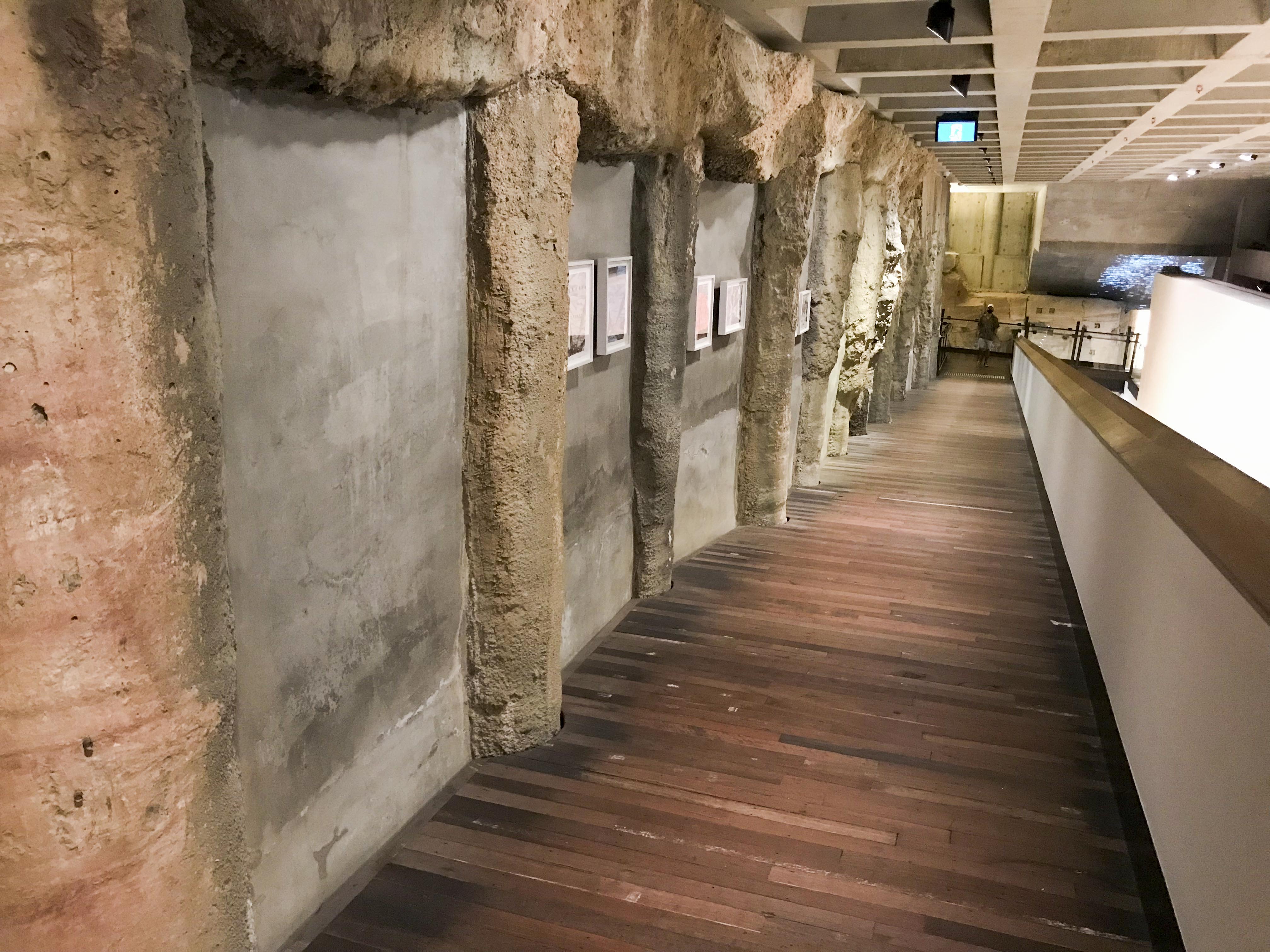 Away from the main rock cutting, a 10m by 7.5m grid of columns was overlayed across the multi-level rock cutting, providing support, along with interconnection concrete beams, for the overlying waffle slab ceiling (https://en.wikipedia.org/wiki/Waffle_slab">https://en.wikipedia.org/wiki/Waffle_slab">https://en.wikipedia.org/wiki/Waffle_slab">https://en.wikipedia.org/wiki/Waffle_slab) which can be seen in many of the foregoing photographs.
There are short lengths of tunnel, built using mining techniques, connecting some of the galleries, and illustrating various tunnel support mechanisms Refer here to the title photograph, as an example, which displays steel 'sets' with open sandstone in between. By comparison, on the lowest level, a ramping tunnel connects the western end of the museum to the recently converted library, with support comprising a series of interconnected 3m diameter concrete pipes.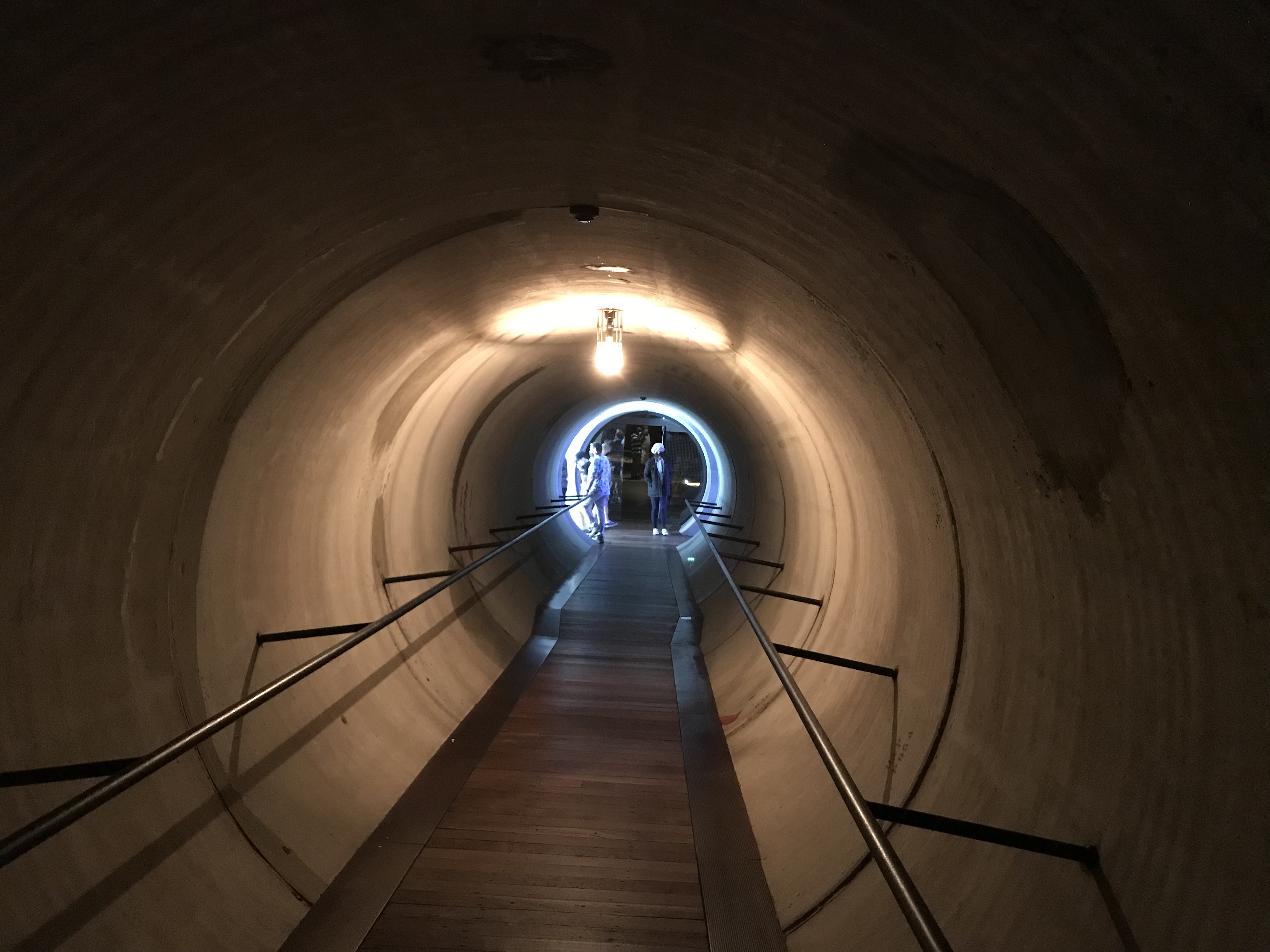 This tunnel features attractive lighting.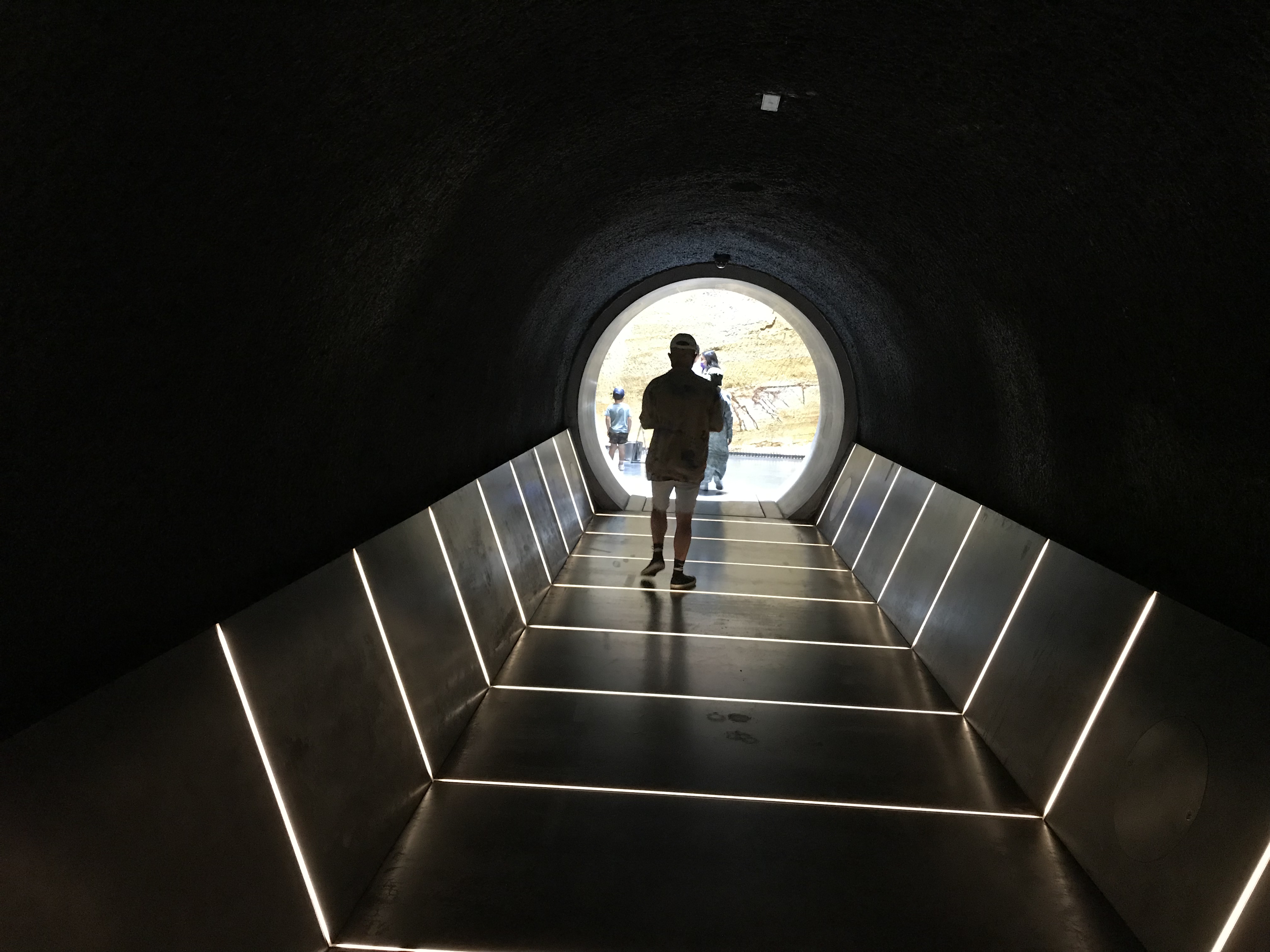 Concrete overawes at the Confessional.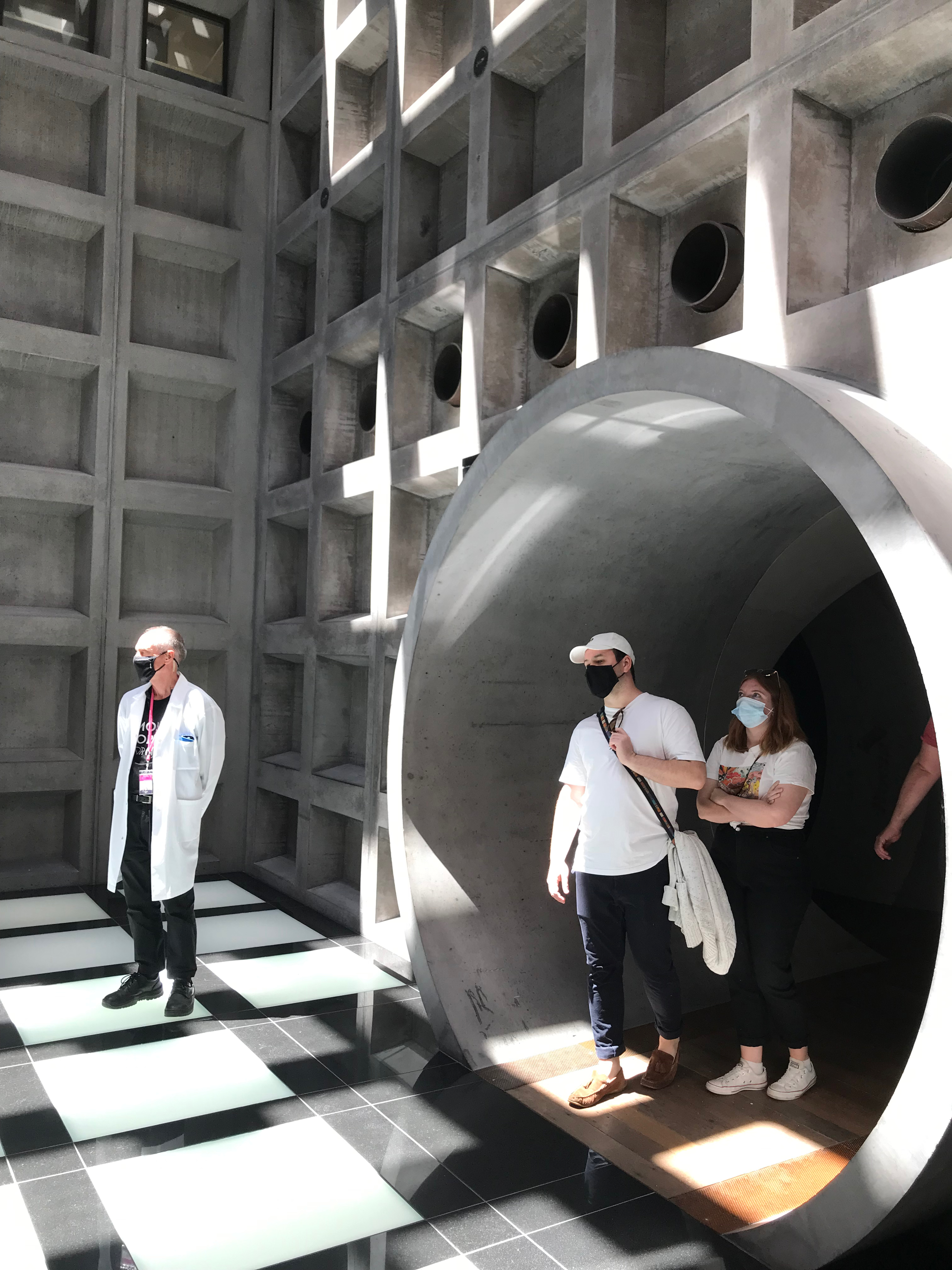 A Few Artefacts of Appeal
As I stated in my introduction, my intention in this post was to direct the reader towards the unique excavation and structural components of this world class museum and not to the exhibits. Nevertheless, out of the hundreds of items showcased, I felt it would be remiss if I didn't mention a few that particularly caught my eye, for various and, hopefully, obvious reasons:
The Fat Car - This display by Austrian Erwin Wurm in 2006, features an almost comical overlay of polystyrene and fibreglass over a Porsche Carrera chassis, body and interior.  If you need to ask, "Why?", then I can only suggest that this is 'Art'.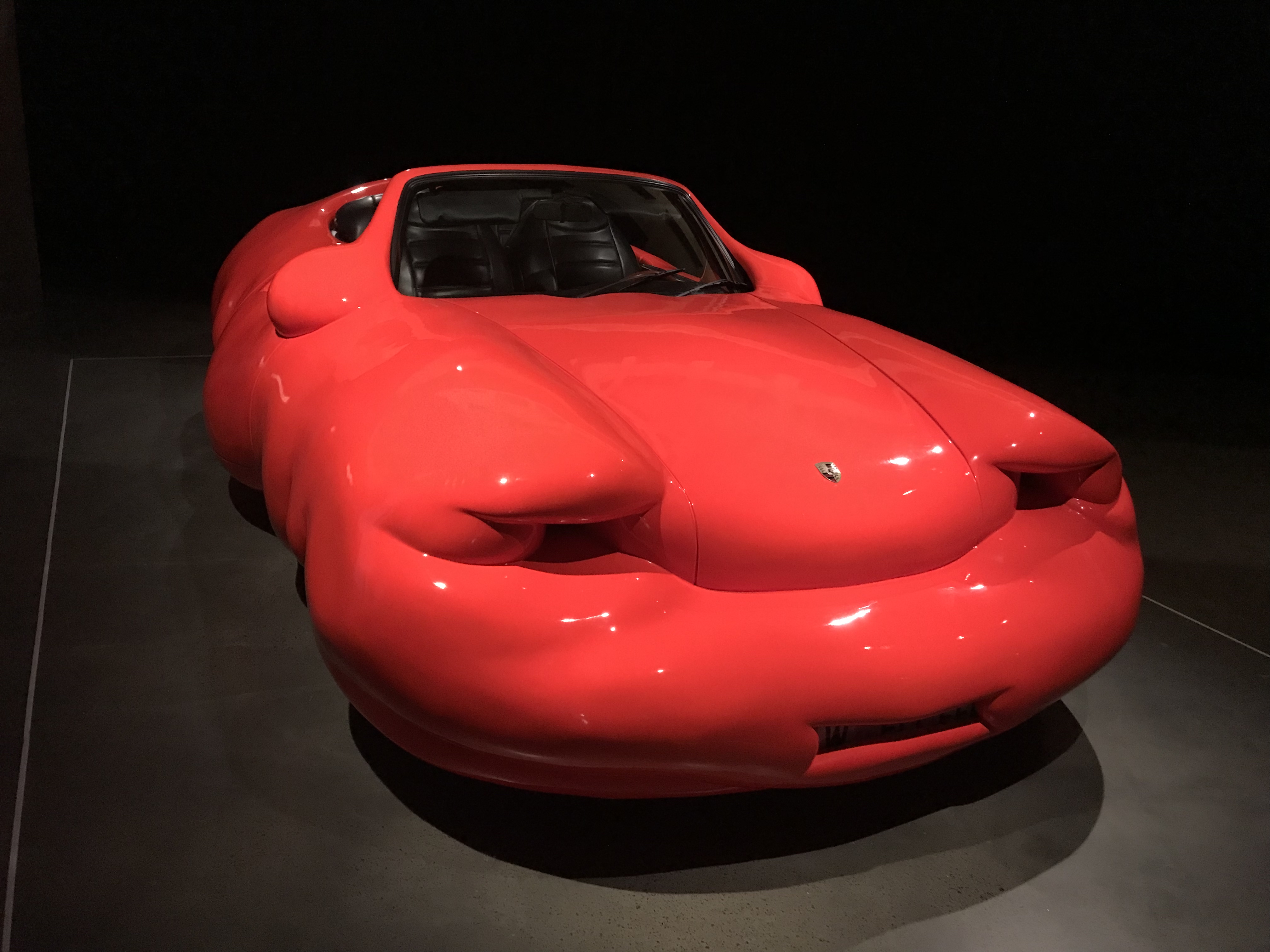 C..ts and Other Conversations - Yes, Melbourne-based artist Greg Taylor used the 'C' word, and if you zoom in on the photograph below, you'll see why. There are reportedly 76 of them in total (I didn't stand and count them personally). It seems that Greg was making some torsos out of clay, but the kiln exploded, with the only discernible remains amongst the debris being female private parts (or should I say formerly private).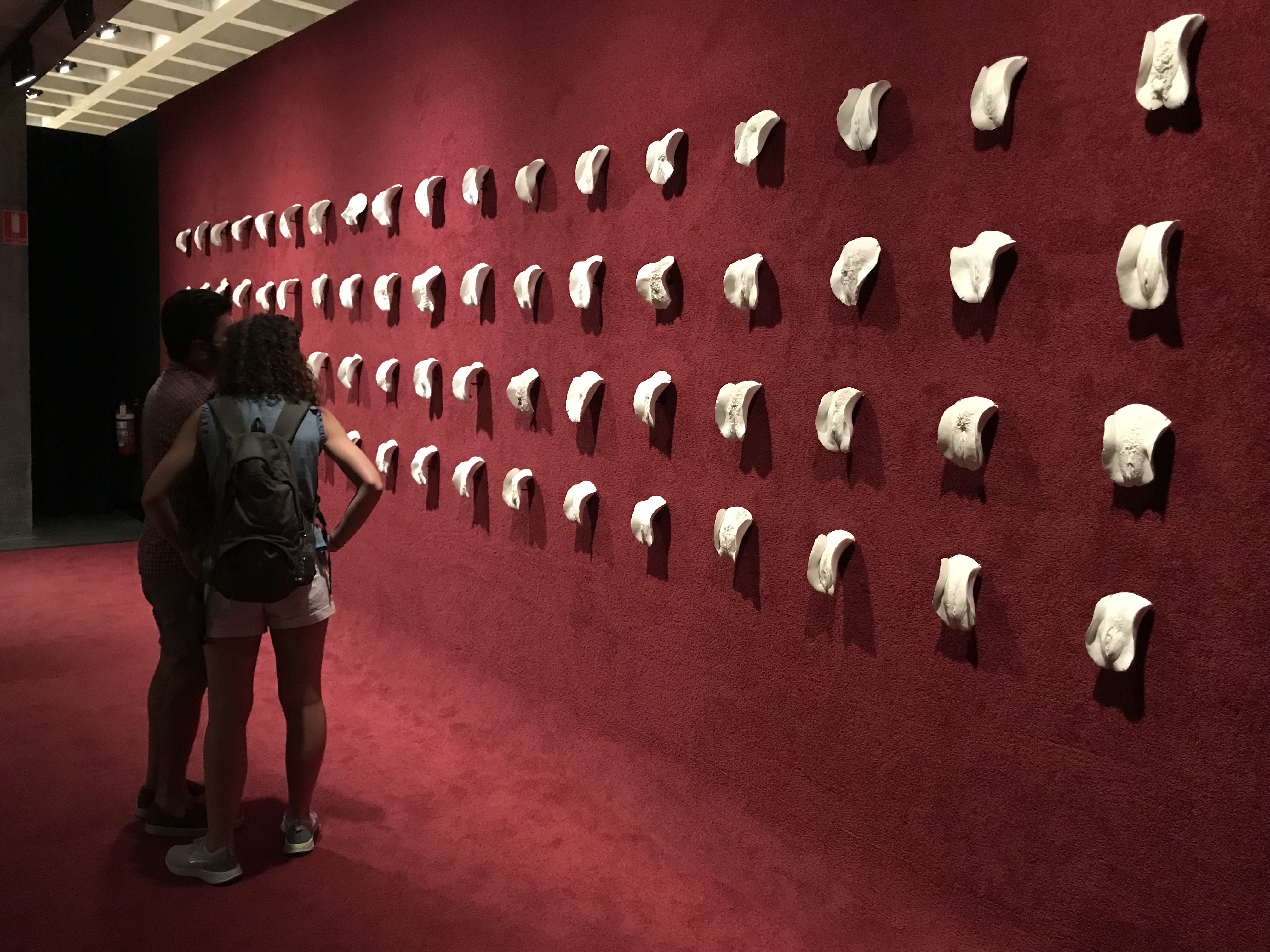 The White House - Chinese artist, Ai Weiwei, presents us with the white (industrial paint) frame of a Qing Dynasty residence sitting on crystal ball footings.  White is the colour of mourning in China. The house was made by Chinese carpenters centuries ago, but because they used no nails or other mechanical joints, it was reportedly relatively easy to take apart, transport to Hobart and reassemble. Perhaps think of this as oriental LEGO?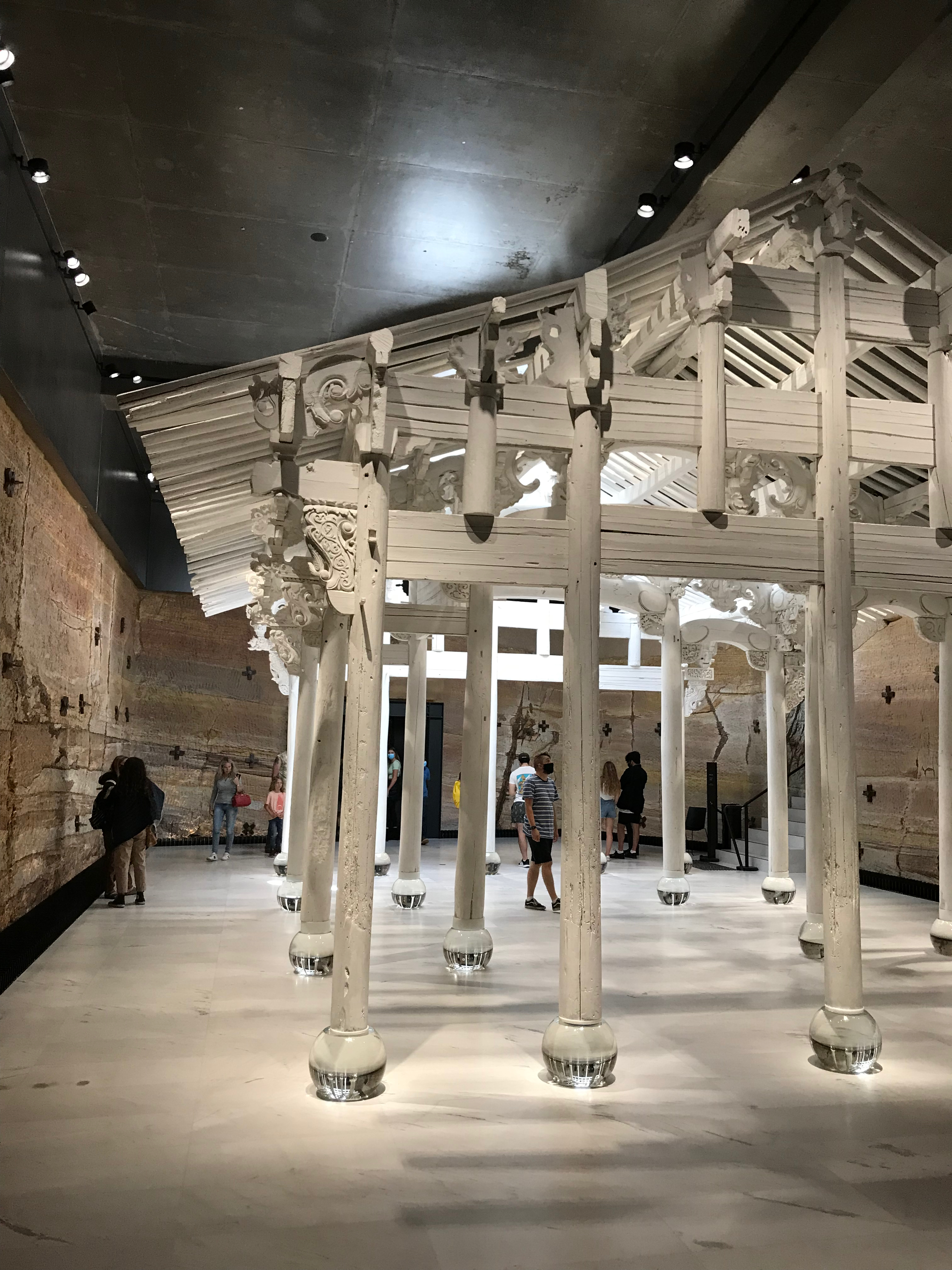 ...................<<..................>>...................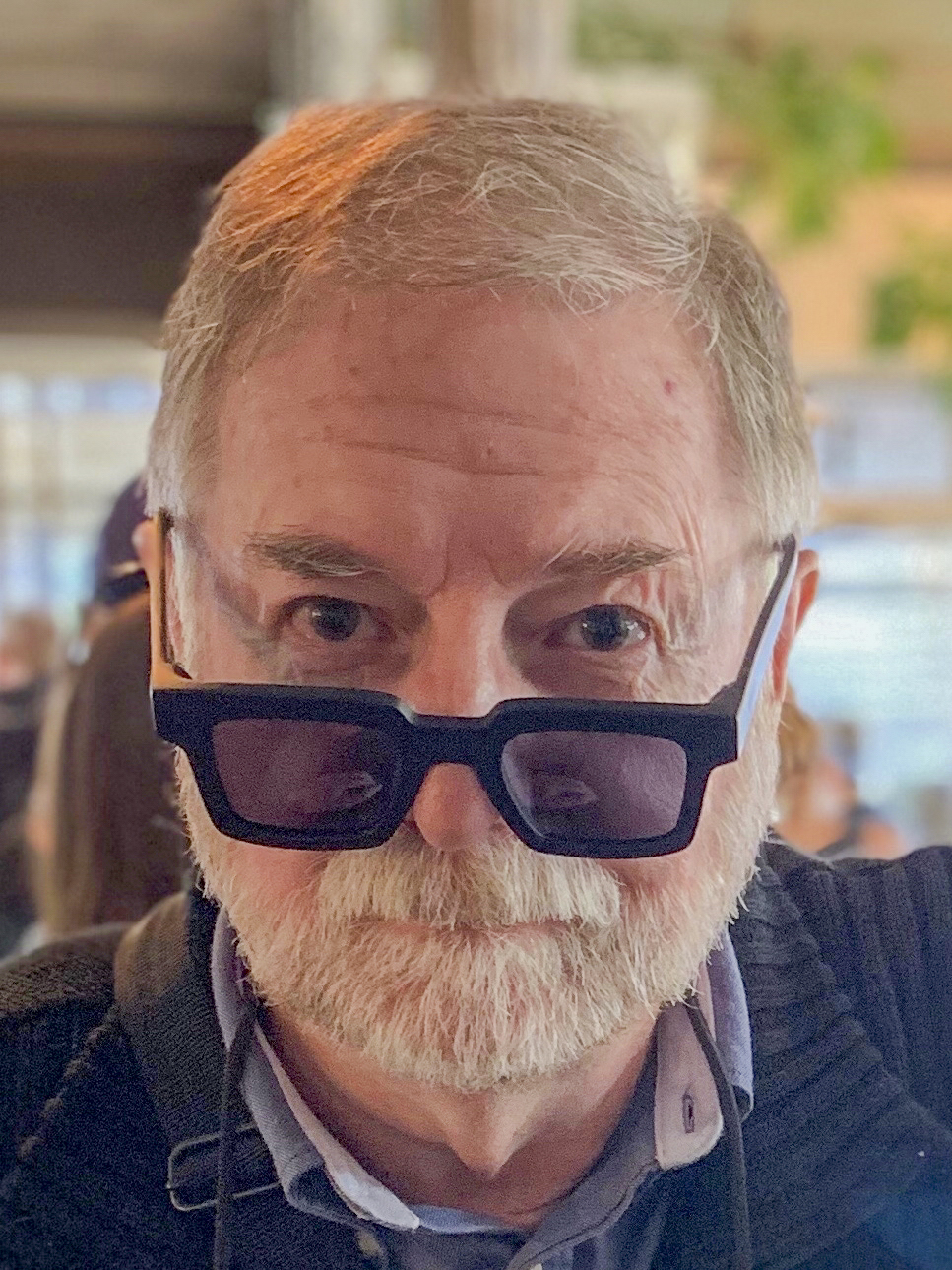 When not researching the weird or the wonderful, the comical or the cultured, the sinful or the serious, I chase my creative side, the results of which can be seen as selected photographs of my travels on my website at:
http://ken-boddie.squarespace.com">http://ken-boddie.squarespace.com">http://ken-boddie.squarespace.com">http://ken-boddie.squarespace.com">http://ken-boddie.squarespace.com">http://ken-boddie.squarespace.com
The author of the above, Ken Boddie, besides being a sometime poet and occasional writer, is an enthusiastic photographer, rarely leisure-travelling without his Canon, and loves to interact with other like-minded people with diverse interests.
Ken's three day work week (part time commitment) as a consulting engineer allows him to follow his photography interests, and to plan trips to an ever increasing list of countries and places of scenic beauty and cultural diversity.