9 months ago · 1 min. reading time · visibility ~10 ·
Let's Go Nuts on Straddie, Laddie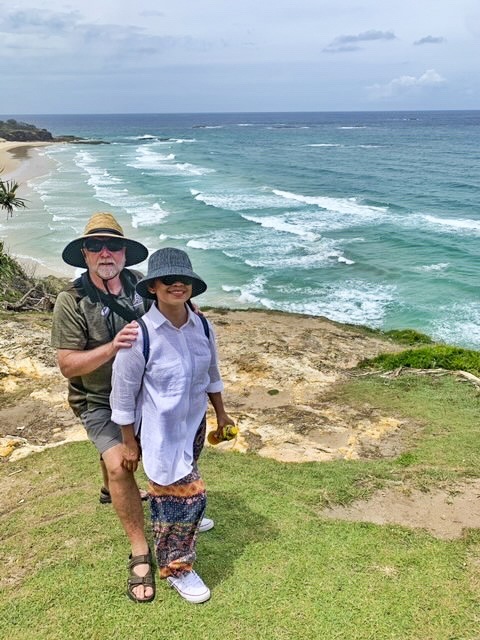 We had interstate visitors for a week, including our daughter and three year old grandson. This was the first party of people to visit since the state borders reopened and we felt the urge to escape the negatively neuroticising news bulletins belting out daily on the trannie and the telly. Then someone suggested Stradbroke Island, a 20 min ferry ride across the Bay from our eastern Brissy suburb. 
Strangely enough we'd been based in Brisbane for almost 19 years and had never set foot on the second biggest sand island in the world, which we could see daily on the horizon from our back upstairs veranda. 
"I've been everywhere, man
I've been everywhere, man
'Cross the deserts bare, man
I've breathed the mountain air, man
Of travel I've had my share, man
I've been ev'rywhere."Johnny Cash
But it seems that I'm still missing out places near my own backyard. 
So next day, after a short drive to Cleveland Point, a ferry to Straddie, and an island bus ride to Point Lookout (or just 'The Point' to the locals) we disembarked for our first glimpse of real ocean and rolling waves, having escaped the sheltered waters of Moreton Bay.  Well ocean is a bit of a misnomer, as we were actually looking fare and square at the Coral Sea, which eventually morphs into the Pacific Ocean, once clear of a few impediments to 'as the crow flies' sailors, such as New Caledonia.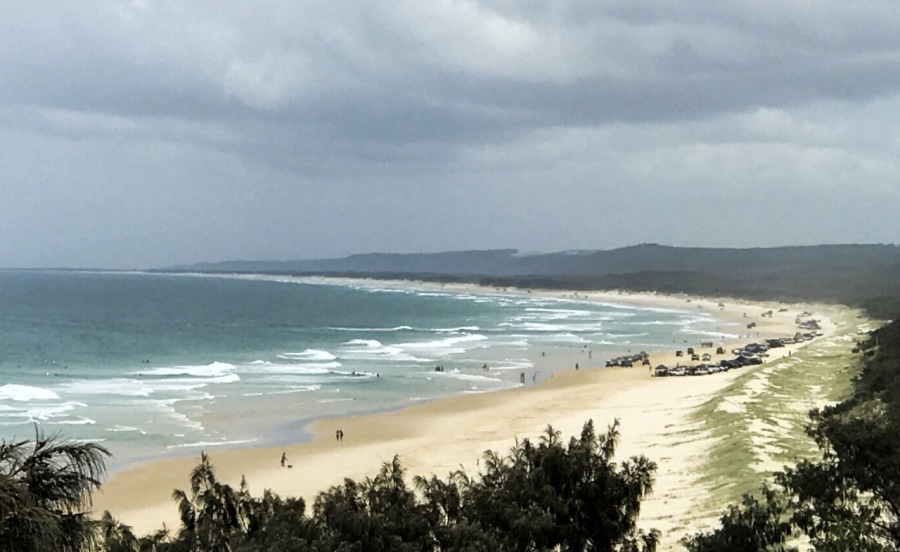 The Point is located at the northern seaward end of Straddie, from where we could see Main Beach stretching southward beneath us for some 32 km (or 20 miles approx). 
We all descended towards the abundance of white sand and let our toes and feet drag playfully through its loose fine texture, working our calf muscles as it teasingly slowed our pace and toyed with our goal of setting up base camp (or at least "let's dump our bags here" camp) within cooee of the magical music of the waves.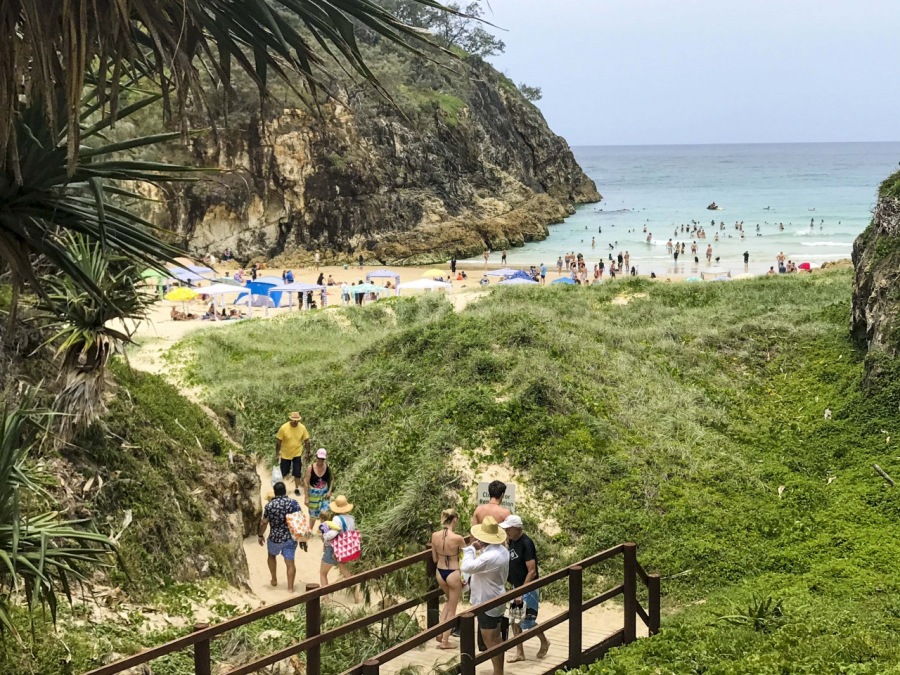 Once a good pozzy [position] had been picked, our party of day trippers then divided into two groups, namely the "slacko sunbathers, sandcastle shapers and moulders, and 'brave the waves' misbehavers" on the one hand, and the "let's go for a 'Captain Cook', intrepid would-be explorers and scenic assessors" on the other hand.
Needless to say, as I am no longer (if indeed I ever was) a dashingly handsome young 'spring chicken' or rather 'coolster dudester rooster', and these days sport a cruelly less than flattering figure in bathers or a cossy (swimming costume), I relegated myself into the latter slow and steady, weary but wacky, wanderers group, along with my wife and adult son.  Needless to say, young grandson and his mum were all over the sandcastles and waves, former group, like a rash on steroids.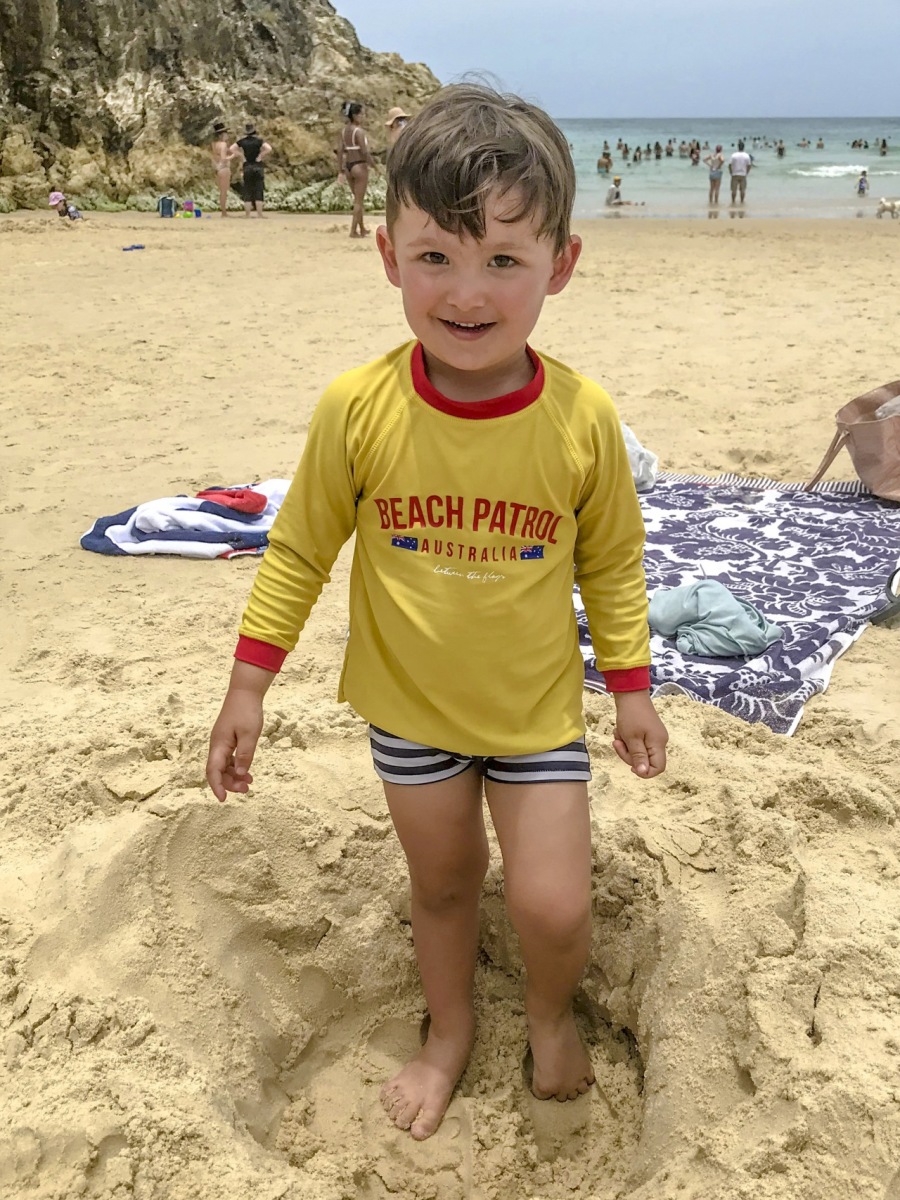 Now it happens that Lookout Point sits atop the sole promontory of outcropping rhyolite (extrusive igneous rock to the uninitiated) in this dandy display of dunes, featuring an east-west trending headland, steeply incised by successions of crashingly erosive waves to form a unique and interesting sea gorge.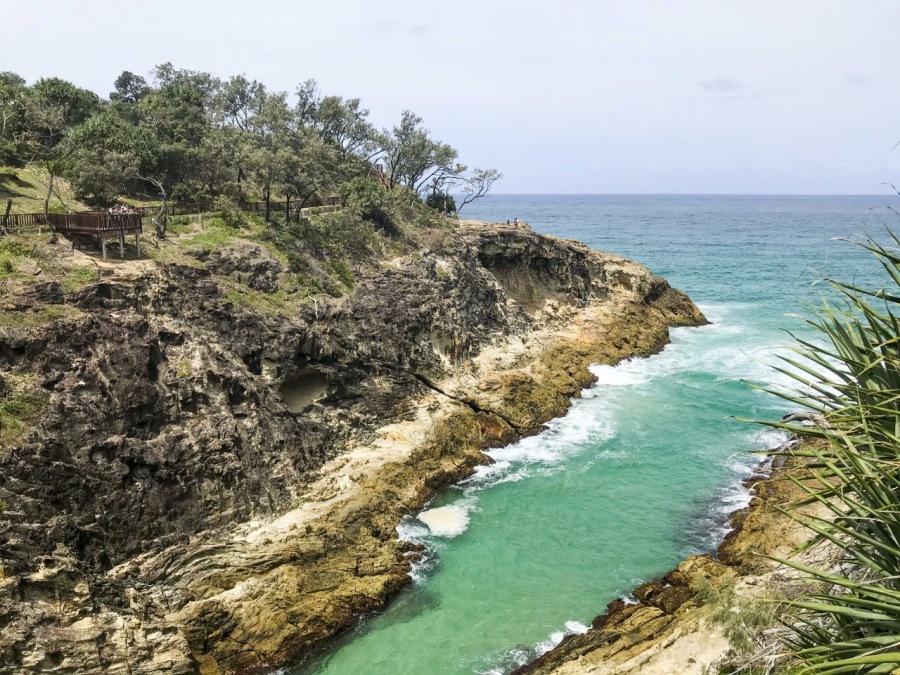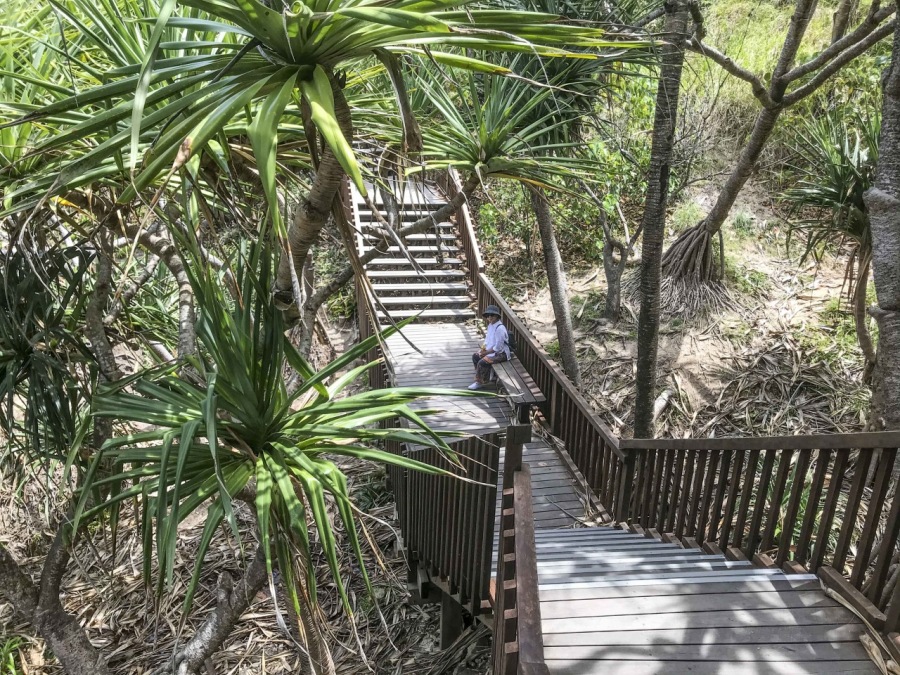 The North Gorge Walk, although quite spectacular in places, and punctuated by warning signs of significant size and content, follows a well formed path, with formal steps down one side, around the gorge head and up the other, handrails to left and right, and liberally located safe viewing platforms. But the clincher for the less than intrepid traveller/explorer is that either end of the Gorge Walk is close to a scattering of small surfer/touristy shops, cafes and coffee shops.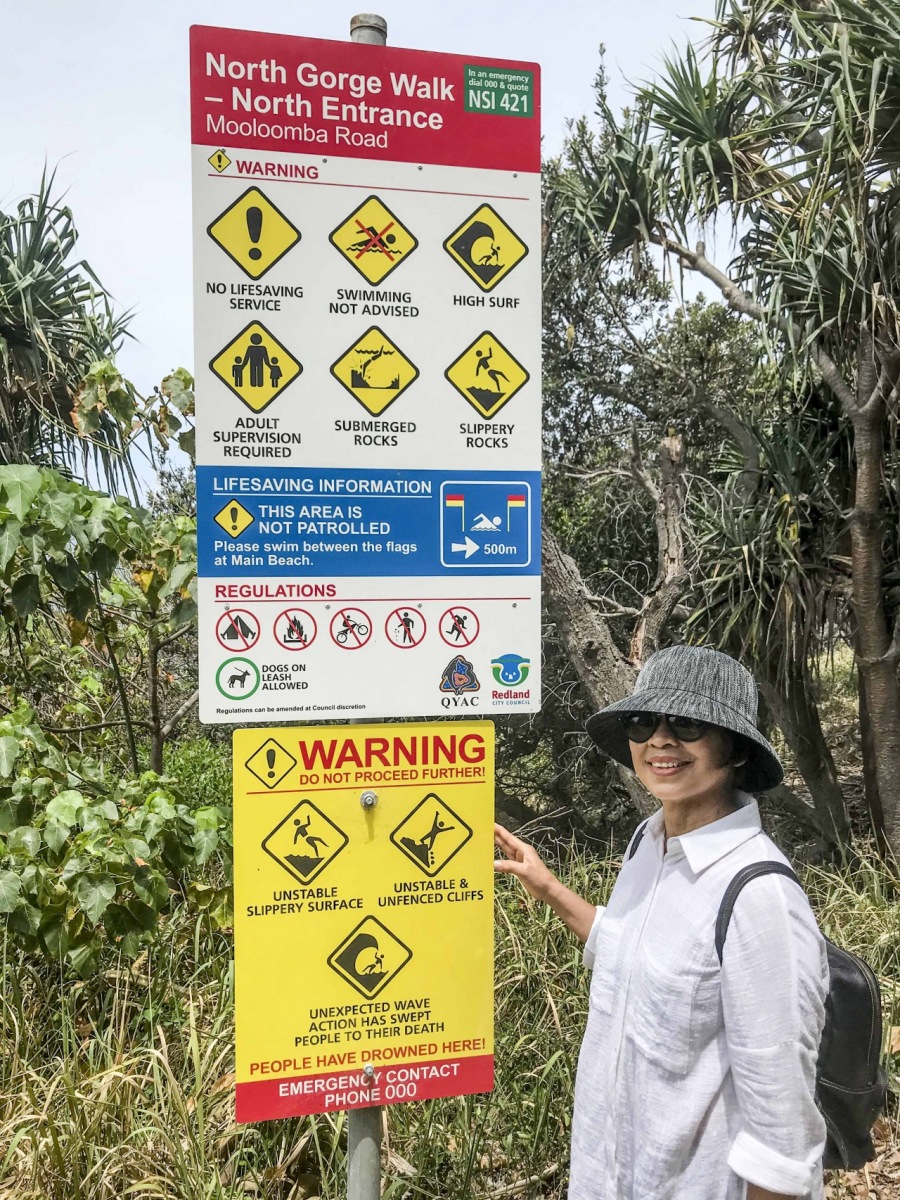 Funnily enough, not long after we had absorbed the 'in-your-face' info that, "People have drowned here!", Son No 1, who has been to Straddie several times before (and therefore qualifies as a Straddie explorer expert extraordinaire) indicated that he had previously been witness to a couple of young 'dudes' being caught in the breaking waves in the gorge, unable to return to the quiet waters at the gorge head, and who were being slowly sucked out to sea by the back wash of breaking waves.  They were reportedly rescued by a young stalwart from the nearby Surf Club on a jet ski.
And then, lo and behold, as we ascended the other side of the gorge and stopped to take some more photos, who should come jetting by on said, or similar, ski mobile, but one of the local Surf Club stalwarts.
Then there were the pandanus trees (also referred as bread fruit or screw pines) which are common throughout the area (and also on the mainland, as far north as Cape York and south into NSW).  These salt tolerant trees are quite unique in form and have stilt-like roots and long palm-like leaves.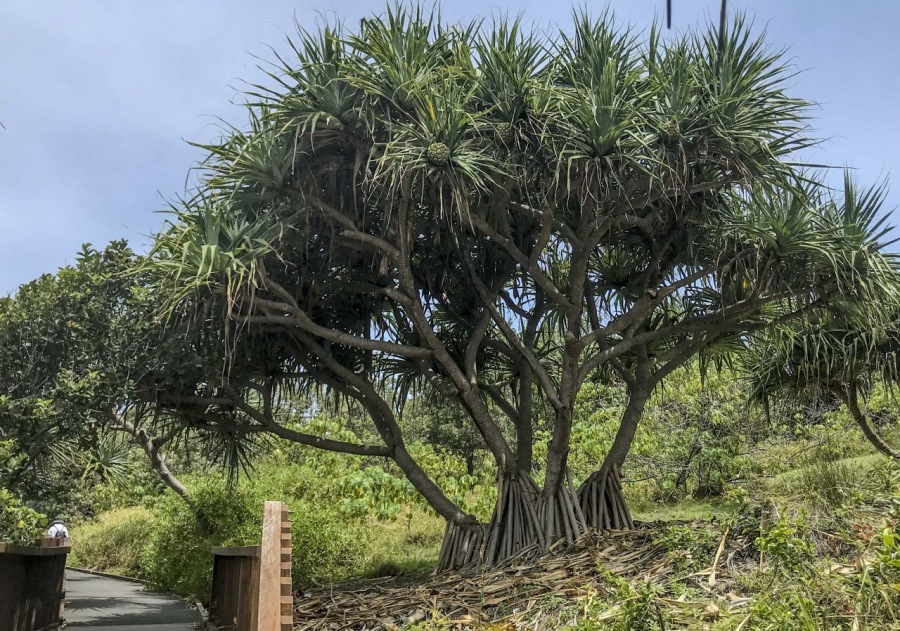 We were lucky enough to visit when the pandanus fruit was on the tree.  The pandanus produces tough fibrous fruit in  clusters of up to about 10 to 25 individual nut-like buds which each contain 7 to 10 seeds. Traditionally, Aboriginal people ate the fruit once it had ripened, although its bitter taste was seemingly improved after roasting.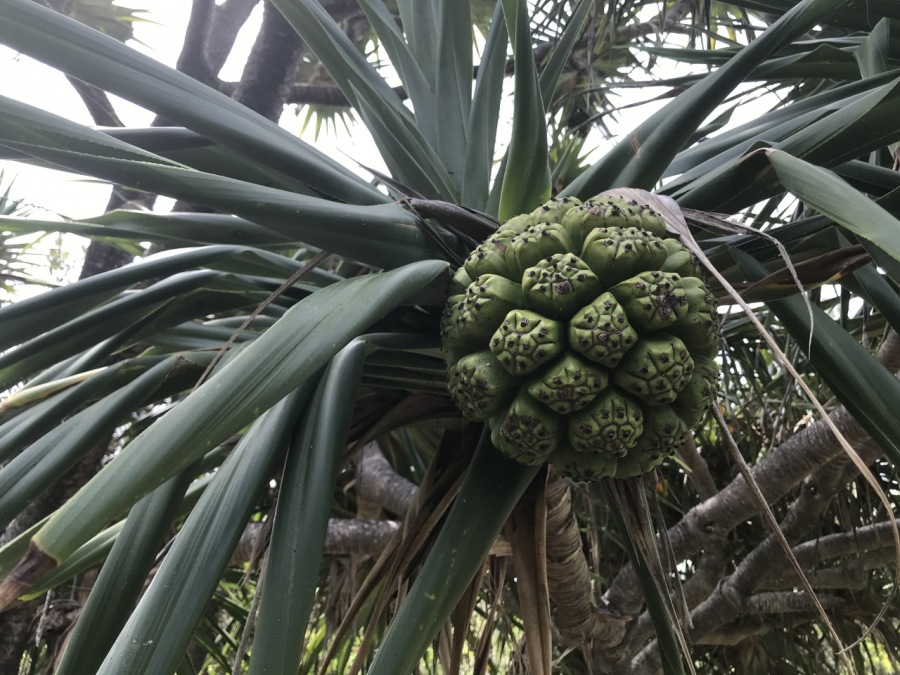 The pandanus reportedly has a number of other historical uses (from this reference ) including the following:
Alcoholic Beverage - Beer can be made from the pounded and fermented fruit. It has been reported that,  
"The beverage has a very bitter taste; years ago I took a mouthful, but spat it out at once. I could not swallow the beastly liquor, and I still fancy that I can taste it. To me it seemed like a mixture of vinegar alum, kerosene, and castor oil!"
The above description appears to make Fosters (normally only drunk by foreigners after exporting) seem like nectar from Nirvana. 
Dress and Ornament - The leaves can be plaited into necklaces, leg ornaments, and belts. Indeed, drawings depicting early European settlement days indicate that there was more ornament than dress, leaving little to the imagination.
Fibre (rope) - Cords, rope and other fibrous materials can be obtained from the aerial roots and/or leaves, and reportedly,  
"There they (Daly River Aborigines) muzzle him (the crocodile) with a stout rope of plaited pandanus and lead him round like a dog until they grow hungry for his tail."
Therein lies a tasty tale of a tail. Think I'll stick to McDonalds.
Firewood - When dry, the pandanus is seemingly very flammable, as substantiated by, 
"These trees grow in clumps, and when cut for firewood, burn like something dipped in kerosene."
Makes me wonder if the pandanus is the origin of the saying "a night on the turps", after drinking too much pandanus beer.
Flowers - Women would reportedly paste large bunches of flowers and feather-down in their hair for colour and perfume.  A Pandanus by any other name would smell as sweet?
Roofing - Pandanus foliage was apparently used historically as roofs for dwellings in North Queensland. The tropics being notoriously cyclone prone, it's not surprising that this roofing material has neither passed the test of time, nor the "huff and puff and blow your house down," wolf test.
Basketry and Mats - Pandanus leaf baskets, mats and fans are commonly traditional Cape York and Gulf of Carpentaria artefacts, and I remember seeing such Far North Queensland and Torres Island products on view in the Brisbane museum.  This, of course, is the proof I need to substantiate that the South East Queensland first nation people were not domestic cat lovers, as "the cat [apparently never] sat on the mat."
Then, almost before we knew it, we had completed the North Gorge circuit and were rewarding our outstanding exploratory efforts by liberal amounts of ice cream from the collective 'grind' of local coffee shops and cafes. This was not, however, before taking in the splendid views of nearby Frenchman Bay to the north of the Point ...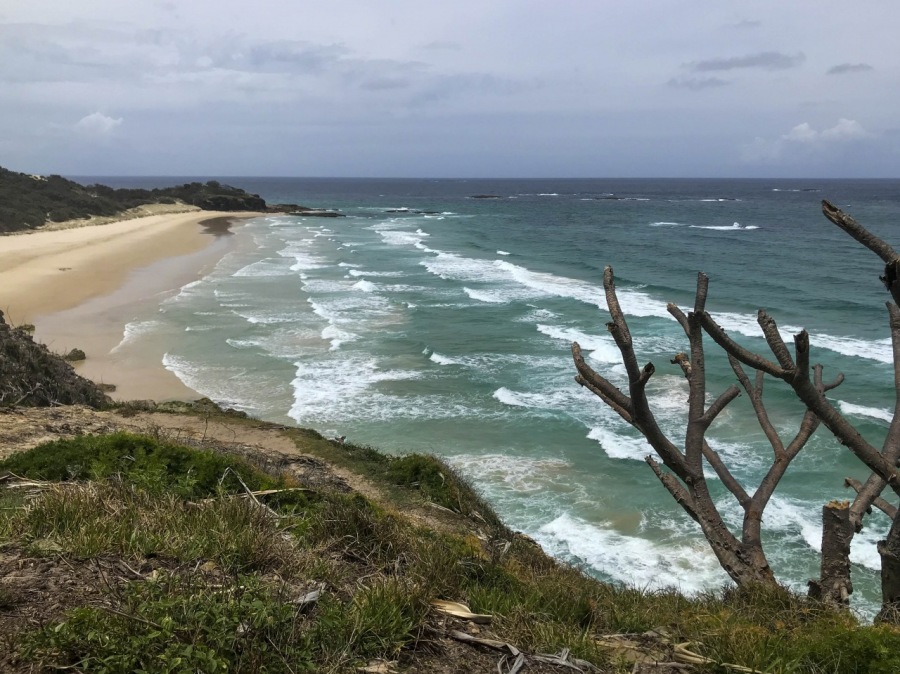 ... and Main Beach again to the south ...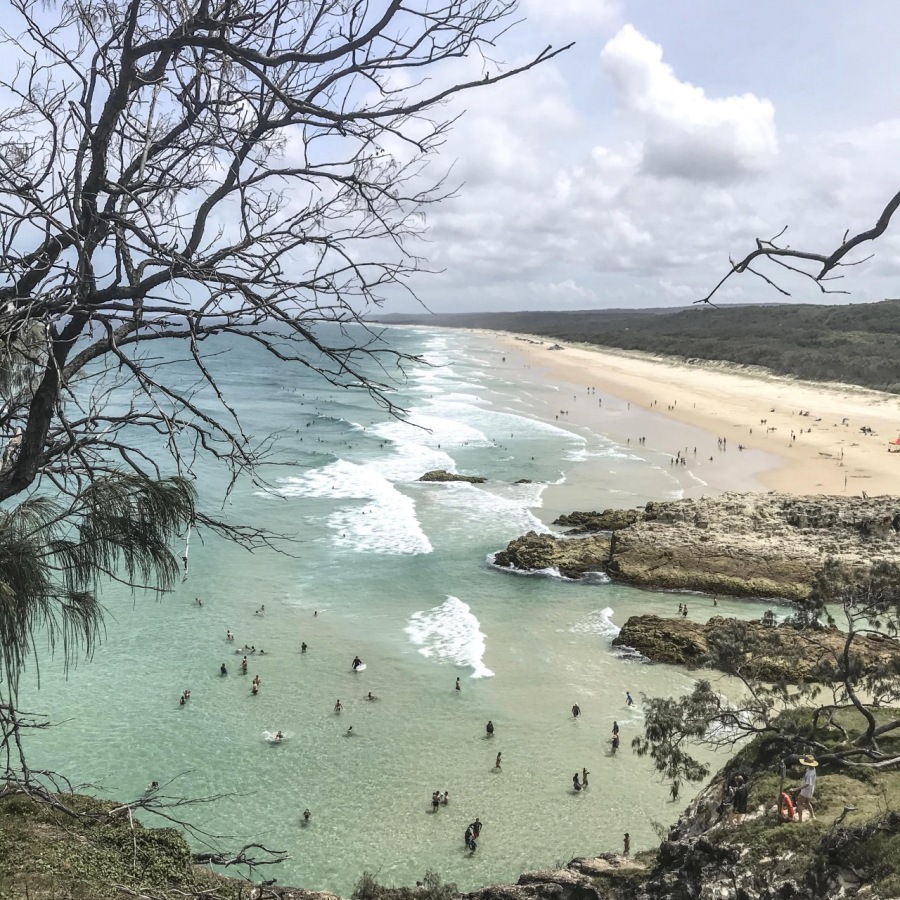 ...................<<..................>>...................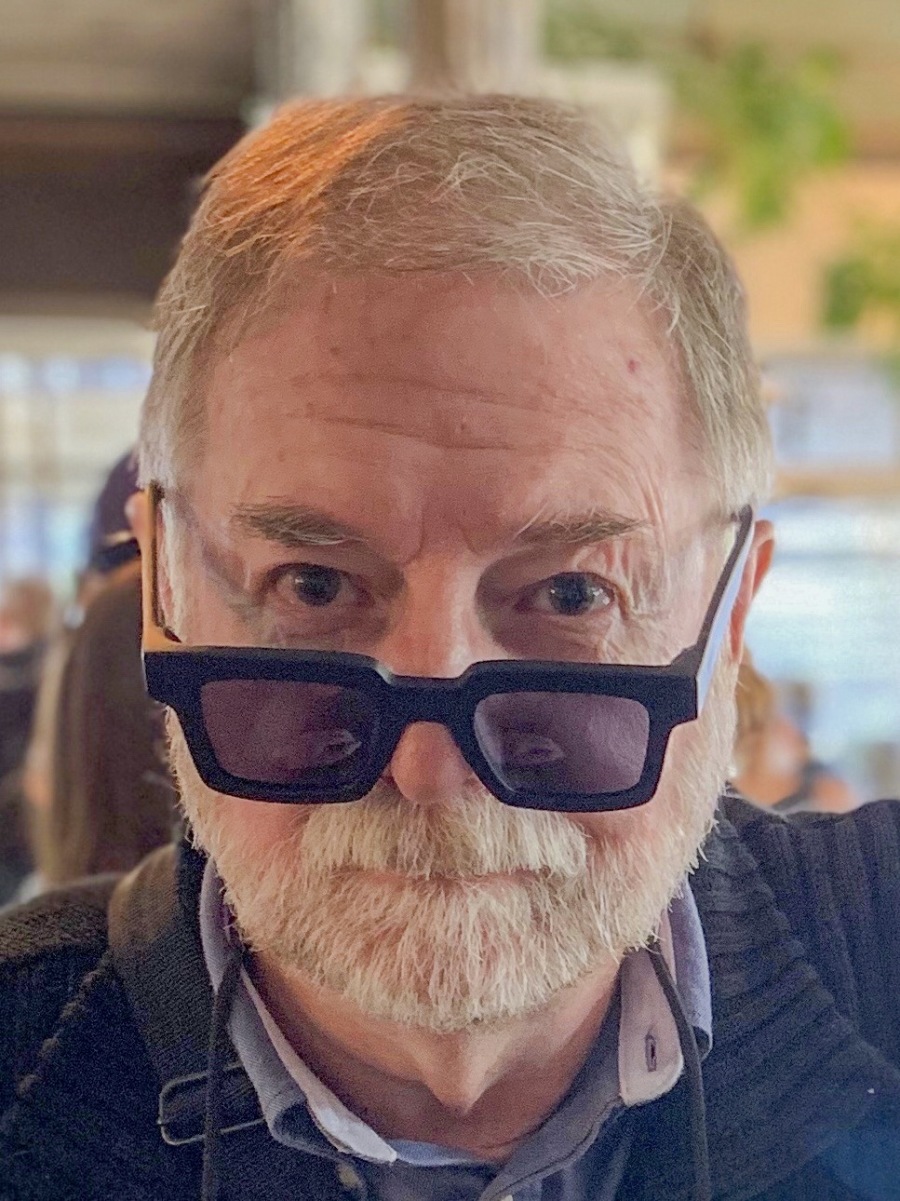 When not researching the weird or the wonderful, the comical or the cultured, the sinful or the serious, I chase my creative side, the results of which can be seen as selected photographs of my travels on my website at:
http://ken-boddie.squarespace.com/">http://ken-boddie.squarespace.com
The author of the above, Ken Boddie, besides being a sometime poet and occasional writer, is an enthusiastic photographer, rarely leisure-travelling without his Canon, and loves to interact with other like-minded people with diverse interests.
Ken's three day work week (part time commitment) as a consulting engineer allows him to follow his photography interests, and to plan trips to an ever increasing list of countries and places of scenic beauty and cultural diversity.
You have no groups that fit your search