1 week ago · 7 min. reading time · visibility ~100 ·
Climbing! Are you still up there?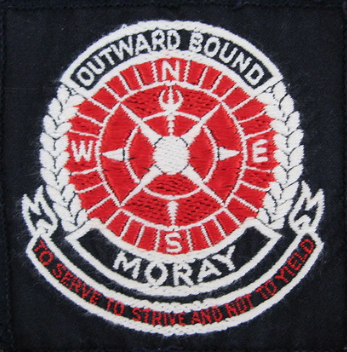 It seems like a lifetime ago … and in many ways it was. Attending Outward Bound's Moray Sea School, back in 1965, was an important hold point and wake-up call in my character moulding.  This wasn't through any proactive choice of mine, but as a consequence of being thrown a lifeline from the mould of safe predictability by my secondary school, Aberdeen's Robert Gordon's College, at the tender and, in my case, immature age of 16.
After the passage of so many decades, many of the memories are now dulled and vague, but some things have stuck like honey to the bee. And then there were some things that came back to me unheralded when I recently found the Outward Bound Alumni Group on Facebook.
The course I was sent on lasted four weeks and was based near the coastal village of Burghead in the north-east of Scotland. I estimate from the photo below (borrowed from the Alumni Facebook Group assemblage of stories and pics) that there were approximately 80 of us (plus instructors) on the course I attended, all from various walks of life, split into a number of 'watches' (I seem to remember about six), each with 12 or 13 attendees, and under the watchful eye of an allocated school instructor.  
I am seated in the front row below, while my watch instructor, Mr Child, is towards the right end of the row behind me (the resolution is a bit lacking, no doubt due to the age of this photo and its possible multiple scanning treatments).

I was not entirely new to the rigours of outdoor living, having spent many weekends with a few of my school chums, hill walking and camping out in the Cairngorm Mountains, since the age of 12. Nevertheless, the initial few days at the Sea School, with early morning runs and aerobic exercises, followed by cold showers, all before breakfast, started to reinforce the concept, for any of us who might think otherwise, that we were not in a holiday camp.
There were boys like myself who had been sent by our schools, while others were sponsored by their employers, whether trades apprentices or potential young leaders. We were all soon to learn, however, irrespective of our individual backgrounds and varying levels of outdoor skills and learning capabilities, that we had to pull together in our collective watches as one body if we were to get through the course and endure (some might say 'survive') the challenges ahead of us.
We were taught many basic skills over the next few days, including rudimentary first aid and navigation using a compass and map (no GPS or satellite navigation systems back then), and where we were going would be far from any of the emergency services, should the need arise (more on this later).
Most of the early days were spent, when not in the classroom or attending outdoor athletics pursuits, down in the harbour at Burghead, where we were to initially learn how to row, and then later to sail, small wooden 'dipping lug' cutters.  I have no photos from back in those days and so the pics below are also borrowed form the annals of Outward Bound's website and/or Facebook Group.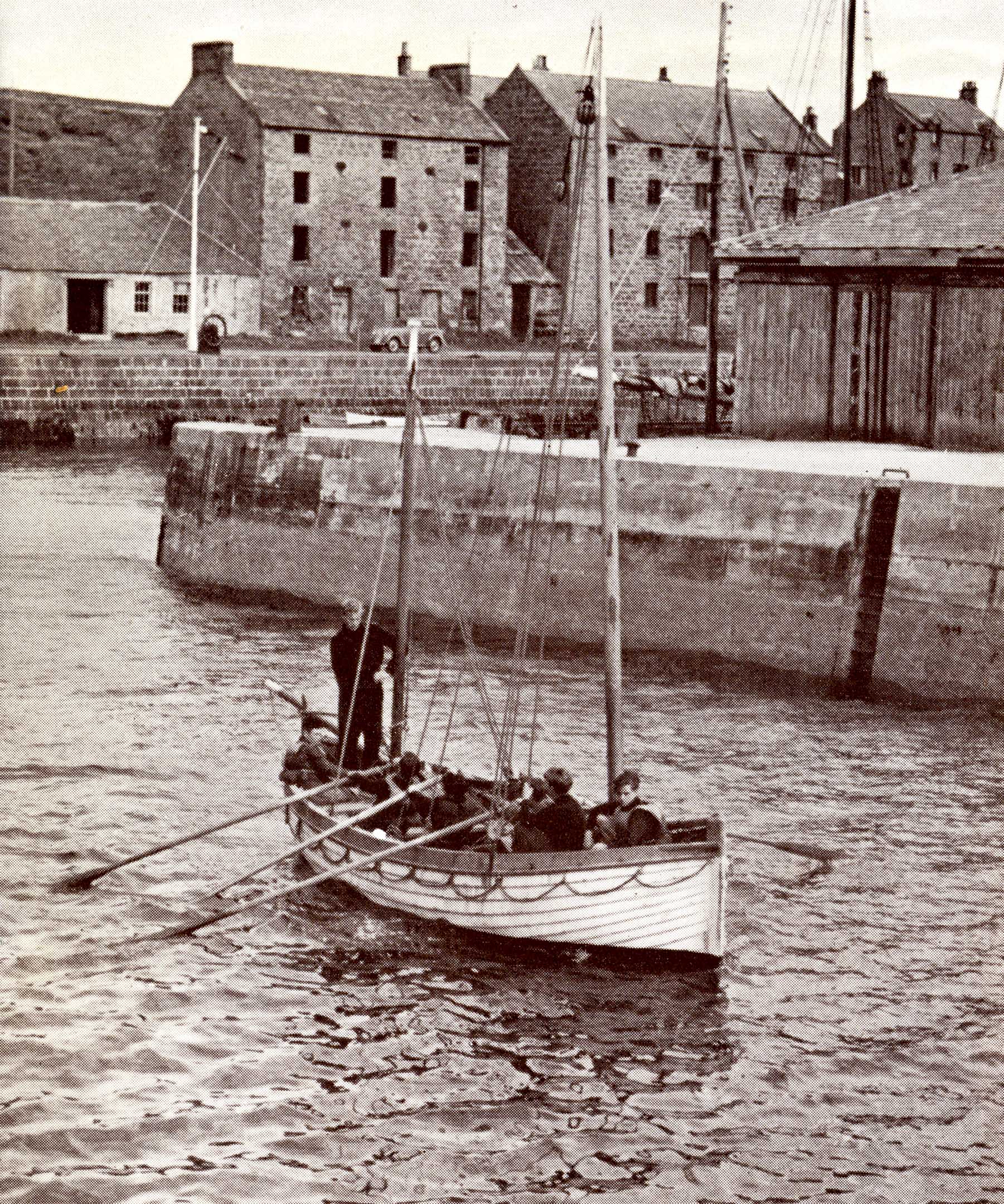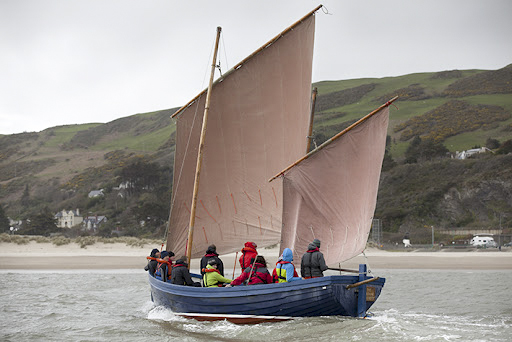 Mine was the first course since 1955 not to sail aboard the Prince Louis, a three masted schooner initially bought by the Outward Bound Trust as a training ship attached to the Aberdovey then Moray Sea Schools.  It transpired that she was soon thereafter decommissioned and subsequently sent to Dartmouth, in Devon.  We did, however, spend one afternoon aboard this proud old ship, while she was moored in Burghead Harbour, learning our knots and other seafaring skills.  In hindsight, perhaps it wasn't such a bad thing to miss out on a sea expedition aboard what I understand many previous Outward Bounders referred to as the "Spewy Louis", due to her rolling motions in open water being the cause of many a young stomach's content's being emptied into the Moray Firth (hopefully on her leeward side).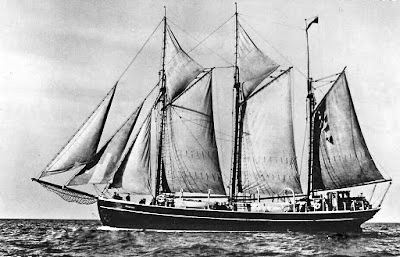 Once we had mastered the art of rowing and sailing one of these cumbersome and heavy old cutters, or at least convincing our instructors that we were at low risk of doing damage either to the boat or to ourselves, all six (or so) watches were let loose on a two day expedition across the neighbouring Moray Firth, from Burghead westward to Nigg Bay and back.  I remember that we spend much of this time actually rowing rather than sailing, as we encountered a fair modecom of calm weather, particularly on the return journey.  Even when the wind picked up and we took off, our particular watch was literally miles behind, having, it seemed, one of the heaviest boats. But the same cutter that seemed so particularly heavy to row, proved quite fast when under sail, and we soon caught up to, and overtook, the others as we romped back into Burghead Harbour again.  It transpired that many of the other cutters had taken up the offer of a tow from the school motorised rescue craft, sent back to herd us home and ensure we didn't miss supper, but our particular watch refused the offer and, as it happened, without our stubbornness we wouldn't have experience how this heavy but shapely 'dipping lug' rigged lady really sped across the waves when given enough wind and time to build up momentum.
As it happened, there was an accident aboard one of the other cutters on the first day out, when boiling water (from a brew-up) was accidentally spilt over the foot of one of the occupants.  Luckily the first aid lessons had sunk in and were put to good use, with the injured 'sailor' dangled over the side to cool off the wound in the sea.  At the time, those of us in the other cutters had no idea what was going on, but we were aghast when they set off a flare just as an aircraft was flying over at low height (possibly on a reconnaissance exercise).  A short time later a Royal Navy (or possibly Royal Air Force) helicopter, presumably from the nearby Lossiemouth airfield, appeared and a navy diver was dropped into the sea near the cutter and injured young fellow, to assess the situation.  The casualty was winched up and taken off to hospital, where he quickly recovered and was sent back to matron's care in the school sick bay before the end of the expedition. 
For illustrative effect, I've displayed a photo of the Whirlwind HAR 10 below, which was reportedly the Standard SAR (Search and Rescue) chopper being used in UK between the early 1960s through to the late 1970s, and therefore most probably the type of aircraft used in the rescue that day.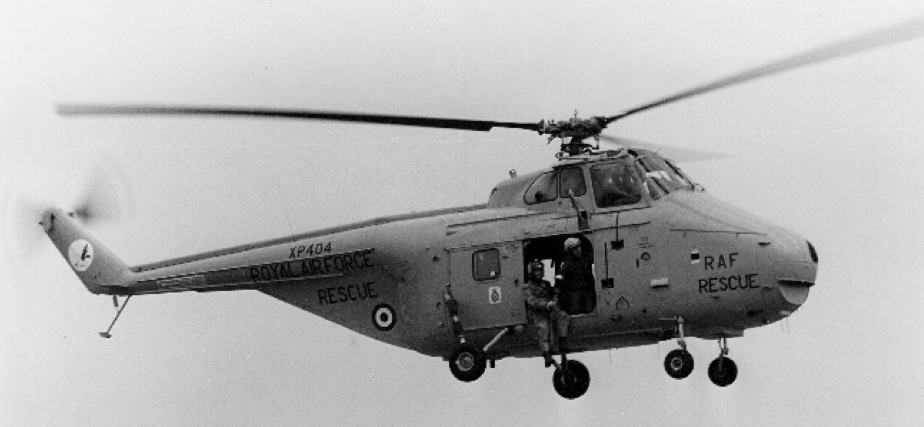 Rock climbing was something I had previously been introduced to during my various trips to the Cairngorm mountains with friends, and during trips to the sea cliffs close to my home town of Aberdeen.  The routine here at the school was different, however, and we had good equipment and a well rehearsed safety routine of preparatory calls from the upper belay point (from where the safety rope was controlled) down to where we each started our climb and back again. This culminated in the imminent climber shouting, "Climbing!" to warn the upper belayed top controller that he was commencing and to hence keep the rope reasonably tight, just in case.  
I may have dabbled in, or rather 'played at' rock climbing before, but I had not previously experienced the initial shock horror of leaning back over a cliff and falling down it backwards, whether in a controlled descent or otherwise.  And so the first time I was forced into the 'pleasures' of abseiling ('repelling' to some), it was done with my heart in my mouth and the fear of death paralysing my movements.  After a few short successful attempts, however, our respective confidences increased, and the exercise became enjoyable as it was repeated with increasing speed and gusto. Our instructor then moved the top belay point to a seaward face we had neither climbed up nor had seen from the bottom before.  Here I should hasten to add that we were abseiling down one rope, while being connected to a separate safety rope, again, just in case, so there was no risk of us rapidly descending, unless, of course, the upper belay controller fell asleep.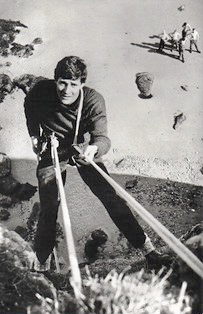 I was first over the edge into no man's land and then, part way down, shock horror, my legs started to run out of contact with terra firma, as the face sloped down and away from me into a large overhand.  I looked up for guidance but could hear nothing and I had no way of gauging if there was indeed anyone up there still controlling the safety rope.  After a short delay and with nobody around either to assist me or to laugh at my predicament, I decided to jump for it and hope that I'd be winded at best, rather than break anything when I hit solid ground, some 10m or 12m beneath me at beach level. That's when I found, to my sheer joy and ecstasy, that the friction of the abseil rope around my body was enough to permit a slow and controlled descent, rock face or no rock face.  What's more, no more visitors to Matron's sick bay that week, although I may have had to change my underpants on arrival back at the dorm later that afternoon.  
At the end of the course we spent several days on an expedition in the remoter mountain areas of Scotland.  Unfortunately I can't remember exactly where we went, having lost my logbook, official photos and other literature, after many house, locality and country moves over the passing decades. I do remember, however, that the mountainous terrain was breathtaking and inspiring, despite us having to propagate the 'joys' of camping (under heavy and self carried canvas, groundsheets and fly sheets, well before today's much more lightweight, waterproof and seamless shelters) and the similarly experienced 'joys' of cooking barely edible camp meals with our watch mates.  This particular mountain expedition saw one of our less fit members being overcome with a medical affliction (I can't remember exactly what) and having to be taken down off the mountain prior to expedition completion.  I seem to remember that he recovered but can't remember the details.
I anticipate that many of you will be thinking that I must have benefited greatly from attending this 'character building' course and that I was cleansed of all my former poor character traits, such as my then propensity to procrastinate, to become stressed prior to having to make important decisions, and to avoid confrontation with my fellow man … all common character weaknesses, particularly among teenagers.  Sadly this was not the case and my return to my final years in school were sadly uneventful and less than mind-blowingly uplifting in this respect.  The Outward Bound course did, however, set me on a path of self discovery and experimentation, so that many years later, after dabbling in the reserve army through the University OTC, and then engaging upon a series of overseas work opportunities in developing countries, I eventually matured into a sufficiently stable frame of mind to permit me to settle down in Australasia and build a career and family.
Perhaps there's something in the Outward Bound Motto after all:
"To serve, to strive and not to yield."
And don't forget to shout out to all the world, "Climbing!" before you take on your next challenge.
..................<<..................>>...................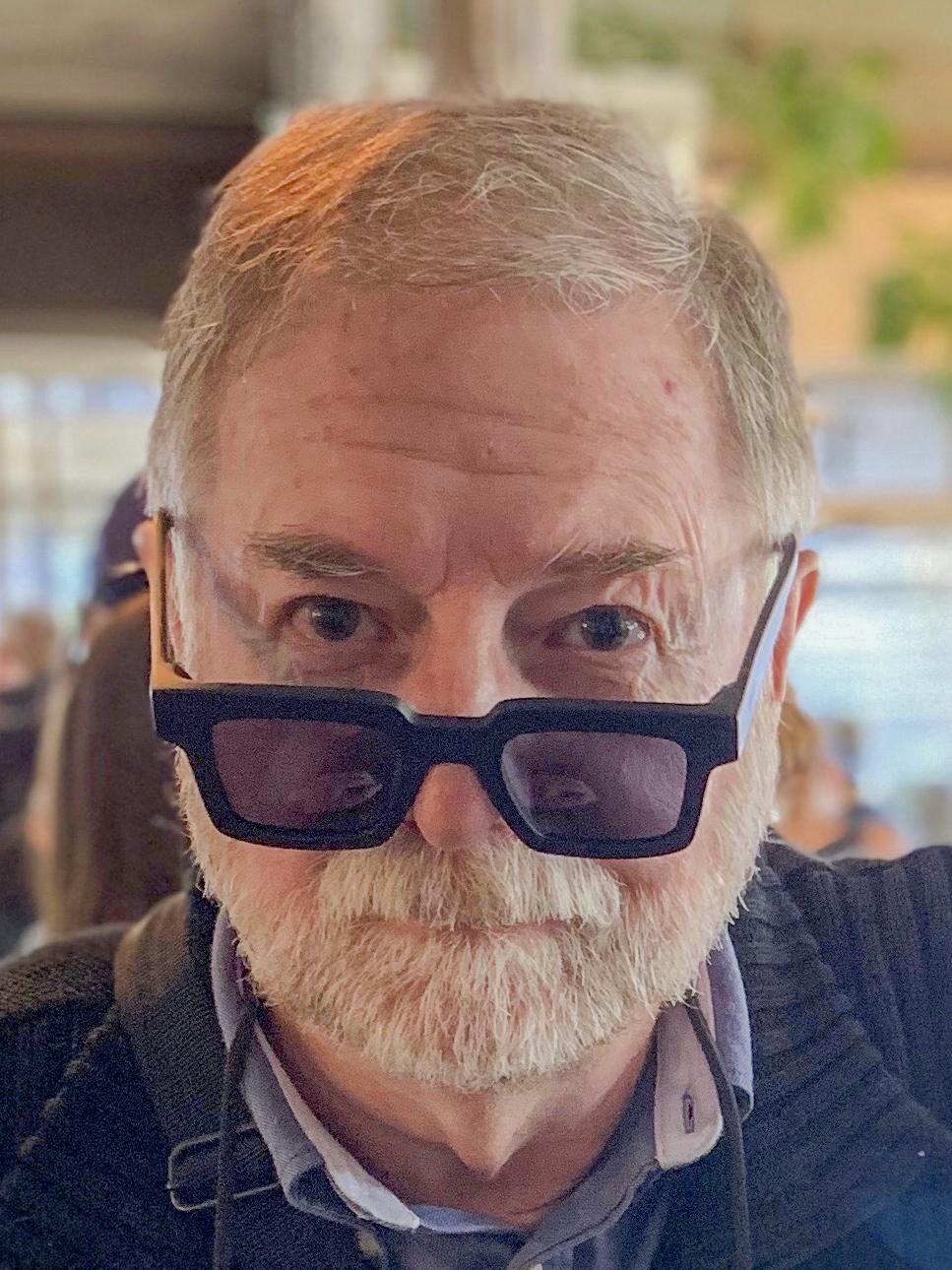 When not researching the weird or the wonderful, the comical or the cultured, the sinful or the serious, I chase my creative side, the results of which can be seen as selected photographs of my travels on my website at:
http://ken-boddie.squarespace.com">http://ken-boddie.squarespace.com">http://ken-boddie.squarespace.com">http://ken-boddie.squarespace.com">http://ken-boddie.squarespace.com">http://ken-boddie.squarespace.com
The author of the above, Ken Boddie, besides being a sometime poet and occasional writer, is an enthusiastic photographer, rarely leisure-travelling without his Canon, and loves to interact with other like-minded people with diverse interests.
Ken's three day work week (part time commitment) as a consulting engineer allows him to follow his photography interests, and to plan trips to an ever increasing list of countries and places of scenic beauty and cultural diversity.
You have no groups that fit your search