8 months ago · 5 min. reading time · visibility ~100 ·
A Day Out with Ginger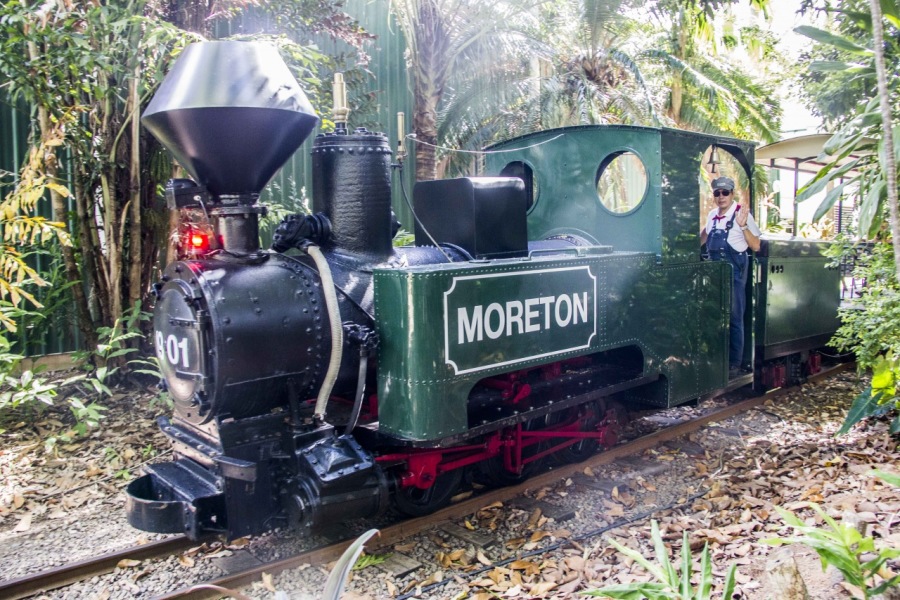 No, I'm not talking about Nicole Kidman, Ginger Rogers, old US mate with the dead ginger cat as a coiffure, or a host of auburn hair coloured, pale skinned and freckled, lovely people, who we Aussies delight in teasingly referring as 'rangas' (after the orang-utang). I'm talking about the root of the plant that many of us are only aware of when we quench our thirst with a traditional fizzy brown bevy of bottled ginger ale.  But there are also countless varieties of well prepared meals, snacks and drinks, all containing ginger, either as a major 'kick' ingredient or as a more subtle tingle to the tongue.
Ginger has been in my diet for many years now, and so, with the historic Ginger Factory at Buderim only a mere hour and a half's drive north of 'Brissy' (and on my list of local attractions not yet visited in our almost 20 years residency in the region), we packed our 'sunnies', water bottles and 50+ sunscreen for a Sunday afternoon's entertainment and education (and also shopping, as it happened).
But first a little historical background ... now don't fall asleep in the back there! I'll keep this short and sweet.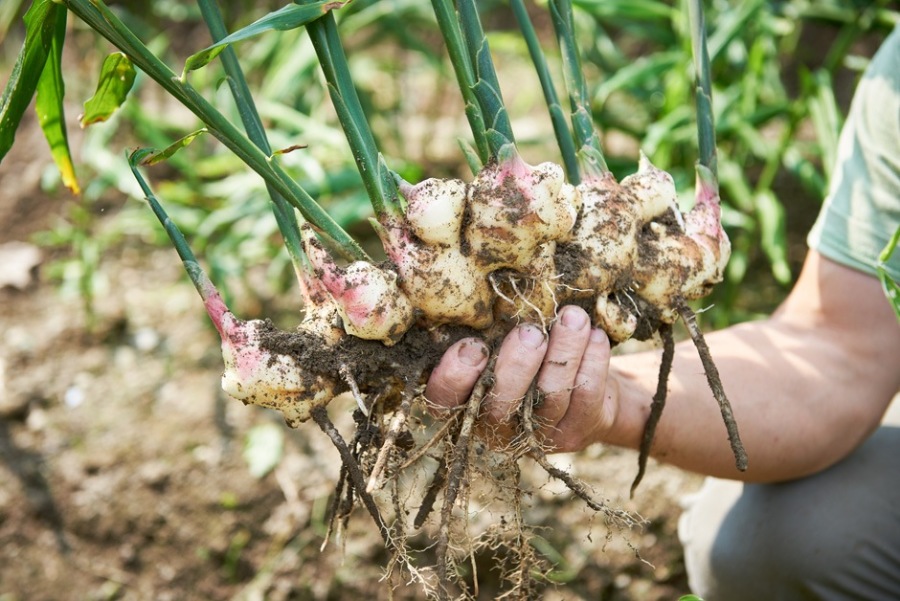 Ginger first came to Buderim as a few small raw pieces in the pre World War 1 days, and it was found that it thrived on the rich volcanic soils and climate of the region, with the steeply rising and dramatic volcanic origin Glasshouse Mountains to the south and the Blackall Ranges as a backdrop to the west. A few of you may remember my post some time ago on the flora and fauna of this Sunshine Coast hinterland region at this link.  
But it wasn't until the advent of World War 2 that five Buderim farmers came together to form the Buderim Ginger Grower's Cooperative Association Limited and the crop really started to take off as a serious marketable product.  And so, 
By the time the 1990's had roled in, Buderim ginger had earned global recognition for producing the World's Finest Ginger. An impressive feat indeed, the company's investment introduction facilities met the needs of customers in over 17 countries, and continues to do so today.
the Story of Ginger in the Buderim Ginger Factory's website
OK, sales talk over, and back to our trip.  On arrival at the Ginger Factory, we were heralded by two gingerbread men, acting as traffic controllers.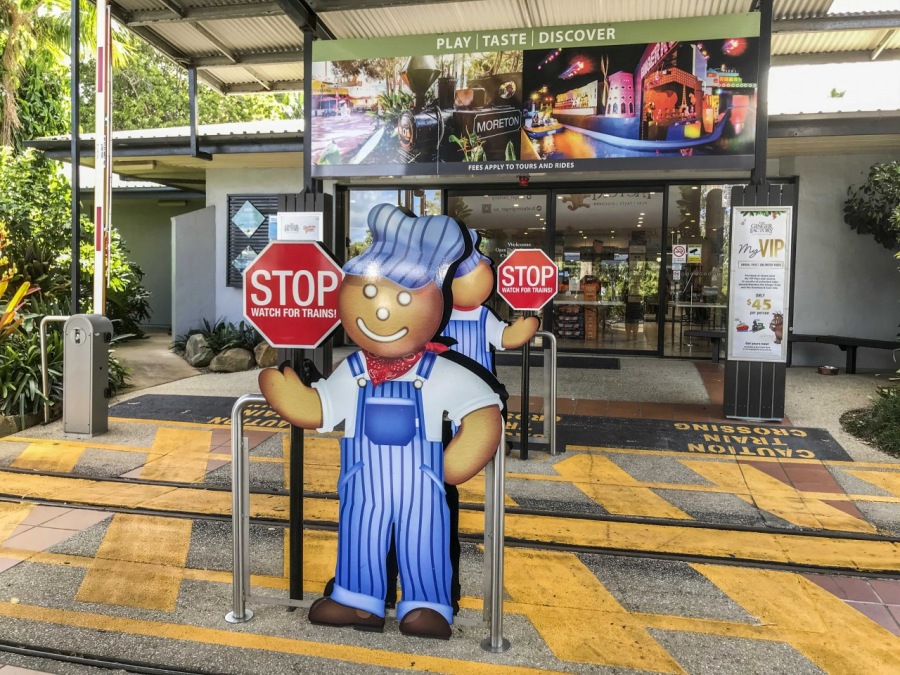 Once inside, the complex proved to be more characteristic of a small theme park and tropical rainforest combo than the working factory that it also is, with gardens and a lake, a cafe and restaurant, and relics of old machinery and period buildings dispersed around the grounds, through which a small narrow gauge railway track meandered, not to mention shops selling various ginger products and the invariable T-shirts, tourist clothing and other 'gingified' household items.
We decided to start with a tour of the actual factory building, having arrived just in time for one of the guides to take us through the process of producing the goodies.  But first we had to pass the scrutiny of gingerbread tour guide man, who is now a good buddy of mine.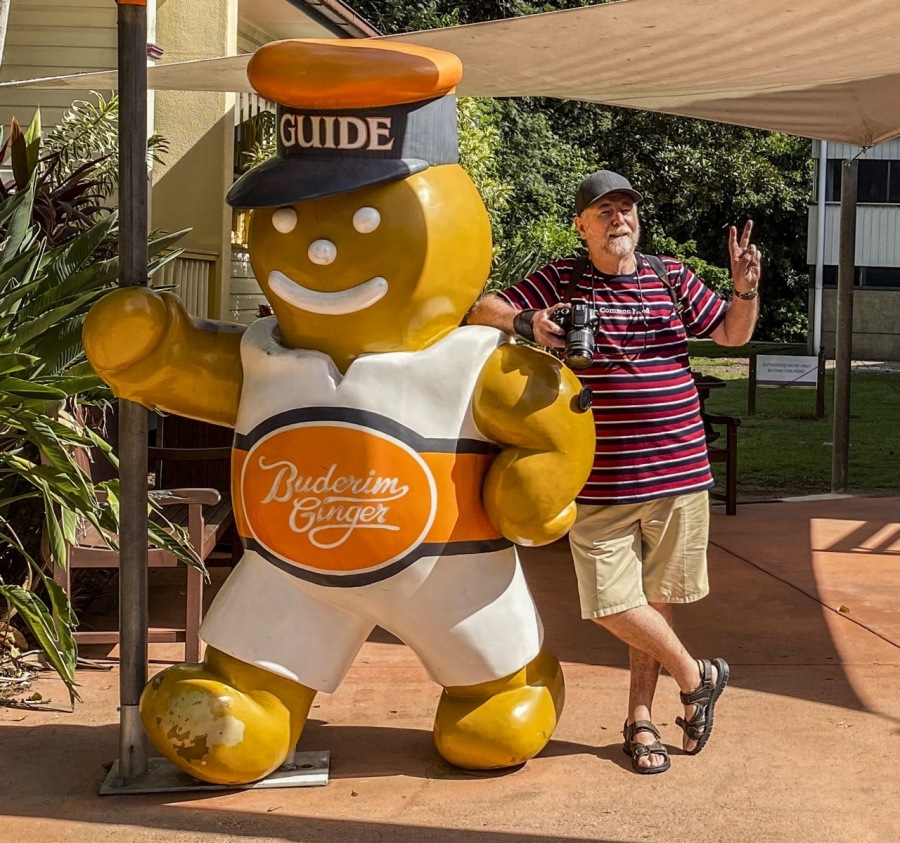 We commenced our 'tour proper' with a delightful local young lady, who introduced us to some more of the history of the facility ...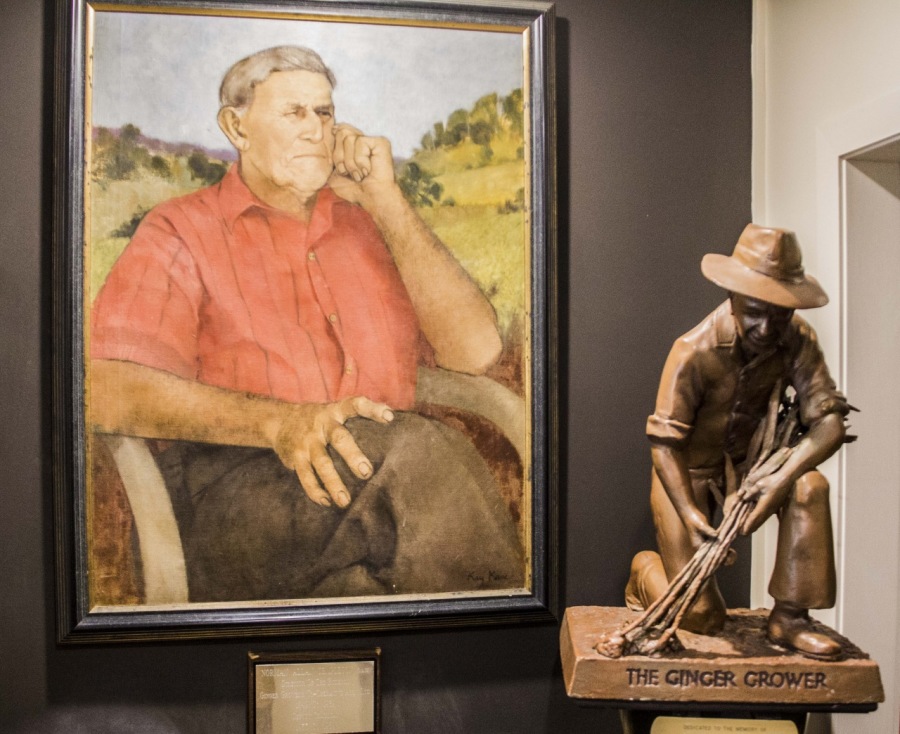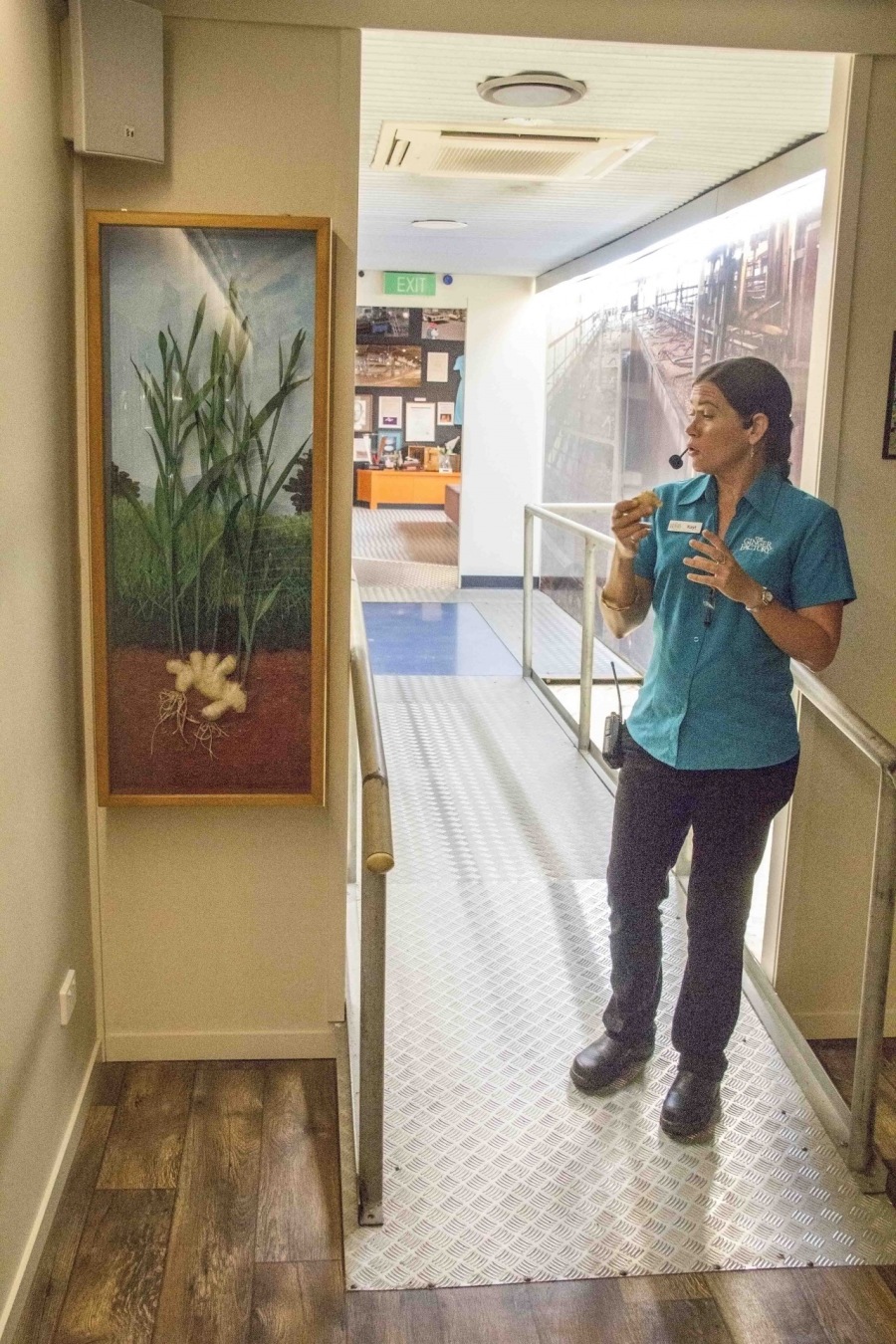 ... and gave us a knowledgable run down of the growing, harvesting and production processes, assisted by a video.  We were given an excellent gallery view of the various processing facilities, including an assortment of storage vats.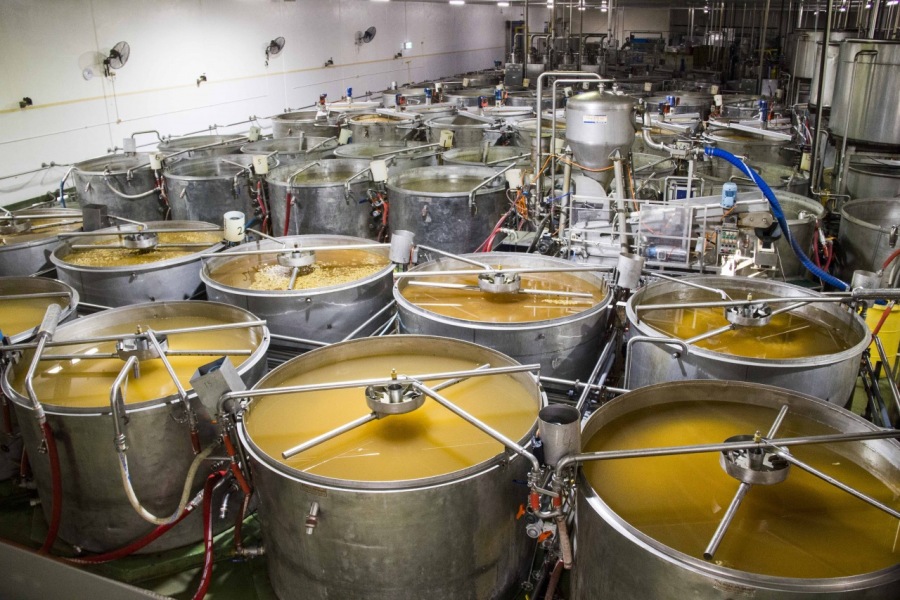 Here for the technocrats is an outline of the process:
The ginger is graded to detect fibre content at varying percentages. Candied, syrup, glace and crystallised ginger are further processed in the famous open vat system. The open vat allows the ginger to develop a juicy texture as the syrup penetrates through the ginger pieces. This combined with the evaporation of moisture from the vats results in a better development of the rich ginger taste, through the caramelisation of sugars and the concentration of the natural ginger flavours
Buderim Ginger Factory website, "Growing and Processing" extract.
So there we have it, now moving on ...
After an all too brief tasting of some of the finer ginger products, it was time to take the Moreton train (see the title photo and below). This mechanical masterpiece is seemingly a revamped former narrow gauge engine and carriages, retired from the nearby Moreton Sugar Mill in Nambour and well over 100 years old.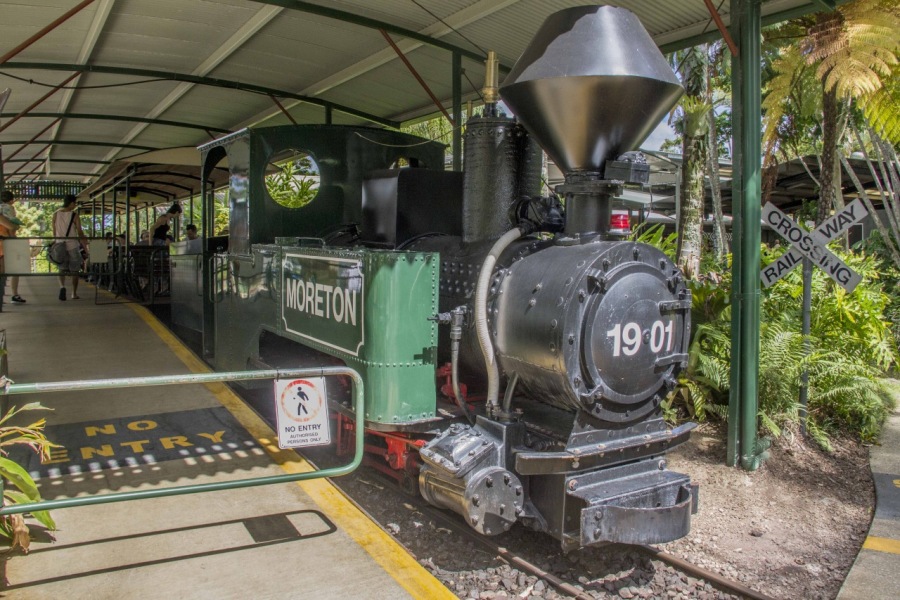 But, of course, we had to again first pass the scrutinising gaze of one of old mate gingerbread man's cousins, before "all aboard" for a rattling trip around the gardens, parklands and down memory lane.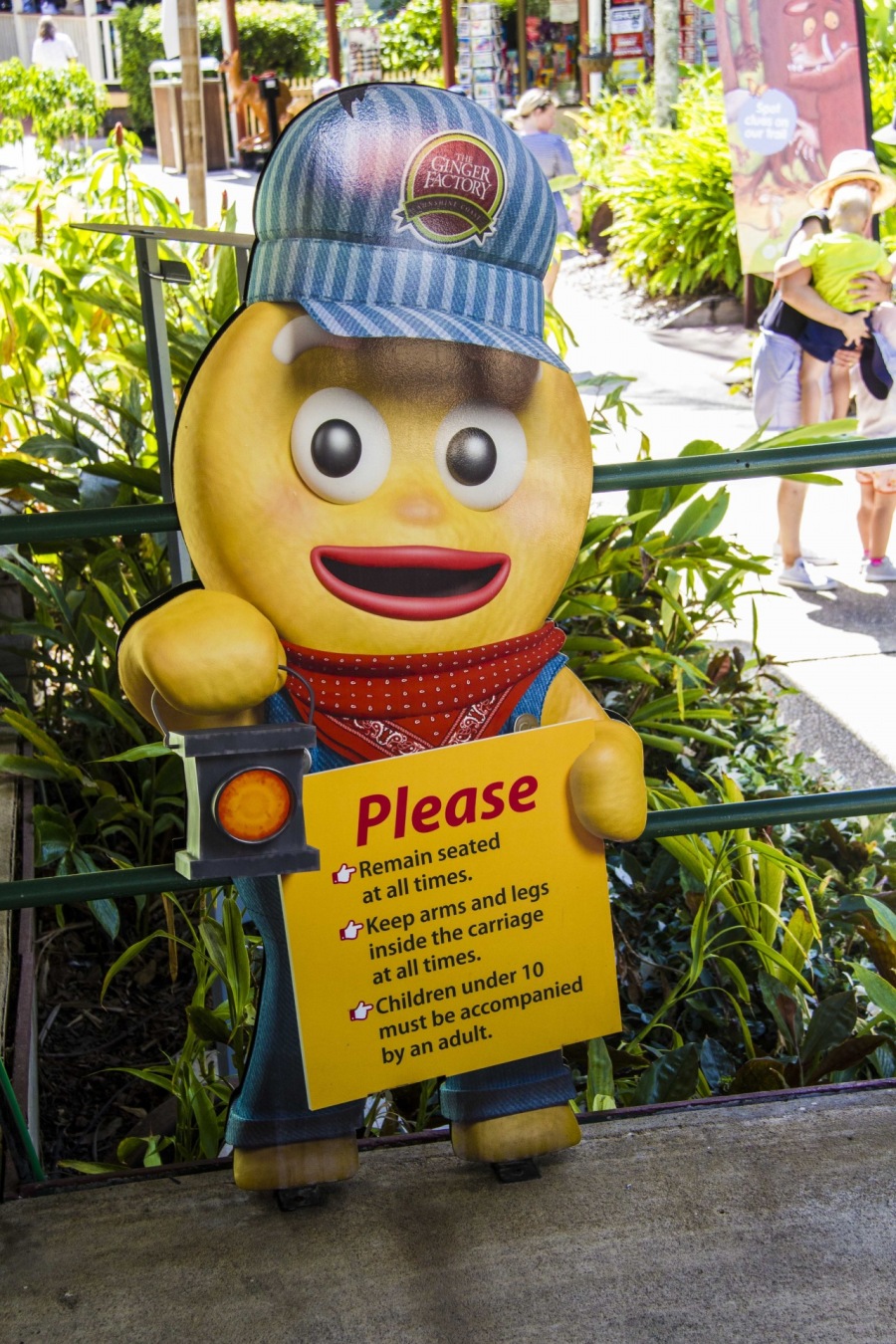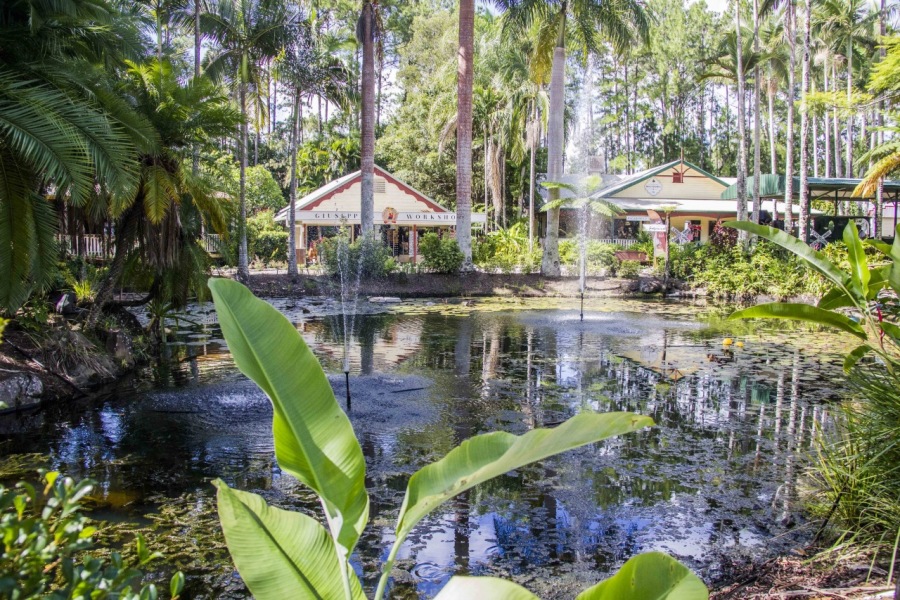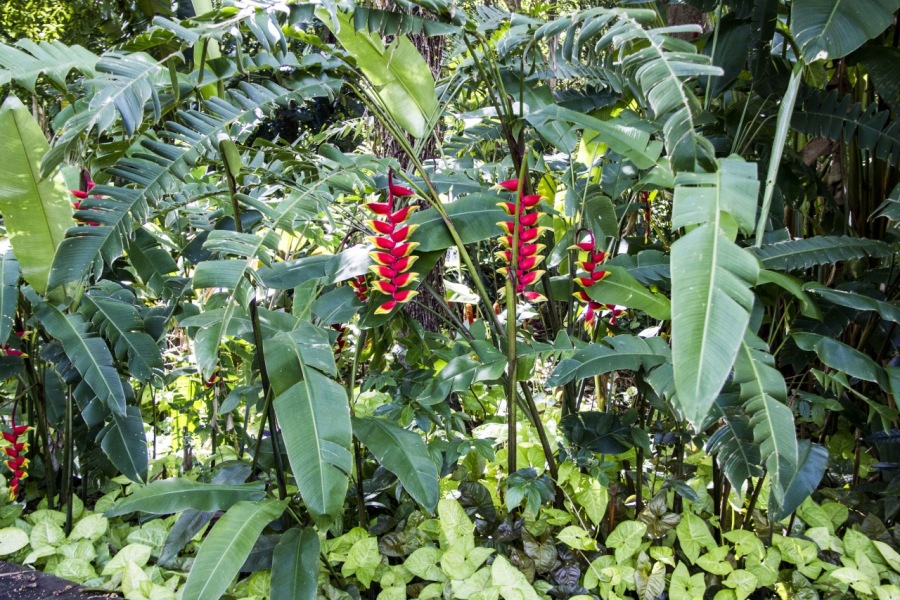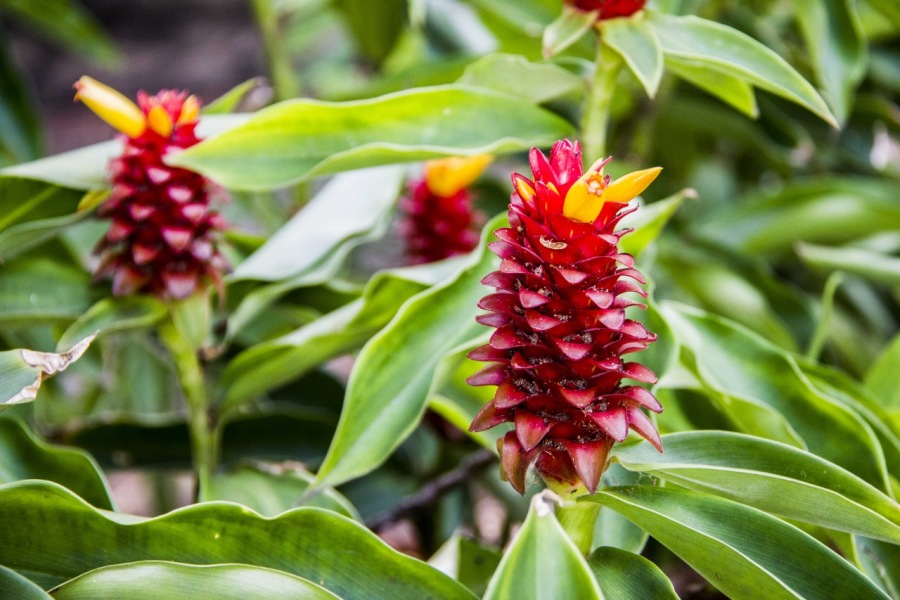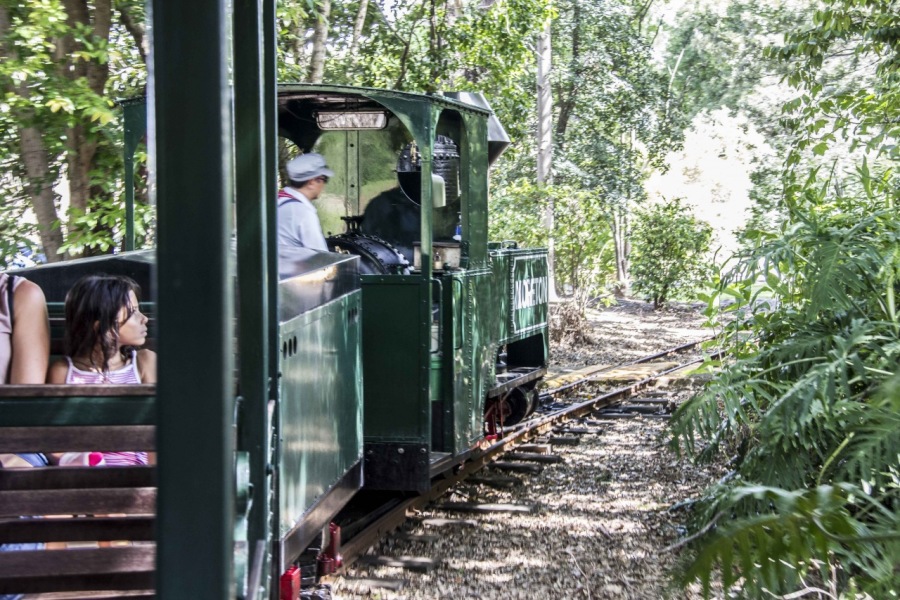 Once clear of the lake and gardens, the train trip took us past existing working facilities before traversing the perimeter of some old and well rusted cultivating machinery and an original ginger processing timber shack.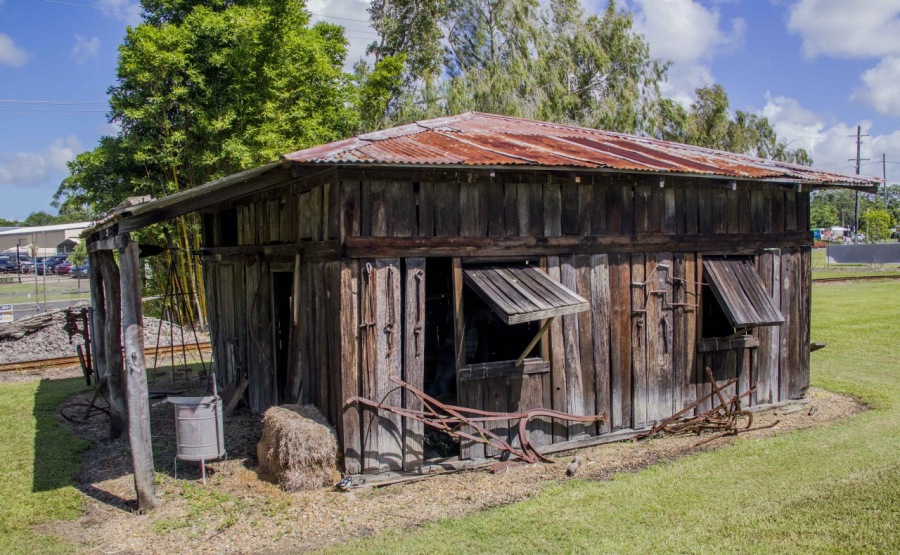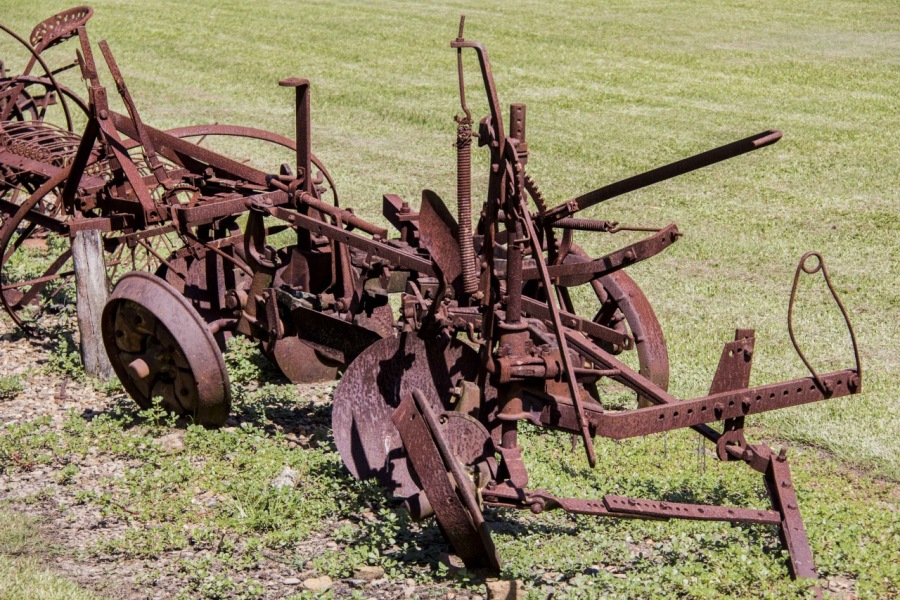 Along the way we were befriended by a 'road runner' moor hen, keen to show off its sprinting skills alongside the 'green rattler'.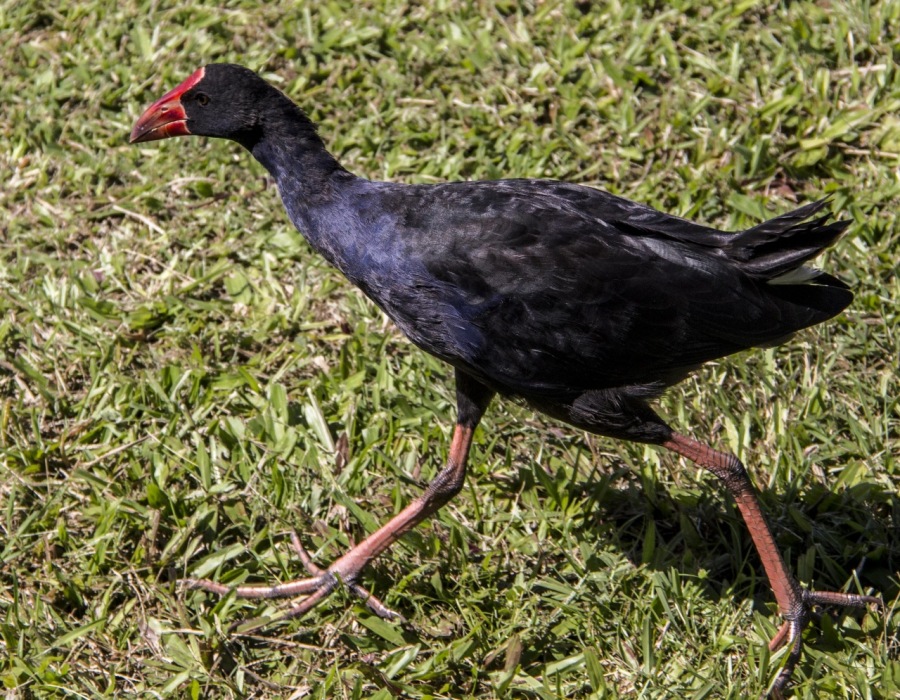 Once back on a steady and non-rattling footing, it was off for a ginger flavoured ice-cream and a look over the various products on display.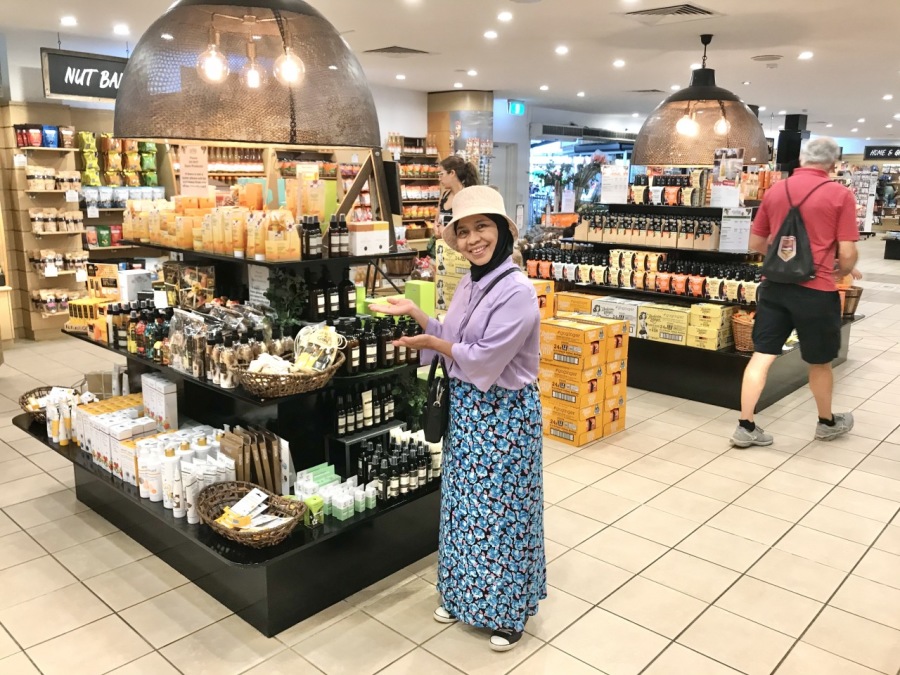 Needless to say, the car was pretty well loaded up on the way home, with ginger marmalade and spreads, bottles of ginger cordial, ginger sweets and toys for the grandchild.
We resisted the temptation to purchase some ornamental ginger plants, such as the blue ginger below (Dichorisundra Thrysifolia for the green thumbs).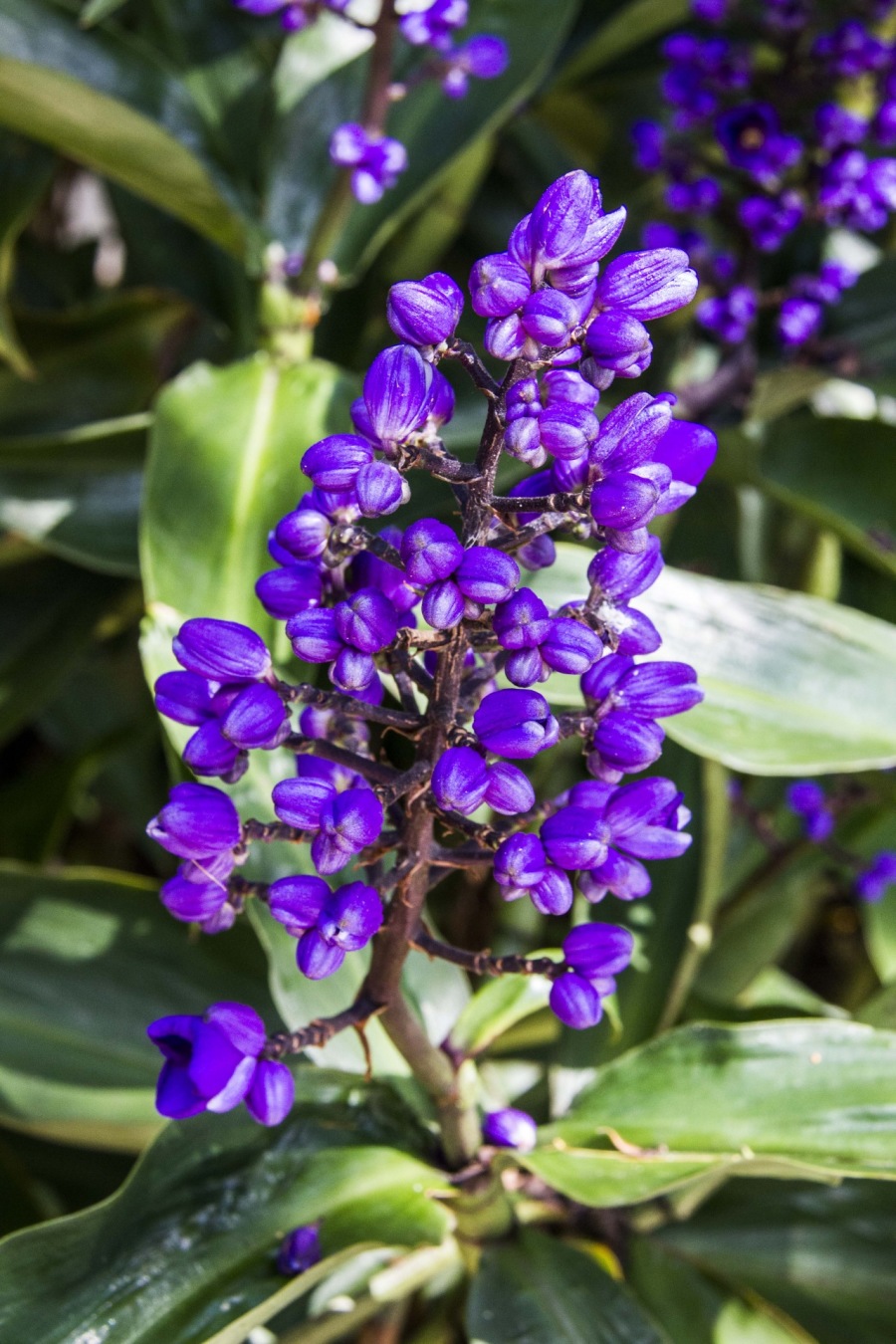 Apparently there are hundreds of varieties of ginger, including many ornamental species, but we were informed that only the juicier and less fibrous Queensland sourced crop, known as 'Buderim Gold', is used for these local factory products.
There are many recipes for you to experiment with, using ginger as an ingredient, and you can find an assortment of these on the Buderim Ginger Factory website here. I've listed the names of a few dishes below to get your mouth watering and your ginger tongue tingling:
ginger jelly topped cheesecake
cherry, ginger and ricotta doughnuts
ginger mince pies
Turkish ginger and rose torte
sticky ginger sesame chicken
roasted carrot and ginger soup
roasted Buderim ginger marmalade chicken
ginger poached pears
ginger glazed salmon with soba noodles
fig, pecan and ginger loaf
apple, ginger and walnut bircher muesli.
There were still a couple of hours daylight left, however, in the long and hot January summer's day, and so we headed a few kilometres east to the coast and Coolum Beach. No time for a swim, but enough time for a quick paddle to cool off the feet ...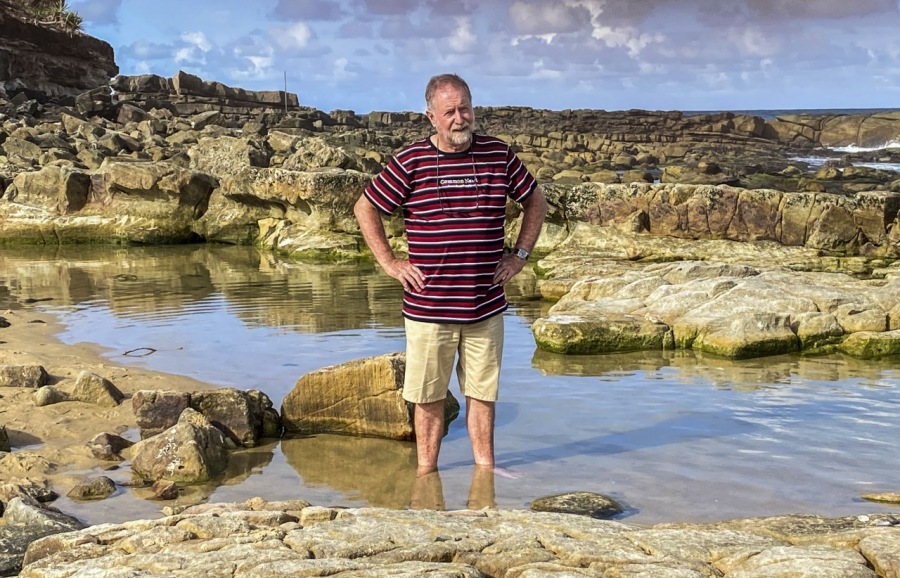 ... and for a walk along the beach before sunset and the drive back home.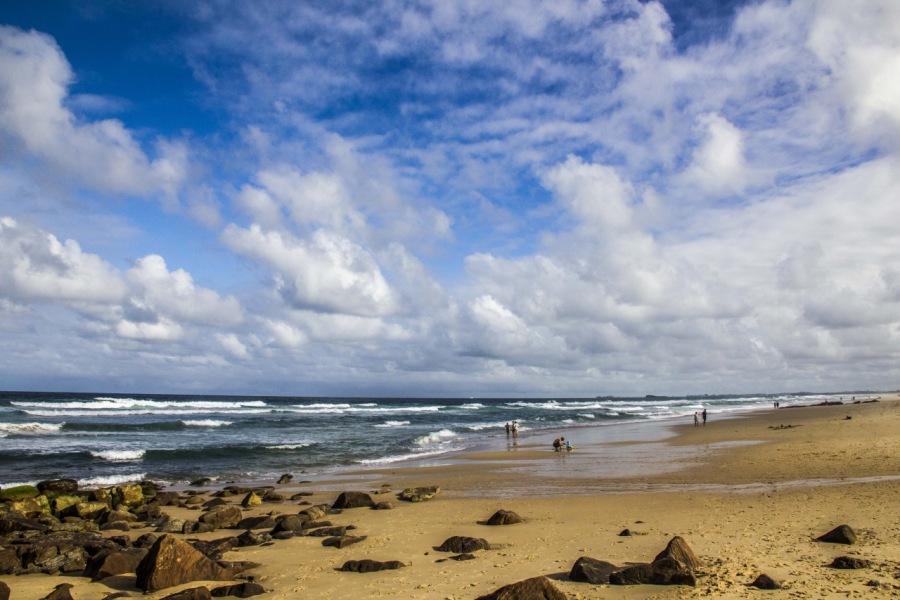 ...................<<..................>>...................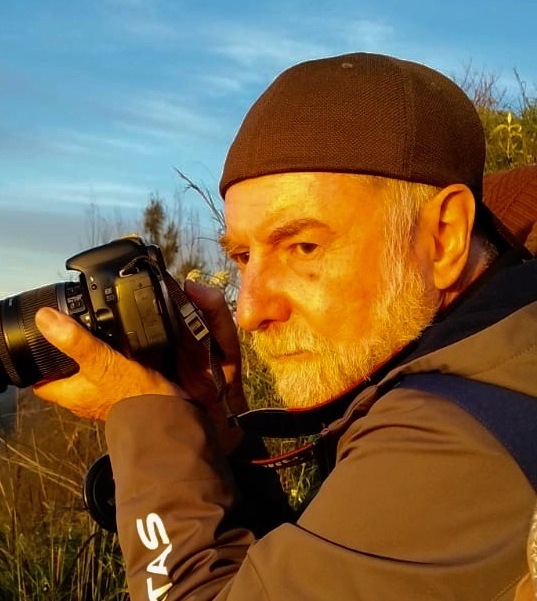 When not researching the weird or the wonderful, the comical or the cultured, the sinful or the serious, I chase my creative side, the results of which can be seen as selected photographs of my travels on my website at:
http://ken-boddie.squarespace.com
The author of the above, Ken Boddie, besides being a sometime poet and occasional writer, is an enthusiastic photographer, rarely leisure-travelling without his Canon, and loves to interact with other like-minded people with diverse interests.
Ken's three day work week (part time commitment) as a consulting engineer allows him to follow his photography interests, and to plan trips to an ever increasing list of countries and places of scenic beauty and cultural diversity.
You have no groups that fit your search